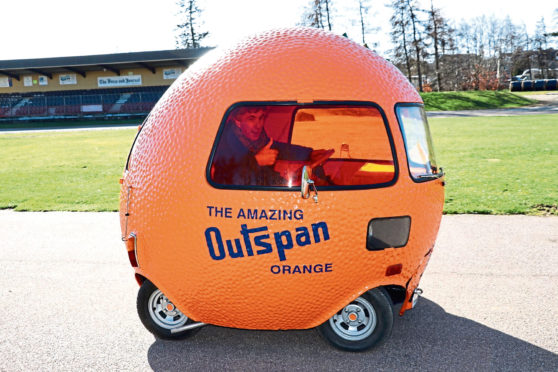 Grampian Transport Museum (GTM) has some great exhibits and a private track to drive them on.
So, when I got a call offering me a journalistic scoop, I couldn't wait to get my teeth into the rare old car that had just arrived.
A broad hint was given; it's the Mini's 60th anniversary year, and GTM will be celebrating this on August 25, so I was expecting a Cooper S version from the Mini family tree.
Not so.
At first sight it looked like I'd be driving a right lemon, sorry orange. I didn't know whether to squeeze it or drive it! Yes, it really is a mobile orange built on a Mini platform, adapted from what was originally a 1969 car with a Mini one litre automatic engine.
But what a thing of beauty. You enter via the one rear door, to a freshly upholstered interior, with orange segment roof, orange seats, with a facia and trim that's, yes, orange.
What you see here is one of only four Outspan Orange Minis in existence, and the only one in private hands; the new owner being a good friend of the museum. The other three are in South Africa, so this really is a scoop.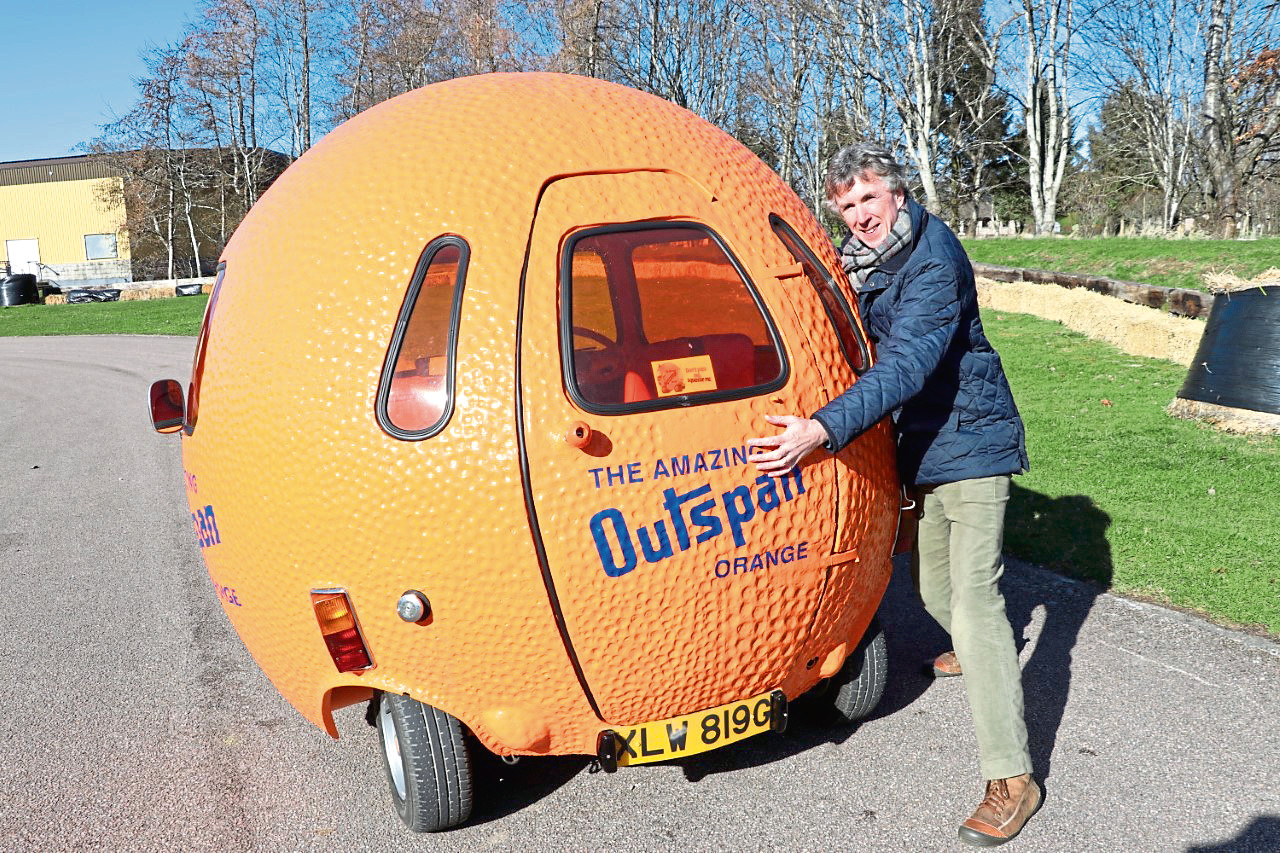 And Outspan is still pretty protective of its promotional fruits. Before the restoration was undertaken, permission had to be obtained from Outspan. My research found that Outspan was ahead of the game back in the early 1970s, clearly understanding market segmentation, and the power of public relations (PR).
To support the creative PR activity, there was a bevy of international "Outspan girls" who participated in carefully choreographed promotional events around the globe. There are pages of notes on file with the briefing notes for the "girls", with instructions even on how and when they had to wear the wigs provided to get that wholesome "Outspan" look.
Cars supported the PR activity. Outspan used at least two Rolls-Royces to promote the brand, with a 1933 Rolls-Royce 20/25 Sedanca de Ville in Outspan livery; and also a number of Mark 3 Ford Cortinas with orange tops. But the Mini has to be the pick of the bunch, it really is a peach.
Before the track test I was advised not to go over 30mph… as it might roll over. I noted that all the weight is over the front, with the engine high up in front of the driver. Apparently, the prototype rolled over like a large golf ball when first taken to the road. In true Baldrick style I hatched a cunning plan. I asked some road rest dummies/passengers along to weigh down the side and rear of the car… then I'd try to crack the magical 30. Hold on, here we go.
Sitting in the pilot's seat, the old fruit felt more like a people carrier than a Mini. I'd say space for about four or five and the driver. As the driver, you have to suspend your normal driving position. Yes, your left foot is placed on the floor, the right is required to take up a horizontal position, in a carefully created box where the pedals for accelerator and brake are housed.
Fired up, the Mini engine is typically Mini. Right, hand brake off (also weirdly located), no launch control to worry about, find Drive and push the fast pedal. The steering feels surprisingly direct and easy to use, in fact it inspires confidence. By now we're approaching the first corner and I fear a roll over. But no, we clip the apex neatly, I feed in the juice with my right foot and pull out the choke (an old trick to get more urge) as the iconic Mini speedo swings past 30 and on towards 40mph. Result.
See the Outspan Orange Mini at GTM inspiring runners for the Alford 10K on July 21, and then again at the 60 Years of Mini event on August 25. And another date for your diary is Sunday May 12 at the GTM event How Many Left?. This event will celebrate the cars that were once our staple diet and are now about as popular as skirlie. Once everywhere, now rare… that's the concept. I'll be there with my old Mercedes, and misbehaving as your compere, so try to say hello.