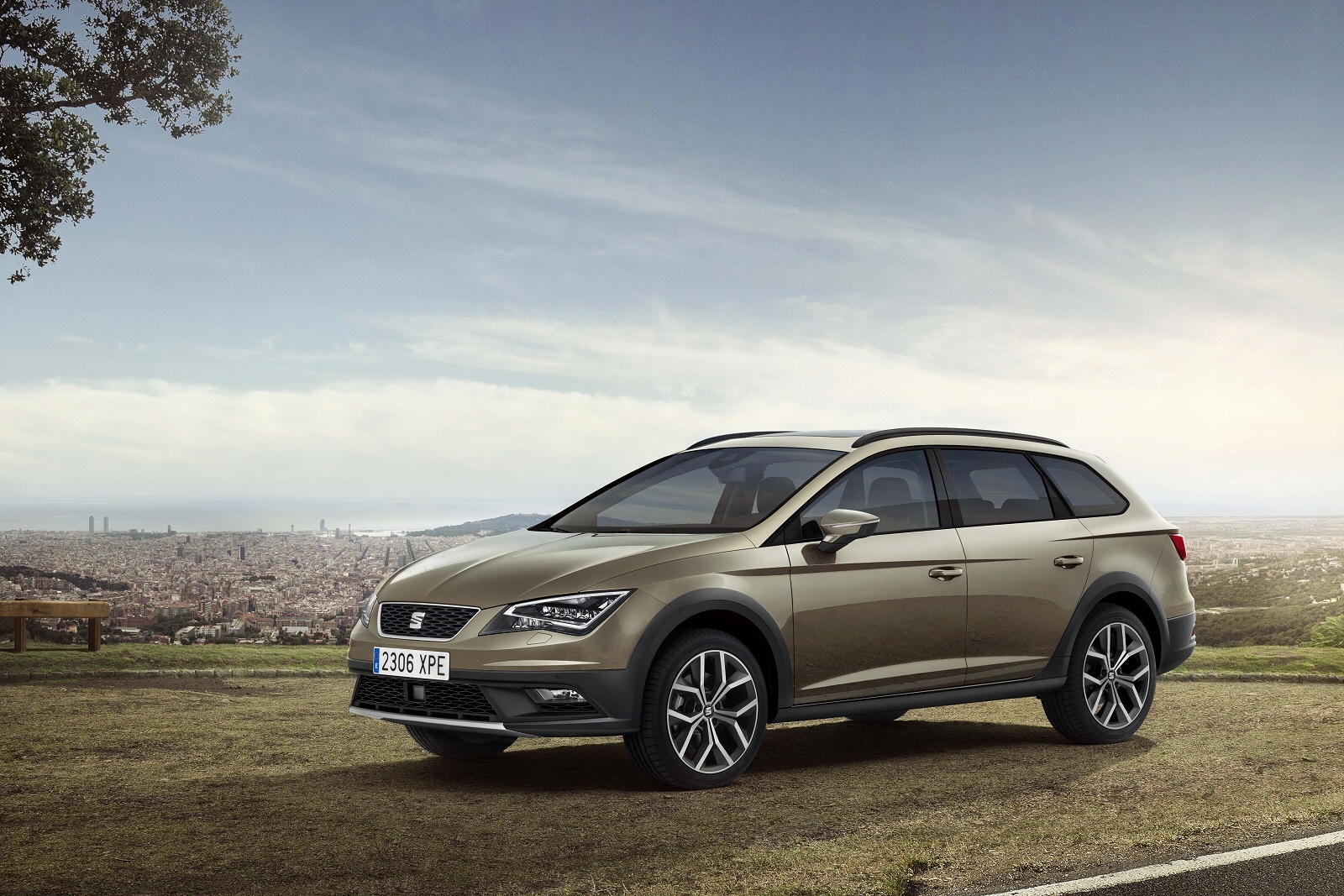 Seat launches an Allroad-style go-almost-anywhere estate.
The X-PERIENCE takes the standard Leon ST estate, adds all-wheel drive and gives you the choice of two powerplants, 148 or 181bhp versions of the 2.0-litre TDI diesel. The key difference between the two versions, aside from the obvious power output, is that the 148bhp gets a six-speed manual transmission as standard while the 181bhp car runs with a twin-clutch DSG 'box. This helps it to some pretty crisp acceleration, the 280lb/ft of torque deployed seamlessly to zip the car to 62mph in 7.1 seconds and on to 139mph.
The all-wheel drive system utilises a fifth-generation Haldex clutch positioned at the end of the prop shaft in front of the rear-axle differential. In normal operation, the clutch transmits most of the engine power to the front wheels. Should their traction decrease, the torque is diverted smoothly and in a matter of a few milliseconds to the rear. This latest generation clutch no longer requires a pressure accumulator, making it considerably more compact and 1.4 kg lighter than similar parts in older applications.
The Leon X-PERIENCE doesn't plaster the off-road cues on too thickly. There is some protection moulding on the door sills and wheel arches but the car does without hefty plastic bolsters on the flanks. At the back, you'll find a bash-plate but it looks more cosmetic than functional, SEAT instead calling it an 'aluminium-look insert'. The chunky wheel arches can accommodate 17in or optional 18in wheels in a dedicated five-twin-spoke design. The roof rails are finished in black.
The interior of the Leon X-PERIENCE may make you think twice about importing a whole load of mud and sand into it, offering some tidy black and grey fabric upholstery, as well as the option of brown Alcantara or all-black leather seats. You're also reminded that you're not just at the wheel of a normal Leon ST, thanks to the 'X-PERIENCE' logos on the door sills and steering wheel, while orange stitching adds a welcome lift to an otherwise fairly sombre cabin.
Like the rest of the Leon range, the X-PERIENCE benefits from the fitment of the Media System Touch, which includes a CD radio with an SD card slot, four speakers and a five-inch touch screen. Spend more and you get the 'Media System Colour' package or, better, the 'Media System Plus' set-up with a 5.8in touch screen with three-dimensional HD graphics, iPod connectivity, an optional DAB tuner, voice recognition and eight speakers. The options list is really worth spending some time on. You can get two camera-based full-beam and lane-keeping assistants as well as adaptive cruise control, which can be set between around 20mph and about 100mph. Prices sit in the £25,500 to £29,000 bracket.
With a pair of modern common-rail four-cylinder turbodiesel engines to choose from, it's not surprising that the Leon X-PERIENCE records some very competitive fuel consumption figures. Standard fit Start/Stop and Energy Recover systems are key elements of the efficiency package. Even the top 181bhp unit manages a combined economy figure of 55.4mpg and emissions of 133 grammes per kilometre. Go for the 2.0 TDI with 148bhp and you'll be looking at a fuel consumption figure of 57.6mpg with emissions of 126g/km. The Leon has always been a vehicle that has carried an extremely reasonable asking price that is in turn backed up by solid residual values. Thanks to advanced construction techniques and the use of lightweight materials in the body's manufacture, around 90kg has been taken out of the chassis and body compared to the previous generation Leon.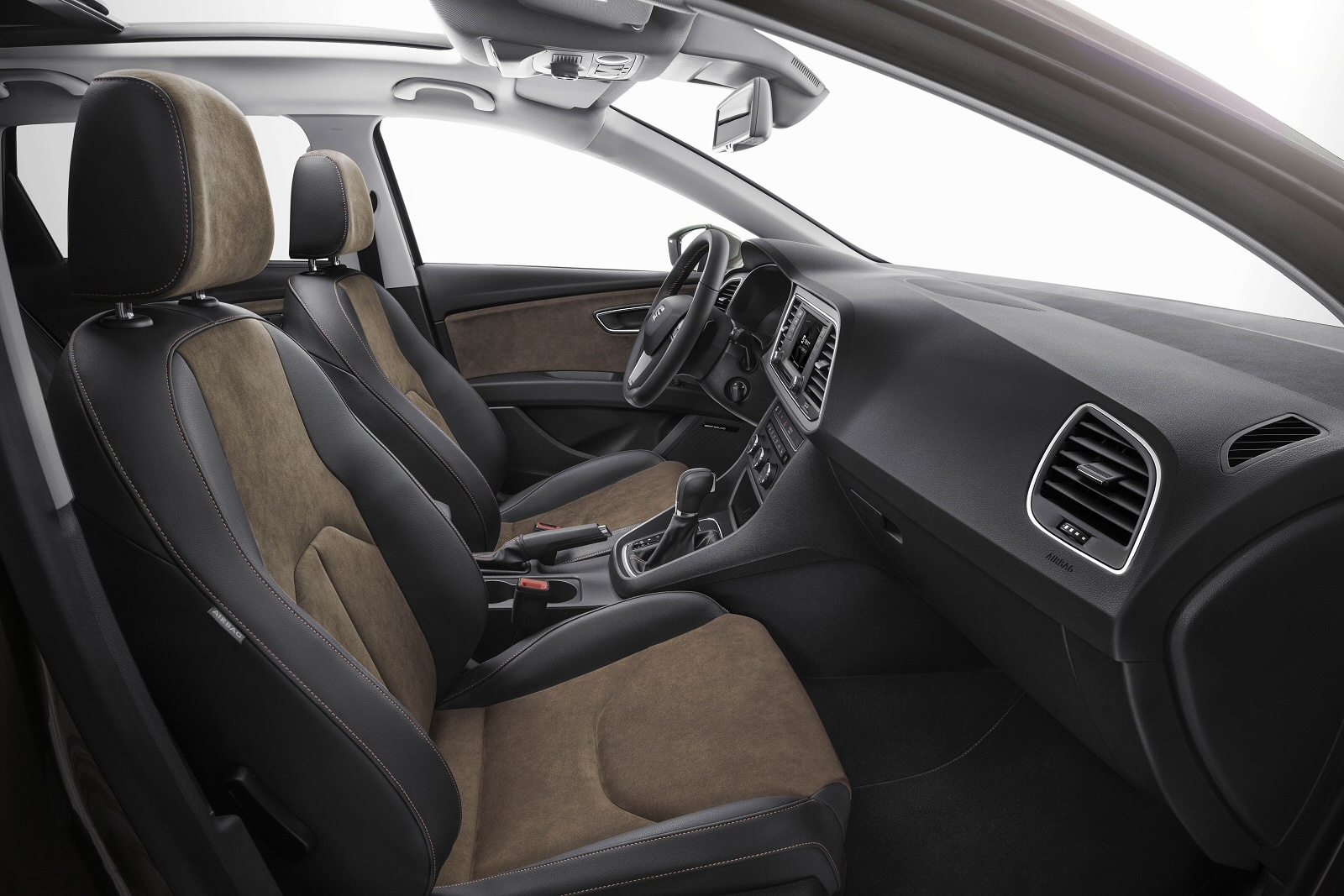 The Leon X-PERIENCE adds another dimension to Seat's increasingly strong product portfolio and offers a well-built all-wheel drive turbodiesel estate that won't cost much to run. It's a sad fact but this car will probably mop up a good number of sales of people who'd secretly hankered after an Audi A4 allroad but couldn't afford the asking price and couldn't countenance walking into a Skoda dealer for an Octavia Scout. A go (almost) anywhere diesel estate is the perfect solution for many families and this sector may well come back into vogue with the backlash against suburban soft-roaders. The X-PERIENCE doesn't over-egg things in this regard. Look carefully and you'll see that it's a bit beefier than a standard Leon ST estate but it certainly doesn't come equipped like something from the Dakar rally. In that regard, it's a car that seems finely tuned to the current demands of family car buyers. That hasn't always been the case with Seat. It's good to see their product planning finally shaping up.
Facts & figures
Model: Seat Leon Xperience
Price: From £25,500 to £29,000 bracket.
Engine: 148 or 181bhp versions of the 2.0-litre TDI diesel
Performance: 0-62mph in 7.1 seconds and top speed, 139mhp.
Economy: 57.6mpg (148bhp); 55.4mpg (181bhp)
CO2 rating: 126g/km (148bhp); 133g/km (181bhp)