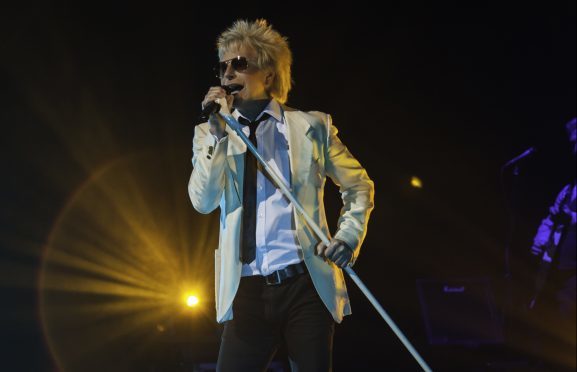 Some guys have all the luck. Guys such as Paul Metcalfe, who considers himself lucky to possess a voice that sounds an awful lot like Rod Stewarts.
If I closed my eyes, I could have sworn blind it was gravel-voiced Rod the Mod himself rocking Eden Court to its rafters, while I don't think the great man himself could have received a warmer welcome from the packed theatre.
Paul sounds and looks like Rod but more importantly does a great job of capturing his essence via carefully crafted moves which were spot on.
The first part of the show was a walk down memory lane, as Paul told anecdotes, in front of some fantastic old photographs, of the singer who has sold more than 100million records; had 62 hit singles and enjoyed a career spanning more than six decades.
Backed by a superb four piece band,  the audience were treated to a selection of rhythm and blues and/rock numbers from his earlier days with bands such as The Faces which included blistering renditions of Sweet Little Rock 'n' Roller and Stay With Me.
Before the curtain had dropped at the end of the first half the audience were on their feet, dancing, clapping and singing along and having a thoroughly good night out from this entertainer who was making his first visit to the Highland Capital.
Delighted with their reaction Paul said:  "You've made that journey up the A9 worthwhile!"
The second half of the show saw the band play Rod's greatest hits: Sailing, You Wear It Well, Some Guys Have All The Luck, The Killing of Georgie, Handbags and Gladrags, Baby Jane, Do You Think I'm Sexy, You're In My Heart and Maggie May to name but a few..
But it was that Scottish favourite Rhythm of My Heart, which blew everyone away before Paul, draped in a Scottish Lion Rampant flag, sent Rod's army of Highland fans home feeling like they'd just seen the real thing.
Some Guys Have All the Luck: The Rod Stewart Story will return to Scotland next year and includes a date at HMT Aberdeen next June.