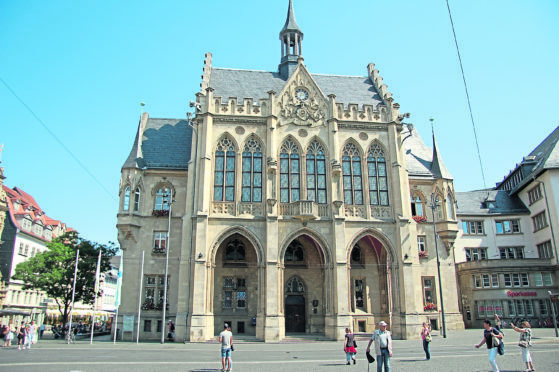 Erfurt is the capital of the Thuringia region of Germany. It is about 150 miles south-west of Berlin, and by high-speed train just one hour 44 minutes away. It is a very interesting place to visit.
It has many attractive buildings, like the splendidly ornate town hall, with its two vacant giant niches where the Americans looted the statues in 1945. A walk around is to pass so many ancient historic buildings, with the most striking being the bridge. This has many claims to fame – it's the longest bridge in Europe entirely covered with houses, five storeys high, still inhabited and used today, and run by a co-operative of the owners of the buildings on it. It's fascinating to see and explore the wee shops along it.
There is a busy and useful tram service to take you from the railway station to the centre. There is a great shopping centre, (called "Anger" – not rage at having to go shopping, was a set of steps zigzagging down the hillside. About halfway down there was a building looking like a military bunker, dug into the slope of the hill, against the steep wall of the fortress, but no signs of activity or it's an old German word for "market") and crooked streets that cross small waterways now and then.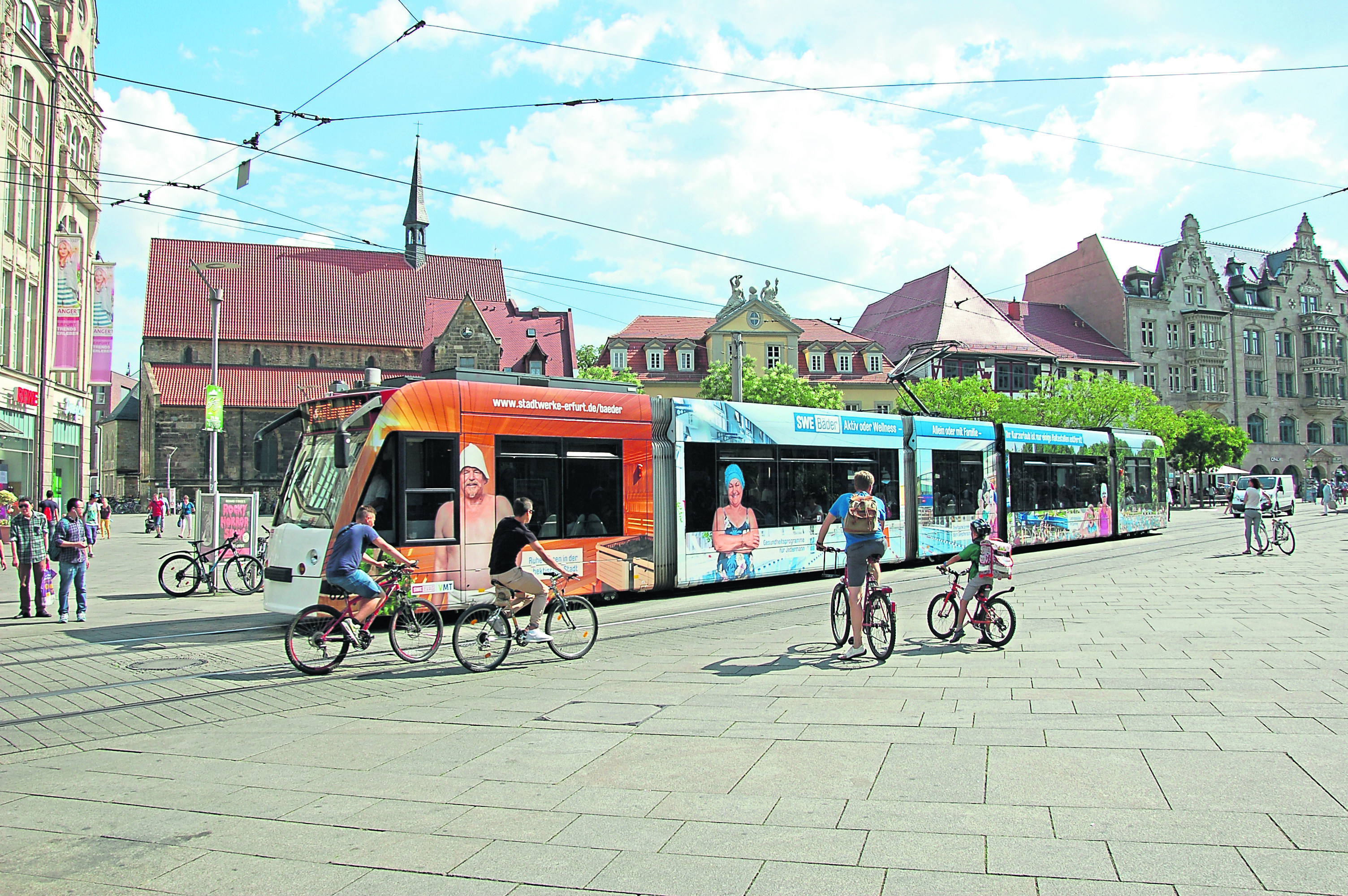 Eventually you come to the big market square. It is used for the regular market and for many events. To one side the land rises, and the awe-inspiring churches loom mightily in a V formation. The massive and historic St Mary's cathedral has been extended over the centuries towards the square so that the end of it is supported on cloisters and arches.
At an angle to it is the equally ancient and impressive St Severus parish church. Between the two churches is a flight of steps. These are about 20 feet wide at the top, and around 100 feet wide at the market square level. This spectacular staircase, framed by the two massive churches, is popular for wedding photos, first communion photos, and when I was there for a stage setting for the opera Tosca. This was something to see indeed – never to be forgotten.
To one side, going round the side of St Severus church, the ground continues to rise, and is topped by the huge Petersburg fortress. Like a many-pointed star, the huge walls point outwards so that any attacker would be caught in crossfire from two sides. When you pass inside and go up on to the large flat area, there is a very big barracks building for the garrison.
The other buildings are interesting, and an ultra-modern steel and glass structure, in total contrast to everything else, is a restaurant. The views from the battlements are grand, right up to the surrounding wooded hills that protect Erfurt from the worst of any weather and give it a good climate.
The various bastions of Petersberg are named after saints. Martin's bastion is the one nearest the theatre and its square. I was told that there was a distillery here – but couldn't see any sign of it. I asked a lady coming along with a little girl; she thought for a minute, and then said that "ja!" she had heard of a distillery, and to go that way and down a staircase. I followed her directions. A man came out carrying a sandwich board and plonked it down by the steps. Yes, this was the distillery! Apparently this used to be the fortress laboratory and cannon yard.
I went inside and discovered a micro distillery. I was lucky to find them open, as they only open for a few hours in the afternoons of Fridays, Saturdays and Sundays. There are two rooms, shaped like a tunnel with domed roofs. One is set out with long tables and benches for parties to drink and eat sausages. The other is the working still. As you can see from the photograph, it is a small still.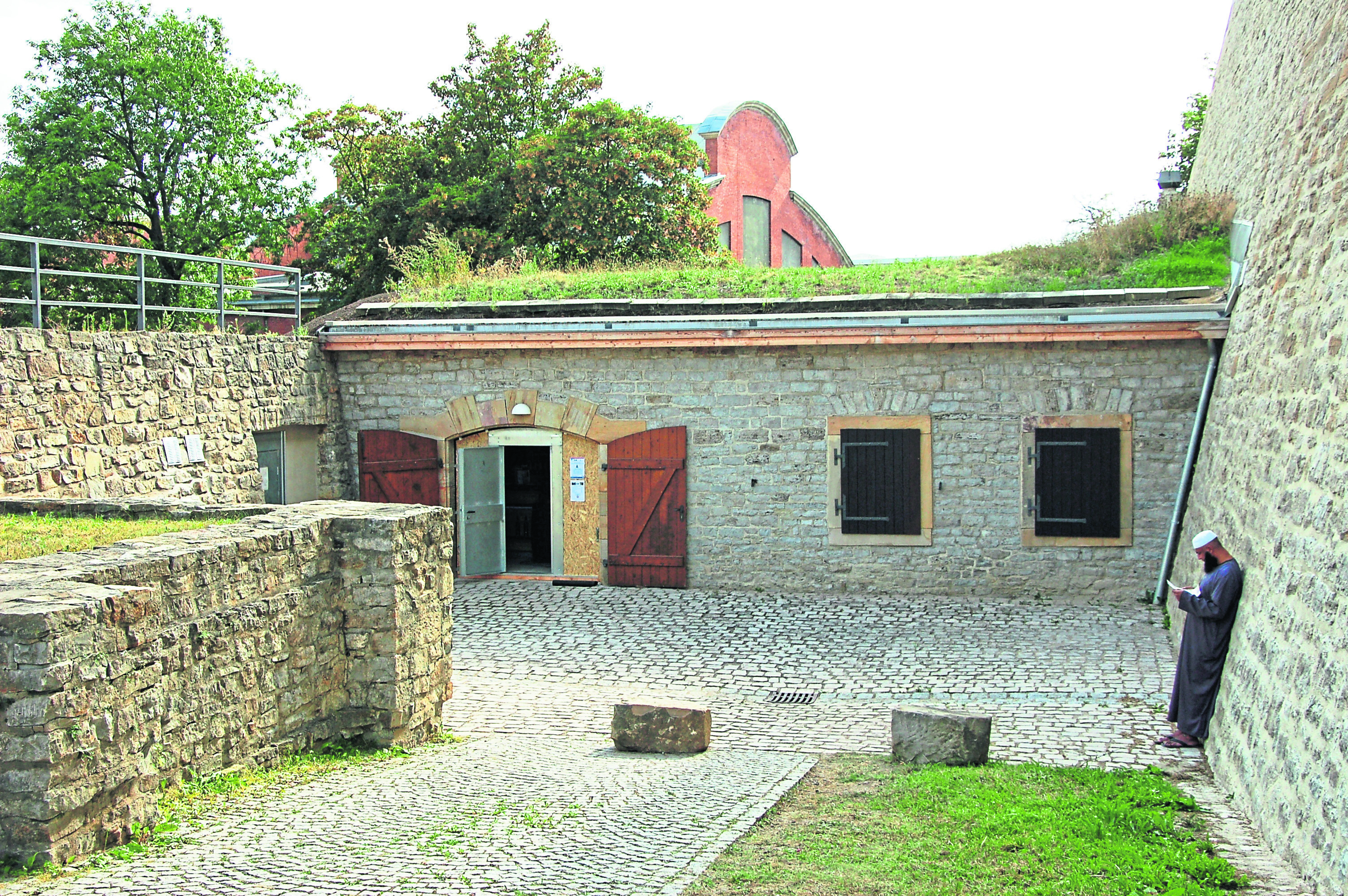 I have very little German, and the two men there no English, so I may have some of the facts wrong, but I gathered that they produce 4,300 litres each week. They use their distillations to make a range of alcoholic drinks, including raspberry, chocolate, lemon and mandarin orange.
These are 40% by volume alcohol, and they sell for around 20 euros for a 35cl bottle. They also make a gin, 46% alcohol, which they mature in oak barrels from Riesling white wine, for a year. Their pride is in a range of eight whiskies. There are no barrels maturing on site, due to lack of space. There are around 1,000 barrels maturing off-site, at Bad Kötzting, which is around 200 miles away, close to the Czech border, where they have a wine cellar and another still.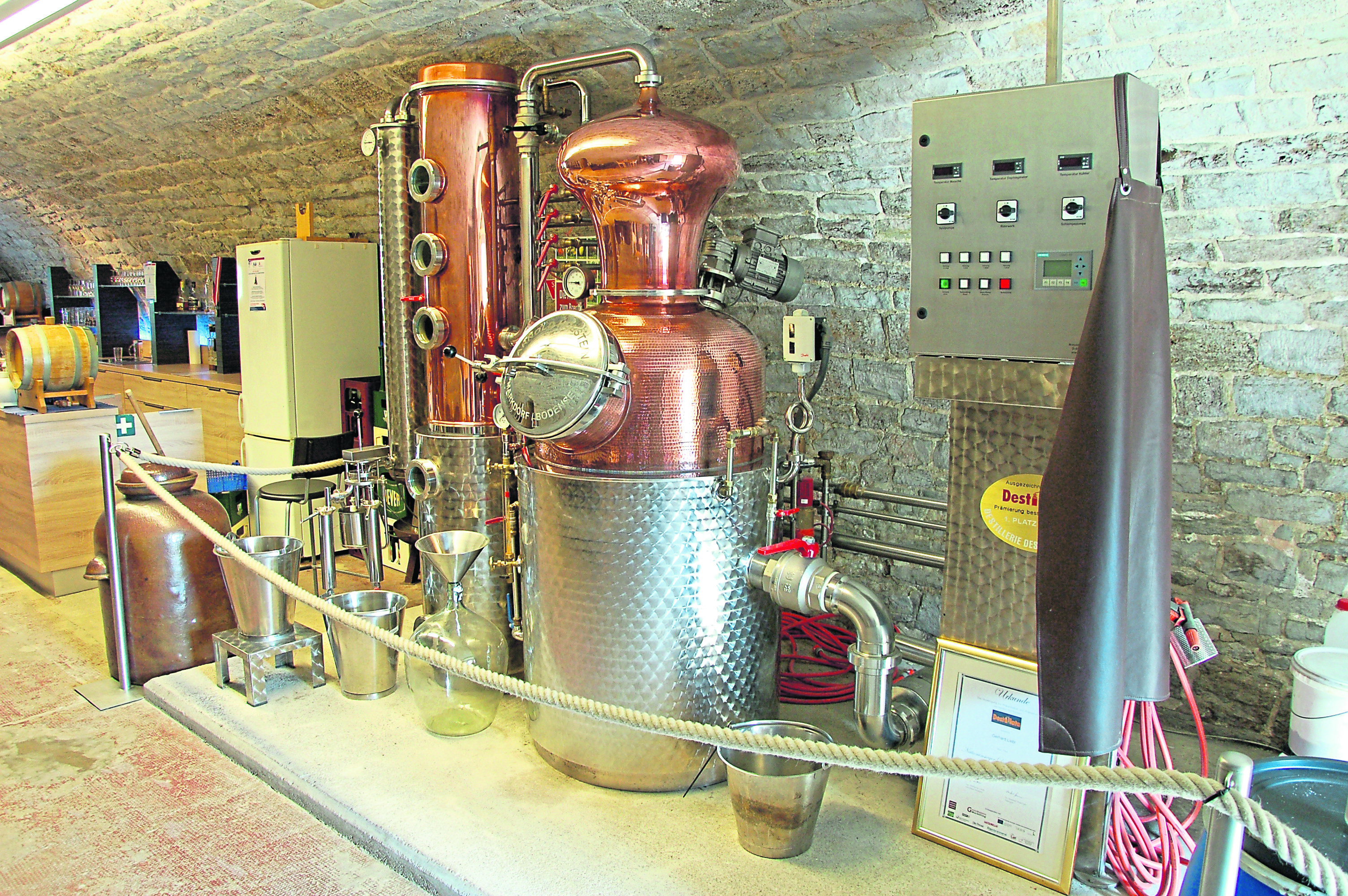 The whisky is sold in 70cl bottles, 43% alcohol, and prices average 55 euros; there is a cask strength from port casks retailing at 64.50 euros. The whisky is called Coillmòr. They say that this is from the Celtic Gaelic, Coill meaning wood or forest, and mòr meaning big, which was the ancient name for Bad Kötzting lying as it does in the big Bavarian forest. The water does not come from Erfurt, but from a spring at the foot of the Kaltersberges hills at Bad Kötzting. The distillery started producing in February 2006, but the current still was made by the Holstein Company at Markdorf on the Bodensee Lake in 2012. They use 100% Bavarian barley, and double distil. The master distiller was elected "distiller of the year 2016". He operates the distillery in Erfurt and another one in Bad Kötzting.
The casks are a mixture, of American ASBs, Bourbon, Sherry, Port, Cognac, Bordeaux and Sauterne. And by the way, they too lose whisky by evaporation to the "Angel's Share".
It was interesting to discover this wee distillery tucked away in the shadow of the massive fortress; yet another unusual find in this very attractive city. For more information on the distillery see www.destille-erfurt.de and for more information on the city of Erfurt, go to www.erfurt-tourismus.de