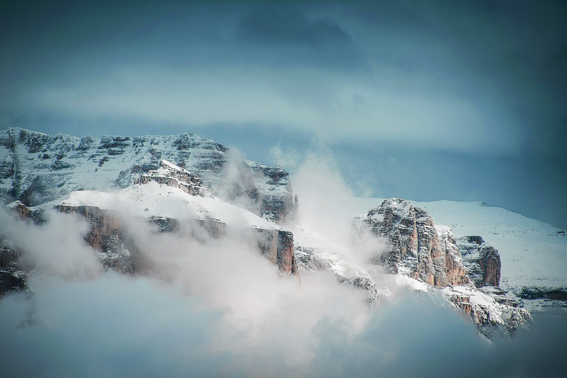 Val Di Fassa has much to recommend it beyond the usual thrills and spills of winter sports
The steep towers and cliffs of the Italian Dolomites glint golden in the tentative, winter sunshine. Semi-shrouded by clouds, they form a spectacular, sculptural backdrop to a network of interlinking, snow-covered pistes.
We have come to Val Di Fassa in northern Italy. The region is comprised of seven resorts and they all surround the Sella Ronda, which is the largest ski area in Europe, offering no less than 1,200km of runs. It is perfect for snow boarders and skiers who want to range far and wide over the course of a day.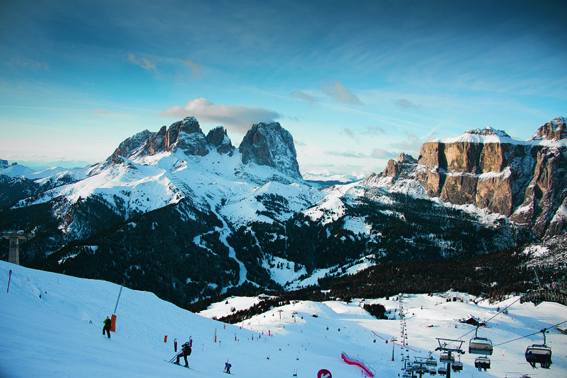 Designated as a UNESCO World Heritage site, the astonishingly beautiful scenery makes it an attractive destination for keen photographers. Settlements are spread out over the valleys and interspersed with larch trees.
There are no high-rise apartment blocks to detract from the views and there is lots to be discovered from an historical and cultural point of view. The local language, Ladin, is widely spoken and it is not unusual to see someone wearing a traditional Tyrolian hat with a feather in it.
When we are ready to try out the slopes, we take a bus to the Alba ski area where we are delighted to discover that there are no queues. So in no time at all we find ourselves making our way down some easy and intermediate slopes. It is a gentle introduction that limbers us up for the adventures to come.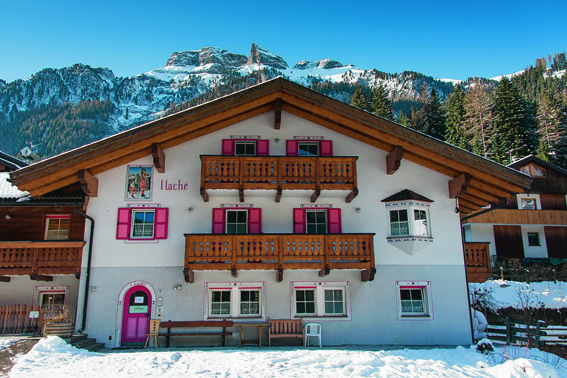 We have based ourselves in a catered chalet on the outskirts of the town of Canazei. It is a warm, welcoming place run by attentive staff who dispense valuable local knowledge along with hearty home cooking and freshly baked cakes.
As we settle down to dinner at a large communal table, it soon becomes clear that our fellow guests are a friendly bunch, united in their love of the mountains and happy to allow me to join them on the slopes. The occasion when four of us set out to do the Sella Ronda circuit turns out to be a highlight of the trip.
At times the signage appears slightly cryptic but we never stray too far from the prescribed route. As the sun cuts through the lingering traces of morning mist and illuminates jagged pinnacles of rock we feel energised and exhilarated.
Over the course of the next six hours, we make our way from one lift to the next and sweep down a series of long, leisurely runs. This is ski-ing at its best; when each person on the slope harmonises with the next and it feels like we are all flying.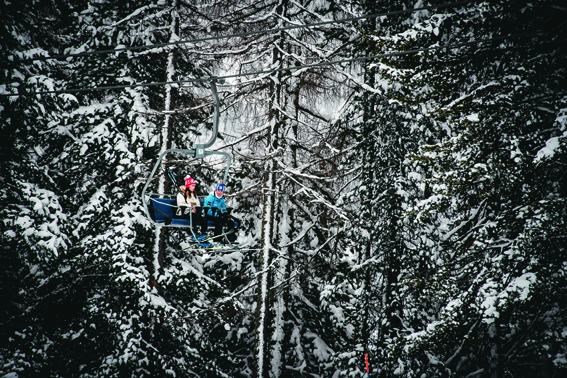 Intrigued by the name alone, I sign up for a trip to the Hidden Valley. We are taken by coach to the resort of Cortina, stopping off at the Cinque Torri for a bit of skiing en route. After taking the cable car to the top of the Lagazuoi, it is time to make a steep, twisting descent through a narrow cleft in the rock.
This valley has an almost mystical ambience, its appeal augmented by the crystalline formation of a frozen waterfall. However it was the scene of immense suffering during World War I as it marked the frontline between the Italian troops on the one side and the Austrians and Hungarians on the other. According to our guide, countless soldiers lost their lives here in a three-year battle that became known as 'the White War'.
Conscripts from the south of Italy arrived here completely unprepared for the cruel, penetrating reach of winter when temperatures sometimes dipped to 30 degrees centigrade below freezing and avalanches were a regular occurrence. Desertion was not an option. One in ten Italians was shot for attempting to escape and that kept the remainder in line.
At the end of the run, we stop for lunch in a pleasant taverna before undertaking the next phase of this fascinating journey. Along with 19 other skiers, I am propelled along a flat area of ground in a most unusual fashion. Two horses are hitched to a cart and two long lines of rope are attached to the back of the vehicle.
The trick is to hold onto a loop of rope and to avoid crashing into the skier in front or being toppled by the one behind. At a cost of two euros it is well worth it for novelty value alone. The alternative is to walk or keep your skis on and propel yourself along ski poles.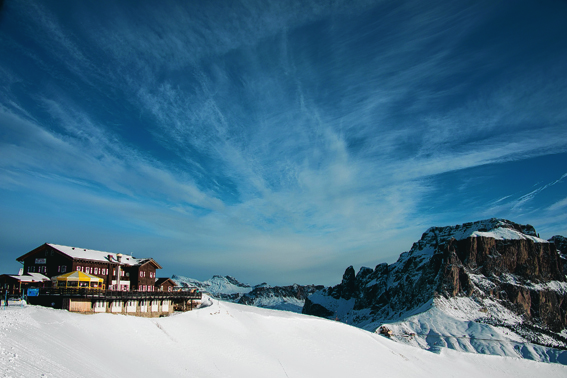 In fact, a lot of things in Val Di Fassa represent really good value for money. A morning coffee costs just over 2 euros and you can easily order up an authentic, Italian lunch of pasta, salad and beer for around 15 euros a head. For a fun-filled, affordable winter holiday destination it is hard to beat.
THE HOLIDAY
Crystal Ski Holidays (www.crystalski.co.uk; 020 8939 0726) offers a week's accommodation at the fully catered Chalet Traviata in Val di Fassa in the Italian Dolomites from £467 per person (based on two sharing) including flights from Edinburgh and transfers departing on March 21, 2015. Direct flights available from all major UK airports.