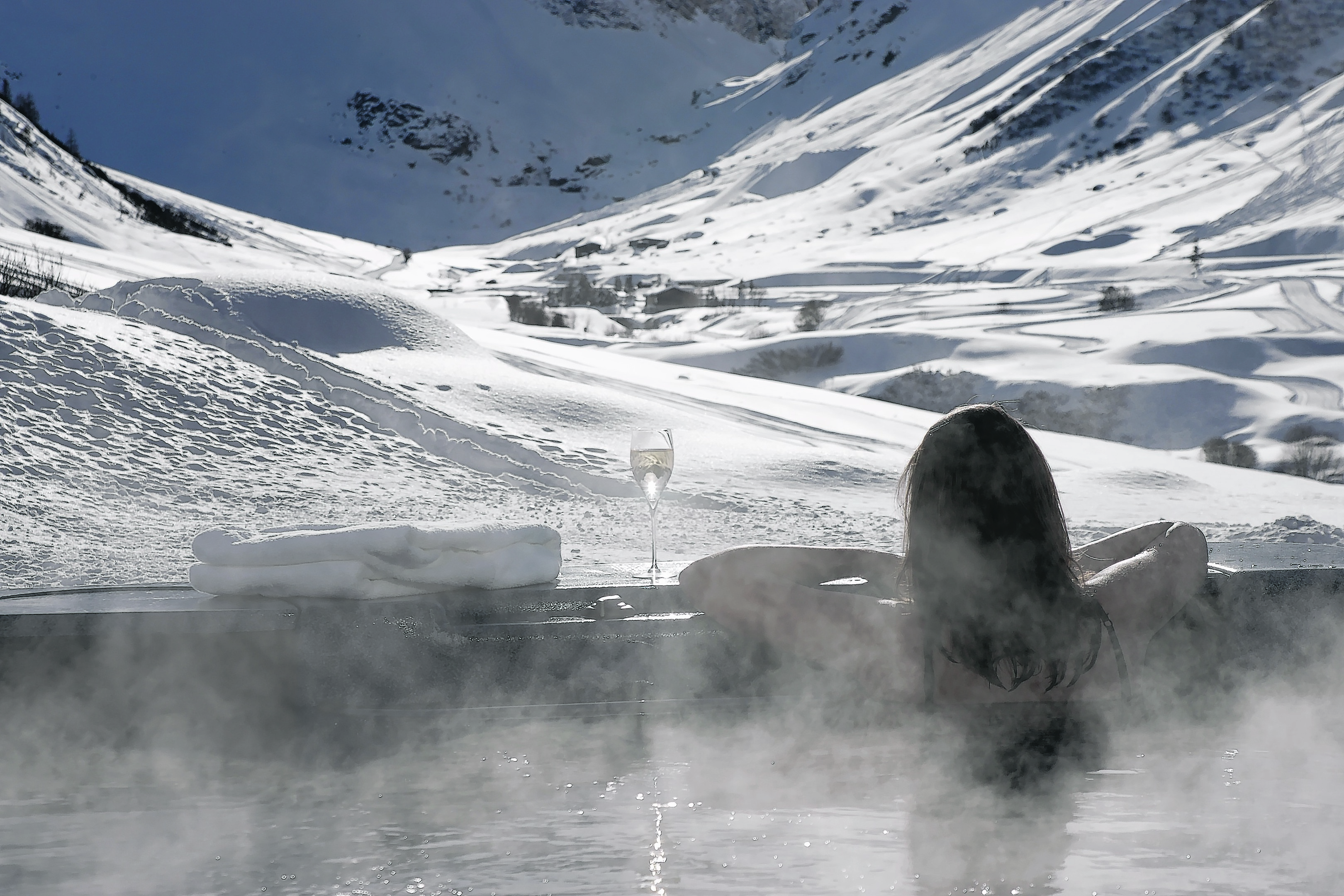 Neil MacPhail took off for a short break at Le Chardon Mountain Lodges, an exclusive collection of ski chalets in Val d'Isere
I have just experienced a ski break with no snow, and it was brilliant.
It was quite early in the season and there wasn't enough snow for the safety of inexperienced skiers like me.
The resort was the amazing Val d'Isere in the Fench Alps, and I was a guest of Le Chardon Mountain Lodges.
There are brilliant snow conditions now, but hey, who needs snow when there is such luxury to wallow in?
Le Chardon is a little piece of Scotland – the name is French for "thistle" – and the family firm is run by Jamie Rennie, brother of Ross who played rugby for Scotland and Bristol. Their father had the insight to go into the luxury chalet business and now it is an enclave of fine dining and pampering, and of course, some ski-ing.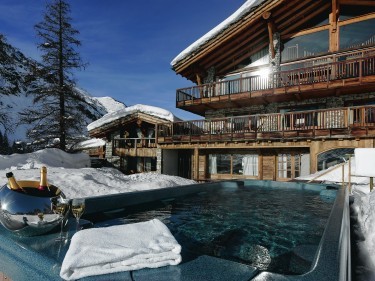 RESIDENT BAGPIPER
"We've been providing unique, luxury ski chalet holidays in Val d'Isere for over 20 years now. As an independent owner/operator and committed family of skiers, we understand what our guests want and we work our absolute hardest to achieve that, finding new and different ways to delight and surprise our guests, whether it's a limb-refreshing apres-ski massage, a rose-petal bath or ice bar on the terrace regaled by our resident bagpiper! Service, the personal touch, going the extra mile and of course fabulous cuisine is what makes the difference between an ordinary holiday and an extraordinary one in our book," says Jamie.
There are five luxurious catered lodges, built to be as sturdy as the rugged mountains they nestle in. They seemed, at first, to be over-engineered, with huge beams resembling jenga blocks on steroids, but the lodges need to be sturdy to be able to take the weight of 10ft of snow which is not abnormal in the resort.
They are Le Chardon, Le Kilimanjaro, Mistral, Lafitenia and La Bergerie, all ready to administer five-star food and service.
My massive room in Le Chardon mother-ship lodge was incredible, with a wall of windows offering breath-taking views across the Manchet Valley.
To be wakened in the morning with tea on a white linen-covered tray, and have the curtains opened to reveal the towering peaks, was an unforgettable experience.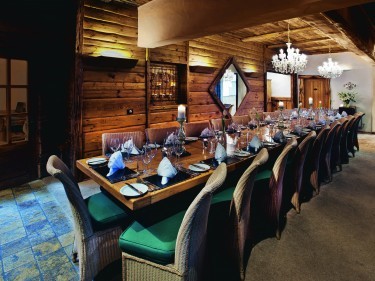 MEMORABLE EXPERIENCES
Indeed, the whole trip was a chain of memorable experiences, and on my return to Inverness, I am afraid I became a bit of a Val d'Isere bore. Well that's what my colleague said.
The management ethos is to make Le Chardon Mountain Lodges a home from home, in ultra-comfortable surroundings with first-class service and gastronomic cuisine of the highest order.
I was told that the lodges were designed by skiers for skiers, and
the location on the outskirts of the resort means it occupies an unrivalled ski-in, ski-out location. It is also highly unlikely that the lodges will ever lose their open aspect, looking out over the snow-covered pastures to the Alps beyond.
Each private lodge comes with all the extra luxuries to create the perfect holiday from in-house massage, outdoor hot tubs and boot warmers, to saunas and chill-out areas.
To relax in the frothing hot-tub on the spacious decking, glass of fizz in hand, after a day in the great outdoors, is decadence that I could become used to.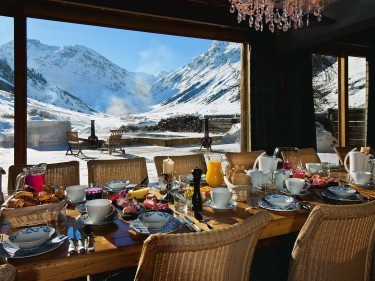 Le Chardon state that dinner will be one of the highlights of your day, and they are not wrong. They use the finest local produce and their team of hand-picked chefs create a bespoke menu especially for you, whether you prefer a gastronomic feast or a more simple healthy supper.
On my first night, we kicked off with pan-seared scallops with pea veloute, parmesan crisp, crispy bacon and lemon oil.
Roasted duck breast was the main event, served with confit duck leg, potatoes, cauliflower puree and a raspberry and Tarragon sauce.
A chocolate assiette and local cheese rounded off a gourmet's delight.
I must mention the dining room, arranged baronial style in a long
line, with each seat covered in its own little sheepskin, all the way from Scotland. Just the thing to keep you cosy and comfy as you polish off a
glass or two of Pouilly Fuisse Vergisson 2010.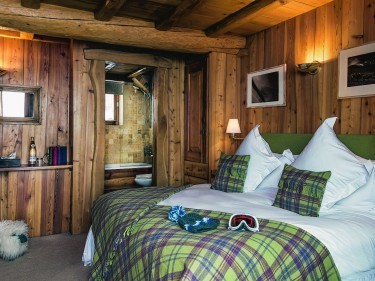 AFTERNOON TEA
Afternoon tea is another delight, served in front of the roaring fire as
the day starts to fade. Always home-made fare, the tea set us up for the evening and an aperitif in the delightful lounge.
There are 30 in the team at Le Chardon Mountain Lodges every winter, six chefs plus their sous chefs, five chalet managers, 10 hosts, five chauffeurs, and one maintenance man. They also have their Edinburgh-based head office who looks after the sales, marketing and guest concierge.
I thought it amusing that the useful phone numbers card issued by Le Chardon had the Piste Rescue number right next to that of the resort's duty chauffeur, who was always on hand to rescue any strays from the delights of downtown Val d'Isere bars.
It was delightful to be on a break where you just knew everything was going to be organised to perfection, whether you are there with family and friends or on a corporate outing.
If tempted, there is some availability soon and snow conditions are excellent.
For the Easter school holidays, w/c April 12, Le Chardon, which
sleeps 20, is available for a snip from £1,250pp based on two sharing, down from £2,295pp on a shared chalet basis.
At the same time, Chalets Bergerie and Lafitenia, which both sleep 12, are available on a sole occupancy basis for £15,000, saving over £12,000 on the full price.
THE HOLIDAY
Le Chardon Mountain Lodges are a private collection of five luxury ski chalets in Val d'Isere which include luxury accommodation, fine dining and open bar, dedicated chalet team and chauffeur until 2am. There is an in-house masseur and excursions. Call 0131 209 7969 or visit www.lechardonmountainlodges.com
Flying from Edinburgh or Glasgow to Geneva (easyjet flights from £149 return), you can transfer in three hours by Le Chardon minibuses.