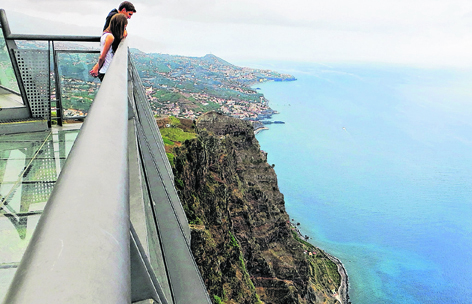 Browsing through the Fred Olsen brochure I was intrigued to read of "Fred's enjoyment promise" – an offer made to new guests.
My interest was captured, and when I saw the cruise itinerary on the good ship Balmoral, including visits to the islands of the Azores, Cape Verdes, Canaries and Madeira, it was easy to book.
Three days sailing on calm waters under blue skies to our first destination gave us the opportunity to relax and familiarise ourselves with the ship. It was apparent she was a refined vessel with amenities to suit all. We were impressed with presentations given on the ship's excursions, and booked a series, which proved to be great value.
First port in the Azores was the island of Terceira. Our tour took us through beautiful countryside reminiscent of our own. On a narrow road we stopped as a herd of cows refused to let us pass. I was fascinated when the herdsman shouted one word which saw them form a straight line for us to continue, if only our grandsons would react to a one-word request!
The highlight was the World Heritage Site, the small town of Angra with an array of colourful Portuguese architecture and cobbled streets reflecting a timeless place; in the centre a botanical garden adds to the charm.
The neighbouring town Praia de Vitoria, also in traditional mould, is a haven for shopping bargains in which she that collects handbags bought two. I was pleased there was minimal damage to my wallet.
Next, the island of Sao Miguel.
Weaving our way through lush countryside, ablaze with hedges of hydrangeas and exotic shrubs, we reached the highest point called Sete Cidades, a former volcano which crumbled a quarter of a million years ago.
Nature's natural development has since provided surroundings including forests, dales and pastures. In the centre are two adjoining lakes unique in the fact that one is blue, the other green. Legend has it a young princess and shepherd boy were in love but the king made them separate. Both shed tears as they parted; the princess had blue eyes, the shepherd had green and so the lakes were formed. We stood for half an hour marvelling at nature's best.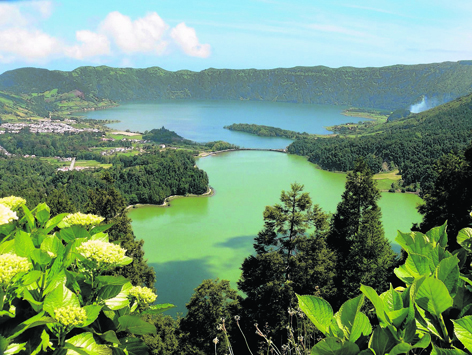 We left the Azores with fond memories of islands unspoilt, with landscapes breathtakingly beautiful.
As Balmoral seemed to glide across the Atlantic to the Cape Verde islands off the coast of Africa, there was much excitement from fellow passengers as a school of whales passed by at close range.
Arriving on the island of Sao Vincent, our tour's first stop was the fish market. Ladies dressed in colours straight from the rainbow, robustly bargained their exotic fish, creating an exciting atmosphere. Then we moved to the African market, where quality goods were sold at keen prices.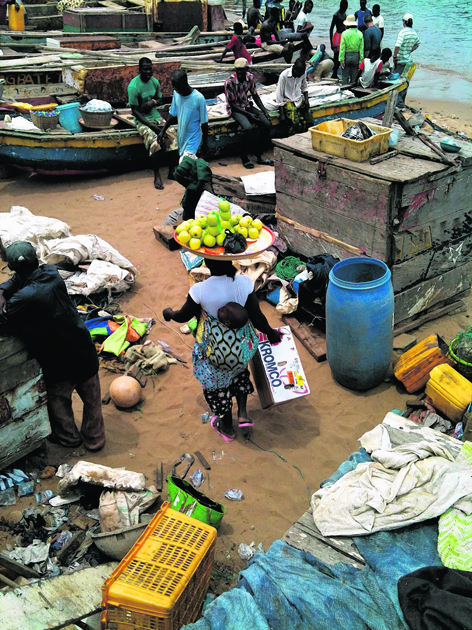 Arriving at Cat Fish Bay nestling between the Green Mountain and turquoise sea we were entertained by local musicians playing traditional African/Brazilian music, accompanied by dancers whose routine reflected slave warriors preparing to retaliate against slave traders. Local wine, beer and tasty delights were served. I could have watched and listened all day.
The next island was Santiago, where journeying into the country brought us to Cidade Elvha, once a slave colony, a small village lying between two rocky gorges surrounded by tropical trees, bushes and exotic plants. Here a small church built in 1495 was visited by the great explorers Vasco da Gama and Christopher Columbus.
Aadjacent is Rue de Banana (Banana Road) a row of small cottages with thatched roofs made from, guess what, banana leaves. Unique to this village, both the church and the cottages are the oldest European buildings in Africa.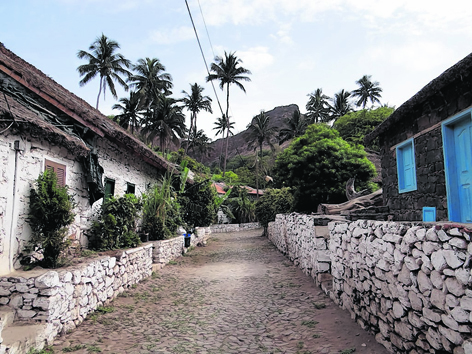 At the village square we were greeted by locals in traditional dress singing and dancing – we watched enthralled. The Cape Verde islanders are characterised through their African/ Portuguese heritage and culture.
During sunny sailing days to the Canary Islands, I spotted turtles bobbing alongside Balmoral's wake. We were thoroughly enjoying life on board, with a variety of things to do, or relaxing with a good book. Fine food and evening shows ending perfect days.
We wanted to explore the three Canary Islands away from the popular resorts. First Gran Canaria and the theme of the tour 'The Essence of Gran Canaria' captured the sights we wanted to see, including the oldest quarter, Vegueta, a labyrinth of cobbled streets and small squares.
We visited Columbus House, which the great sailor used as a stopover on his journeys. Artefacts and exhibits adorn every room and you can get lost in its history.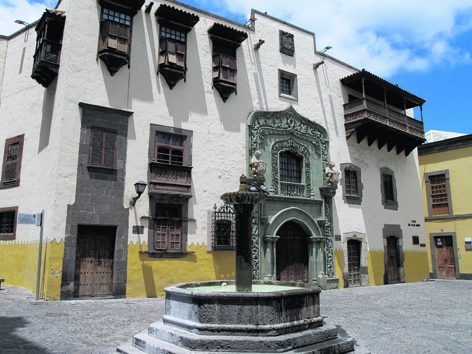 Tenerife was next. A must for a visit is the inland village of Icod de Los Vinos with Mount Tiede as its backdrop. In the centre of the village reigns the 1,000 year old Dragon tree, as imposing as its backdrop.
The old part, La Laguna, is vibrant with musicians and street entertainers creating a carnival atmosphere. We enjoyed a delicious tapas lunch and local beer for £7 per person.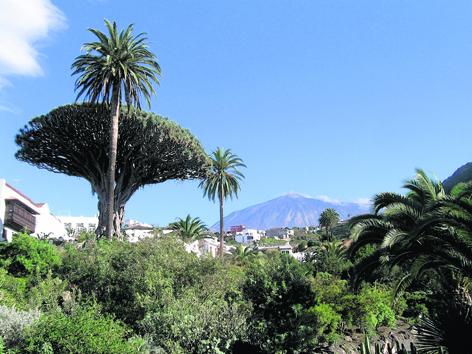 Then it was the smaller island of La Palma, where we walked through the enchanted Laurisilva Forest with imposing cliffs and ablaze with vegetation. Sampling local olives, cheeses and wine in this setting ended a perfect day.
Inland, the Canary Islands offer hidden secrets to explore.
Madeira was our final island visit. We benefited from an overnight stay in port to meander around Funchal, enjoying flowered, illuminated parks and boulevards.
Our last tour took us through the picturesque fishing village of Camara de Lobos, where Sir Winston Churchill used to stay and paint.
I can understand why, as it is next to the mighty Cabo Girão, the second highest sea cliff in the world. The glass floor viewing balcony protrudes from the cliff face so stepping on is a little scary, but exhilarating and worth it for its sensational views.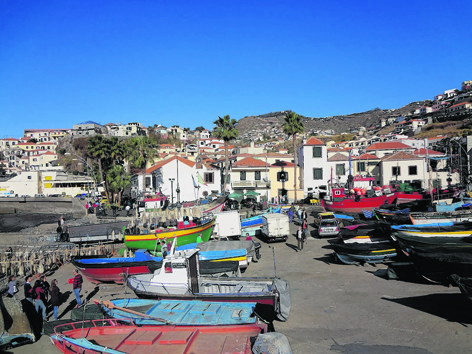 No visit would be complete without sampling the Madeira wines.
Sailing out of Madeira, Balmoral was joined by a group of dolphins bidding us farewell by leaping and twisting until we were out on the open sea – a fitting way to end a cruise, leaving us with indelible memories.
Was Fred's enjoyment promise kept? It certainly was.