With twitchers ready with their binoculars for this month's Big Garden Birdwatch, Your Weekend reveals what we can do to help our feathered friends through the winter
The RSPB, birdwatchers and gardeners are gearing up for the annual Big Garden Birdwatch, which returns this Saturday and Sunday, January 24 and 25. Last year, almost 40,000 people in Scotland took part, and their efforts revealed some interesting changes among our most popular garden birds, with some species that benefit from a bit of extra help creeping up the rankings.
For example, just 10 years ago, Goldfinches were the 15th most common bird seen in Scotland. Last year, they had moved up to seventh position. According to Jess Barrett, from RSPB Scotland, one possible explanation for their steady rise is the increasing number of people providing food such as seeds and sunflower hearts in gardens. Alternatively, milder winters could be helping the birds to thrive.
As well as asking the public to record their findings – with the help of identification pictures available on the RSPB website www.rspb.org.uk – the organisation is also asking people to do their bit to protect our birds through the winter by topping up their bird feeders and providing fresh water and shelter for wildlife in their gardens during the frosty weather. The nature charity says there are three key things that birds will need this winter: food, unfrozen water and shelter.
In chilly weather, birds will appreciate a variety of food, but fatty food will be especially helpful. For example, fat balls, or homemade bird cakes made with lard and packed with seeds, fruit or dried mealworms are great treats to put out in your garden. Kitchen scraps will work well, and a recipe for successfully feeding birds over winter might include chopped fat from unsalted meat, cheese, dried fruit and pastry.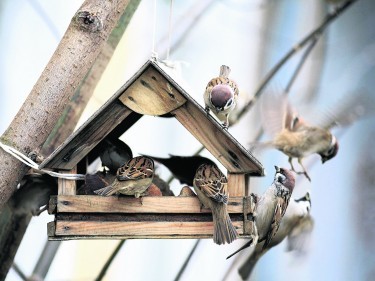 Unfrozen water for drinking and bathing may be hard for birds to find when there's been a frost, but with a simple trick you can help to keep a patch of water ice-free. Float a small ball, such as a ping-pong ball, on the surface of the water. Even the lightest breeze will keep it moving and stop an area of the water freezing.
Provide shelter by planting dense hedges such as privet or hawthorn, or allowing ivy or holly to grow. These all provide great cover for birds to roost in. Nestboxes can also be good roosting sites. Roofs are also a popular spot for birds trying to keep warm. If birds are getting into a hole in your roof and you need to get the hole fixed, consider putting up a nestbox to replace the gap. Find out more about giving nature a home in your garden here: www.rspb.org.uk/homes
RSPB wildlife adviser Richard James says: "People can make a real difference to garden birds and improve their chances of surviving the winter.
"Birds don't need much and by providing a supply of food, a patch of unfrozen water and somewhere to shelter from the elements, you will be rewarded with great views of wildlife in your back garden. While birds need fatty foods, you shouldn't put out fat from a roasting tin as this runny fat can coat birds' feathers, making it difficult for them to move or fly."
All you need do to take part in the Big Garden Birdwatch is spend one hour at any time over the weekend noting the highest number of each bird species you see in a garden or park at any one time. You then have three weeks to submit results to the RSPB, either online at www.rspb.org.uk/birdwatch or in the post.