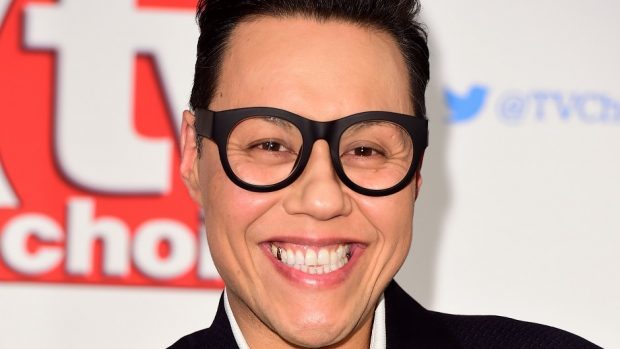 It doesn't happen too often that somebody comes along with a striking idea which transforms the way a whole generation of people think about themselves.
But that's exactly what the effervescent, endlessly enthusiastic Gok Wan has managed since he first arrived on the nation's TV screens a decade ago with the determination to prove that one size doesn't fit all.
It's early on a Friday morning in Aberdeen, with the winter chill forming a white blanket on the grass outside.
But suddenly, in the space of a few seconds and the utterance of two words – "Hello darling" – I've been transported from Scotland to Gokland: a place where gender and racial stereotypes cease to exist and where it seems the most natural thing in the world to be talking about dress sizes, Champagne flutes, catwalk campaigns and sartorial democracy.
It's probably easy to mock this lad with his positivity and passion for accentuating the positive.
But, once you scratch beneath the surface, he's a bright man, terrific company, somebody with an instinctive desire to make the world a better place and brighten up anybody caught in his tractor beam. So what's not to like?
And yes, he isn't just liked, but loved by a multitude of women for the manner in which he has broken down barriers ever since the screening of programmes such as How to Look Good Naked, Gok's Fashion Fix and Gok's Clothes Roadshow.
Lorraine Kelly described him as "the messiah". The Guardian praised him for championing a crusade "to empower women of all shapes and sizes and do it with a smile on his face". And, really, that's a pivotal part of the appeal which Gok brings to the table: the fact there's nothing remotely po-faced or preachy about his approach to life.
On the contrary, he is ferrying his innovative Fashion Brunch Clubs to a range of venues across Scotland, commencing with the first of three dates at the Meldrum House Hotel in Aberdeenshire on January 29. These events promise to be all Gok and plenty of action, with food, drink, style tips, a catwalk show and his extrovert personality to the fore.
As he told me: "I've been looking to devise a way of doing what I do on TV and taking it on the road and I'm confident this fits the bill perfectly. We're premiering it in the north-east before moving on to Inverness and Glasgow and Edinburgh and the response has been absolutely fantastic since we launched it.
"It's a mix of a lot of different things, but the main ingredient is to have bags of fun and meet as many people as I can.
"And I will be doing my best to make sure they all have a great time. This is not just women, either. Yes, they are my main demographic when it comes to discussing the fashion scene, but I've been told that quite a few men have bought tickets as well, so good for them – this is an equal-opportunities world, isn't it?"
It's difficult at this stage to countenance Gok as a 21-stone, mixed-race teenager, being bullied during his formative years in Leicester.
But these unpleasant early experiences fuelled his desire to change perceptions, chip away at the status quo and gradually, inexorably, make it acceptable, and normal, for the public to wear what they want, when they want, without being excoriated by their peers.
He told the Press and Journal: "It's incredible how much has happened in the last 11 or 12 years and I feel so gratified when I look at how things have improved, whether in the fashion industry as a whole or in the greater freedom of choice there is for women in Scotland, in Britain, and in most places in the world from where we used to be.
"I remember the time when people would buy clothes simply because they had been conditioned to buy a certain type of clothes and that was it… they were pigeonholed and it seemed as if they had nothing else, end of story.
"I just thought to myself: 'No, that isn't good enough,' because women shouldn't have to feel they are constantly being judged on what they are wearing and are living in an environment where they are not allowed to escape from conformity.
"Believe me, I know what it is like to look in the mirror and absolutely hate what is looking back at you, and to pick up a fashion magazine and say: 'Why can't I look like that?' It's not fair, so there is no way I would ever tell a woman she is looking flabby – to be honest, I can't think of anything in the world more horrible.
"Nowadays, you have petitions, you have groups of like-minded individuals coming together and campaigning for change in their lives, so it's not so much about Tory v Labour any more as people joining forces to argue about the issues which concern them and that has opened up a whole new level of democracy.
"British women need to embrace their natural beauty and stop hiding behind the masquerade of ill-fitting clothes and tonnes of make-up, and learn to love their bodies, because it will make them feel better."
Gok is a force of nature, which helps explain his boundless commitment to myriad diverse causes. He supports women's rights, has backed anti-bullying charities Kidscape and Ditch the Label and was refreshingly honest in his autobiography.
His guiding principle seems to be that he never shied away from accepting what he was, and took any abuse squarely on the chin, so why should anybody else have to suffer these privations on their own?
As for his eclectic interests, Gok insisted it was all in the genes. He told me: "It's weird, because I don't restrict myself to one fashion label, and I don't see why I should restrict myself to one role on TV or on stage.
"I've loved branching out and becoming involved in as many different projects as possible."
Gok Wan has been instrumental in orchestrating a seismic shift away from how the fashion industry used to operate. And although he knows that much remains to be done, he is a persuasive, persistent antidote to the days when anorexic waifs used to line the global catwalks.
Essentially, he isn't offering a panacea, but spreading his message that body confidence should be on the school curriculum, and youngsters, whatever their background, should be treated as individuals, rather than being herded into one amorphous group.
And, of course, lest this is becoming too serious, he is doing so with a big grin on his face. As he regaled me, with an emphatic flourish: "The Brunch Clubs will be massive fun days. I'm already looking forward to them and it's not even Christmas.
"You have a grand meal, you drink some Champagne, you meet new friends, you enjoy yourself and learn about fashion. And I am also working with local businesses and talking to people in the community, so it's a win-win situation for everybody."
With which, it was "Goodbye Darling" as he rushed off to another appointment on his peripatetic schedule, before he contemplates becoming the Gok of the North. Make no mistake, if this blithe fellow sets his sights on doing something, the chances are it will get done.
Gok's three shows at Meldrum House Hotel, Aberdeenshire have sold out but it may be worth checking with organisers for returns. He's also at the Kingsmills Hotel, Inverness on Sunday, February 19.