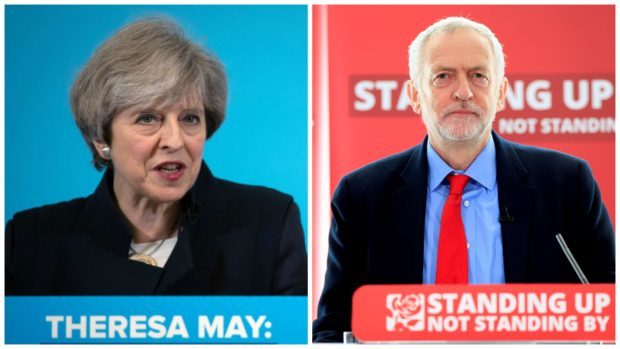 Theresa May and Jeremy Corbyn will face a live grilling from veteran broadcaster Jeremy Paxman tonight in what is being billed as the 'Battle for Number 10'.
The Prime Minister and Labour leader will answer questions seperately in front of a live studio audience as the election campaign races into the final stretch.
Mrs May, who ruled out going face-to-face with Mr Corbyn, is expected to use the interview to relaunch her flagging campaign following controversial social care proposals laid out in the Conservative manifesto.
The row has led to a significant dip in the polls, with Tory election chiefs reportedly discussing the possibility of Labour taking a shock lead, despite trailing 18 points behind Mrs May's party just last month.
Meanwhile the Labour leader will have questions to answer over his past comments on the IRA, his shadow home secretary Diane Abbott's calamitous performances over funding for new police officers, and his position on national defence.
On the same issue, Theresa May is expected to be asked about cuts to police during her time as home secretary and whether they made the country more susceptible to terrorist attacks like the one in Manchester last week.
Both leaders are likely to be asked to outline their positions on Brexit, the single market and Scottish independence, with the studio audience being specially selected for balance.
The format will be similar to the one used in 2015 when Mr Paxman famously asked Ed Miliband whether he was tough enough to lead the country and a student challenged David Cameron over his use of 'Project Fear' to garner support for remaining in the EU.
The Battle for Number 10 will be broadcast live from 8.30pm on Sky News and Channel 4, with full coverage and analysis available on the Press and Journal website.