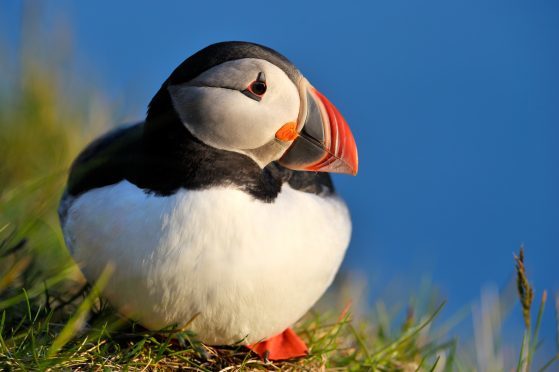 Animal lovers are being urged to take a bird's eye view of one of Scotland's best-loved winged creatures.
RSPB Scotland is asking visitors to puffin colonies across the north and north-east to grab a snap of the birds as they feed their chicks, and upload it to its website.
The organisation has hugely popular habitats at Bullers of Buchan and Fowlsheugh.
There are also a number of attractions south of Aberdeen, between Inverbervie and Stonehaven, and between Gardenstown and Pennan.
With their eye-catching colourful bills and distinctive markings, puffins are among the more popular species on these shores.
However, there numbers have plummeted in recent years in the UK and Europe which is why the charity has launched this latest initiative, which will take place this month and next.
Ellie Owen, who is leading the project, said: "We're really excited to be starting the Puffarazzi phase of Project Puffin. We know that many people love to visit puffin colonies during the summer and this part of the project gives them the chance to contribute to helping these much loved birds.
"Puffins are facing huge declines over the next 50 years – it's estimated their numbers will go down by between 50-70% by 2065 – so it's really important that we act now to help them.
"Anyone can take part in Puffarazzi – there are some easy steps to follow to ensure that the information being gathered by the images submitted is scientifically robust, and that puffins, and other wildlife, aren't disturbed while the photos are taken.
"It's great that the public are able to play such an active role in this project – we hope people will be inspired by the plight of these birds to become Puffarazzi.
"This is a chance for people to help shape the future for puffins, we expect that the information collected by the project will advise government on the best ways to protect puffins at sea so anyone taking part in Puffarazzi will be providing us with valuable data that should have a long term impact."
Once collected, the charity's experts will analyse the images to try and identify what puffins are feeding to their young and how there numbers are changing.
For more information visit www.rspb.org.uk/projectpuffin