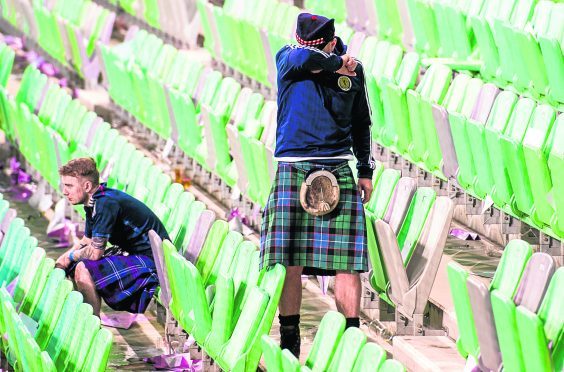 The gallows humour which permeates Scottish sport has been prominent in recent days.
At the weekend, in the build-up to the unsuccessful attempt by Gordon Strachan's team to make progress towards next summer's World Cup in Russia, Peterhead-born film director Jon S Baird summed up the mood.
He declared: "It's superb Iceland have almost qualified for their first World Cup … Let's hope Scotland get Sainsbury's or Lidl in the play-offs."
However, after Sunday's contest in Slovenia – which ended in a 2-2 draw – the investigations, soul-searching and breast-beating into the problems in Scottish football – and wider afield – have quickly resurfaced.
Gaffer Strachan, the former Aberdeen star, who has overseen two unavailing campaigns as part of Scotland's failure to advance to any major tournaments since 1998, was proud of his players after this latest reverse.
But he suggested a new reason for the result, pointing to genetics.
He said: "Technically, we are fine, but our lads have got to work harder on the ball than bigger lads who are 6ft 2in or 6ft 3in."
His argument provoked a range of responses – with many suggesting there were other issues at play.
Former Scotland goalkeeper Alan Rough, who appeared at three consecutive World Cups between 1978 and 1986, was among those who felt his compatriots' problems lay elsewhere.
He added: "People are really struggling to come up with reasons for this latest disappointment. But I just thought Slovakia, Slovenia and England were technically better than us. They had more skill and, although the Scottish guys pushed them in different ways and got some decent results – they haven't been beaten in their last six matches – it is a struggle at the moment and we can't pretend it's not.
"People keep going on about these things running in cycles. But this is a very long cycle, isn't it? The Tour de France of cycles. I think we are moving in the right direction, but there are no easy solutions."
There has certainly been no shortage of hard-luck stories across Scottish sport during the last 30 or 40 years. Everybody with access to a TV or video will recall the protracted pain of the 1978 World Cup in Argentina, where the Scots couldn't beat either Peru or Iran, while Gary McAllister's missed penalty in 1996 sparked another outpouring of misery as Paul Gascoigne sealed a 2-0 England victory at the European Championships.
In rugby, meanwhile, Gavin Hastings' botched kick from almost directly in front of the posts cost his side dearly at Murrayfield in the 1991 World Cup semi-final loss to England, while a controversial, last-gasp refereeing decision saw the Australians edge past their SRU counterparts 35-34 at the 2015 tournament.
And yet, although teams have toiled, individuals in the mould of Andy Murray – who has now won multiple tennis majors and two Olympic gold medals – have conspicuously thrived on the global circuit, alongside Chris Hoy, who is the most golden-strewn Scottish cyclist in history.
Then there are rowing stars Katherine Grainger and Heather Stanning, and paralympians in the vein of Neil Fachie.
So why does it seem to be the case that men's football – emphatically the country's number one pastime – has not enjoyed any similar heroics, whereas the likes of Wales, Iceland and Northern Ireland have taken major strides forward?
Craig Brown, the last manager to lead the Scots to a World Cup – in France in 1998 – offered some telling insights when he spoke to the Press and Journal yesterday.
The former Aberdeen boss, and current Pittodrie director, said: "It might be hard for some people to accept, but we have no God-given right to be at these big events.
"I think we still tend to be a wee bit dismissive, a wee bit arrogant, when we prepare for these matches, so we have to sort that out and have a reality check.
"When the old Soviet Union broke up, you had 15 countries emerge from that, as well as Russia, and all these nations are very proud of their identity and they pour money into sport and take it really seriously.
"I don't think Gordon should be criticised for the job he has done, or even for mentioning genetics. I was sitting with (former Rangers and Scotland manager) Walter Smith at the Slovakia game at Hampden and, when the teams were lining up for the anthems, I looked at Walter and said: 'They look bigger and more powerful than us'.
"That, in itself, doesn't guarantee you anything in sport. Look at Lionel Messi, who is rightly considered one of the greatest players in the world. Or former Scotland players such as Jimmy Johnstone, or Denis Law, or Kenny Dalglish. But we are living in a era where we don't have the same calibre of player we used to have, where every youngster has an iPad, and a mobile phone and many of them are happier to watch sport than play it.
"You can no longer rely on kids wanting to turn up in the pouring rain in the middle of winter for football practice. You have to create an environment where they will want to get involved again.
"I look at a country like Croatia, for instance, which is progressing at every age-group level. Sometimes, countries produce one good crop of players, and that's it. But what is happening in Croatia – and other parts of Europe – is no accident and we have to be ready for that in the future."
Mr Brown said he admired the fashion in which Andy Murray demonstrated the necessary application and commitment to relocate to Spain as a youngster, rather than remain a big fish in a small pond.
But he accepted it was difficult for talented teenagers to break into the biggest leagues on the European football circuit.
As somebody who was involved in helping the Scots qualify for five major competitions – three World Cups and their only two European Championships – he also believes the lack of suitable modern facilities must be addressed.
He stated: "I remember, when I was in charge of the national side, making a visit to Norway and finding that every village had a government-backed indoor sports arena. Alright, their climate is more severe than ours.
"But it explained why so many of their youngsters were actively engaged in sport, whether it was football, hockey, basketball or whatever.
"I'm a great fan of such facilities as the Aberdeen Sports Village, but we need more of them throughout Scotland.
"People went on about Iceland doing well at last year's European Championship, and yes, they definitely punched above their weight (including beating England 2-1).
"But do you know they have seven full-sized indoor pitches with state-of-the-art amenities?
"That's with a population of just 350,000.
"Most of the Eastern European countries are heading in the same direction. I thought the Lottery money would help us in that regard."
Both he and Mr Rough don't believe there is any merit in the SFA making change for change's sake. But, with the European Championships having expanded to 24 participants, whereas there were only eight in the 1990s, they are both concerned the sight of players and fans in tears at the climax in Ljubljana on Sunday might not be a one-off occurrence.
Mr Brown said: "I am a natural optimist. At the moment, I think Aberdeen can win the SPFL and we can keep closing the gap on Celtic.
"And I also think the Scots can get back to the days where we qualified for these big tournaments.
"But we have to accept things have to change.
"On Sunday, it wasn't the tournament we failed to qualify for – it was the
play-offs for the tournament."
Size doesn't matter
Until recently, rugby was suffering similar problems to football in Scotland: A game blighted by poor results, a rickety infrastructure, and declining attendances.
But the success of Glasgow on the Pro12 stage and Scotland in the Six Nations Championship has been the catalyst for new-found confidence.
That was characterised yesterday by the responses of two Scotland greats, John Rutherford and Craig Chalmers, in discussing such issues as whether they were at a genetic disadvantage, compared to other countries.
Mr Chalmers, one of the 1990 Grand Slam-winning side, told the Press and Journal: "In the past, you sometimes looked at opponents from England, for instance, and thought 'These guys are absolute monsters'.
"They were bigger, yes. But better? No, not necessarily.
"And the Scots have kicked on since then and I think we have a good chance in next year's Six Nations. We beat Australia this summer, we beat New Zealand in Sevens, there's a new buzz around.
"It's disappointing that Scotland haven't finished the job in football. But I am optimistic about rugby in this country."
Mr Rutherford, a member of Scotland's 1984 Grand Slam collective, added: "I am really upbeat about what we have achieved recently and confident we can continue that in the future.
"In our day, we came up against rivals from the likes of Samoa, Fiji and New Zealand, and they were massive. You knew it would be hard going.
"But (national coach) Gregor Townsend has transformed the mindset. And the guys are professionals and work incredibly hard in the gym. We also have strength in depth: two good players in every position.
"We have a tough autumn series next month against Samoa, Australia and New Zealand.
"We've never beaten the All Blacks in more than 100 years. But it has to happen sometime."