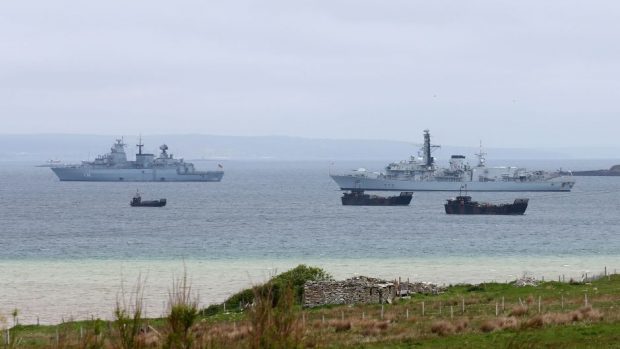 Beaches around Orkney's famous Scapa Flow are polluted with plastic waste on industrialised levels similar to highly populated areas like the Clyde and Firth of Forth.
Despite its remoteness and small population, scientists have discovered the Orkney location is suffering from a high level of microplastic pollution.
Scientists from Heriot-Watt and Orkney Islands Council took over 100 sediment samples from 13 locations around Scapa Flow, and compared them to samples from the Clyde and Firth of Forth.
The worrying results showed that microplastics were present in all 13 samples.
The microplastic are not caught by washing machine filters or at treatment works and researchers believe they are carried on complex tidal flows through the Pentland Firth, with Scapa Flow acting like a sieve capturing the particles.
Dr Mark Hartl, associate professor of marine biology at Heriot-Watt University, said: "The fact that a relatively remote island has similar microplastic levels to some of the UK's most industrialised waterways was unexpected, and points to the ubiquitous nature of microplastics in our water systems.
"We need a baseline for all of the UK's waters, so that we can assess the impact of government policies that aim to reduce marine pollution, such as the microbead ban.
"The growing amount of data regarding plastic litter contamination in the marine environment has led to the need for understanding the related risks not only to the health of marine life, but to humans as well – microplastics are working their way into our food chain.
Jenni Kakkonen, a biologist with Orkney Islands Council's harbour authority's marine environmental unit, conducted the sampling in Orkney with her team.
The part-time PhD student at Heriot-Watt's International Centre for Island Technology (ICIT) in Orkney, said: "It's important we keep an eye on the seas around us through research of this kind.
"It came as a surprise to me as well that there was no significant difference between average particle and fibre concentrations found in the Scapa Flow, Clyde and Firth of Forth."
Orkney Islands Council will now routinely test for microplastics during its annual sandy shore monitoring programme, and Heriot-Watt University will provide analysis.
A range of government policies have been announced in recent months to reduce plastic in our seas, including a deposit-return scheme for drinks containers and a ban on plastic-stemmed cotton buds in Scotland.
A campaign was also launched by north MSP Kate Forbes to ban plastic straws, with Western Isles Council becoming the first local authority to pledge to go plastic free.
The plight of marine creatures killed or injured by plastic was highlighted last year by the BBC's Planet Earth II series.