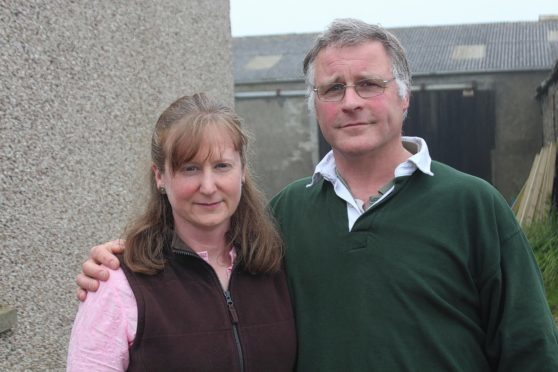 An Orkney couple are supporting the campaign to bring a new charity air ambulance to the north-east, saying it could save lives by ensuring casualties on the islands receive more timely treatment.
Jennifer Graham waited for more than three hours for transport to take her off Stronsay after she went into early labour in October 2013.
The Scottish Ambulance Service's (SAS) Inverness-based helicopter took her to Kirkwall, where a fixed wing aircraft took her to Aberdeen.
Asco back plans for new air ambulance to be brought to Aberdeen
She finally arrived more than five hours after her GP called for an emergency transfer, but it is believed baby Jack died during the journey.
Mrs Graham and her husband Robin believe that if the transfer had taken place sooner, ambulance staff would have been able to monitor Jack, who had Down's Syndrome and a heart condition.
They spoke out about the experience in the hopes of boosting air ambulance service to the islands in the months following their ordeal.
Although SAS carried out improvements after meeting the couple, Mrs Graham has welcomed the prospect of resources being further strengthened should Scotland's Charity Air Ambulance base a new helicopter in the north.
The organisation has one helicopter, at Scone, but recently launched a £6million fundraising campaign to purchase another and arguments have already been made in favour of locating it in Aberdeen.
Mrs Graham last night added her voice to those calls, and pledged to take it upon herself to garner more support across Orkney.
She said: "Any extra air ambulance service would certainly help.
"I hear that timings have improved, but it can still take hours for air ambulances to pick up patients from Orkney or Shetland.
"It is coming up to the fifth anniversary of our experience this October, but I am still very keen to see improvements.
"I would like to help by getting the word out in Orkney and raising money towards the second helicopter, even having an extra one would be such a help."
SAS has two helicopters, based in Inverness and Glasgow, and two King Air 200c planes in Aberdeen and Glasgow.
Politicians across the party spectrum have argued that bringing the second charity air ambulance to Aberdeen would combine well with plans to create a new trauma centre in the city.
Orkney MSP backs the case for a north-based helicopter
When Scotland's Charity Air Ambulance first took to the skies five years ago, it was intended to provide the country's emergency services with some "added resilience".
Liam McArthur, who has represented Orkney as its MSP since 2007, says he has witnessed the positive knock-on effect it has had in freeing up other resources since then.
The Lib Dem has campaigned for improvements to air ambulance services to the islands for years, and last night stated the case for the second air ambulance to take up residence in the north.
He said: "For a number of years we in the islands have relied upon the Scottish Ambulance Service's helicopter based at Inverness, and it has been upgraded in recent times.
"However, the area it covers is so vast that the likelihood of it being called out to incidents simultaneously is quite high.
"The advantage of an additional charity helicopter is in creating more capacity within the ambulance service, and enabling its road and air ambulances to respond to call-outs more quickly.
"It is difficult to quantify, but I believe we have seen the pressure reduced on the Inverness helicopter since the charity air ambulance was launched in 2013.
"So whether or not the helicopter based in Aberdeen would be called to Orkney and Shetland often, it would cover emergencies which the Inverness one may otherwise have been sent to."