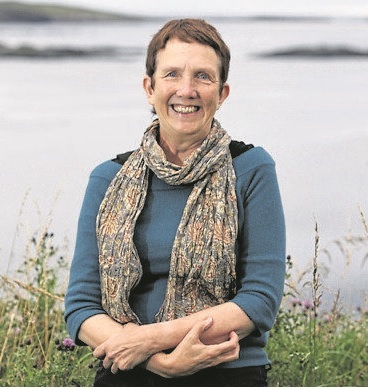 It's 12 years since bestselling crime author Ann Cleeves first introduced detective Jimmy Perez to the world in her novel Raven Black.
In the intervening period, the Shetland-based sleuth has dealt with a multitude of murders in works such as White Nights, Red Bones, Blue Lightning, Thin Air and Cold Earth.
And the TV series, Shetland, starring Douglas Henshall and Alison O'Donnell, has become a global phenomenon after being adapted for the small screen in 2013.
But all good things must come to an end and Mrs Cleeves will launch her final Perez book, Wild Fire, on the islands themselves at the start of September.
It promises to be a bittersweet occasion for the writer and the community that has embraced her.
Indeed both have spoken highly of the mutual influences that have been the catalyst for one of the most successful book series in history.
Shetland Library manager Karen Fraser is amomg those who have formed a close friendship with the prolific writer.
Mrs Fraser said: "Through all her successes, Ann has always come back to Shetland to launch her books and is a great ambassador for libraries and for the islands.
"She has worked closely with the television process, helping to set up good contacts and locations.
"Fans will be sad to hear the books are coming to an end – and dying to know if Ann will give Jimmy a happy or a tragic ending – but will be delighted that the television series continues.
"Ann always likes to see as many folk as possible when she is in Shetland, so she will be doing events at our Unst and Whalsay libraries as well as the main launch in Lerwick Town Hall."
The latter event will feature a performance by musician Cathy Geldard who will premiere her original composition, A Tune for Jimmy Perez.
And Shetland Distillery has also produced a special edition Wild Fire gin for the occasion and will unveil it that evening.
For her part, Mrs Cleeves has marvelled at Shetland's raw, rugged beauty and been "blown away" by the reception she has gained from the residents.
She said: "I will always be grateful to Shetlanders for their support and generosity and I can't wait to be back in September to thank them properly."
She will be speaking at Baltasound Community Library on Tuesday September 4 at 7pm and hosting a drop-in session at Whalsay Secondary School Library on Wednesday September 5, from 1-2pm.
Both events are free and include book signings.
The Lerwick Town Hall launch is at 7pm on September 5. Tickets priced £4 are available from Shetland Arts Box Office.