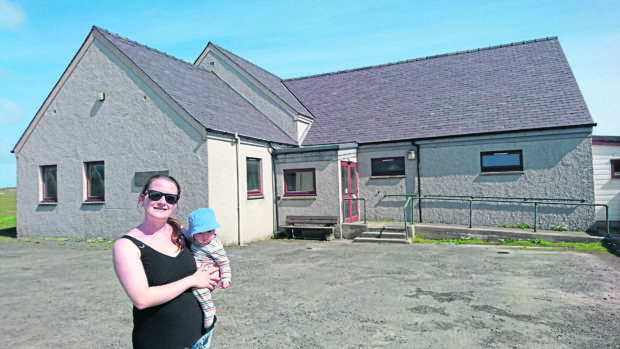 It is one of Britain's most remote locations, with a population of just 60.
And that helps explain why the community hall on Fair Isle has become a pivotal part of the islanders' lives.
But now, following the cancellation of several events, the residents have commenced a fundraising drive to ensure they can switch the heat back on and repair the facilities before the arrival of winter.
They need £30,000 to refurb the radiators, pipes, boiler and fuel tank, which have gradually been falling into disrepair.
One resident, Eileen Thomson – a mother of two young children, Luca, aged 3, and Ander, just seven months old – told the Press and Journal the charity drive had already received a £10,000 boost from the National Lottery.
But the islanders have also launched an online auction, with items including one of the famous sweaters which have become synonymous with Fair Isle.
Mrs Thomson said: "We started looking into it seriously at the end of 2017 as it was apparent the job was bigger than simply replacing the faulty boiler.
"The radiators have been stopping one by one for the last few years and we have had to cancel a few events as the boiler couldn't be used if the wind was easterly because it would blow fumes into the hall – which was lovely!
"The total cost of the project is around £30,000. This includes all work and materials as well as the cost of travel and accommodation to the Isle as we are using contractors from Shetland.
"Nothing is cheap up here.
"The project is vital, because the hall really is the hub of our small community. It is used for sports, dances, functions, local meetings, music, afternoon teas and craft sales for visiting cruise ships.
"This is hugely important as many islanders are talented knitters and artists who sell a big percentage of their stock to tourists from ships.
"And it is also used by the primary school for games and even the kids' school dinners."
The charity campaign has meant that engineers will start work in the next few days. But Mrs Thomson said it was important the residents continued to dig deep to reach their target.
She added: "We have a fundraising box in our local Tesco in Lerwick, thanks to their "Bags of Help" scheme.
"Hopefully, lots of Shetland shoppers think of us fondly and are putting their pennies in the slot.
"We are also auctioning our knitwear and artwork and the grand prize is a bespoke Fair Isle jersey, created especially for the winner by two of our established knitters.
"The current waiting list for a Fair Isle jersey is over two years, so this is a great way to jump the queue."
Further information can be found on the Fair Isle Community Hall Facebook page.