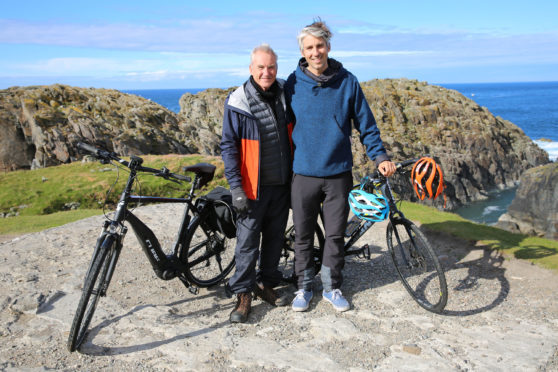 When you're filming, the show must go on – and two island businesses helped a celebrity father-and-son team do just that.
Former Eastenders actor and I'm a Celebrity star Larry Lamb was with his presenter son George attempted to ride the Hebrides Way.
But the pair ran into trouble filming Britain by Bike for Channel 5, when Larry's gears failed.
However, an alliance comprising three bike specialists covering the entire route managed to save the day.
Through the endeavours of Tony Flanagan of Barra Bike Hire the cyclists were able to hire a replacement electric bike to get back on the road.
While that was happening Larry's own bike was sent to Stornoway to be repaired by Alistair Glover of Bespoke Bicycles.
Although both are independent businesses, Mr Flannagan and Mr Glover work together with Malcolm Gibson on Berneray to offer breakdown cover for cyclists along the Hebridean Way.
After fixing the bike Mr Glover said: "It hadn't been set up properly, to be honest. I fixed it and dropped it back at the County Hotel where the production team were staying.
"They had finished filming here and were going off to Ireland to film the next episode, although they ended up showing that before the Hebrides one.
"I had met Larry in town, when they were filming that section with the pipe band. I said, 'Hi Larry, I'm fixing your bike' and he said, 'oh, how's it going?'"
It is unlikely the experience with the bike spoiled the duo's time on the isles with Larry saying "I've always wanted to come to the Hebrides and what a wonderful opportunity to bicycle it," adding it was "hard not to feel a bit envious" of those living there."
When their Twin Otter plane landed on the beach in Barra George said: "This is so cool. All of a sudden I totally get why everybody is raving about the Hebrides."
But even when the bike broke down in Barra, George insisted the trip would continue saying "nothing is going to stop our adventure. Even if I have to give him a backie all the way to Stornoway, so be it."
But it was not just the Outer Hebrides bike specialists that caught a glimpse of the limelight.
Among others, the Lewis and Harris Pipe Band made an appearance, so did a weaver, a kilt maker, traditional singers and Eriskay footballers.
The Lambs also called in on Charley Barley's when they arrived in Stornoway and described it as "black pudding nirvana".