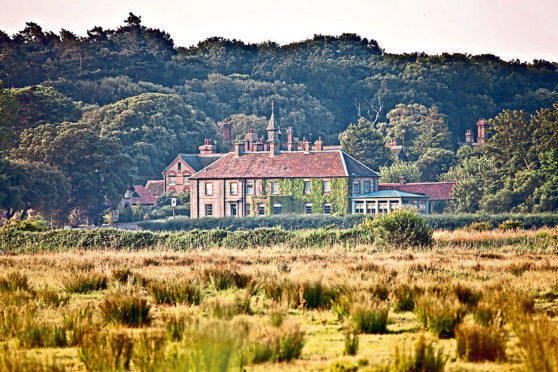 Watch rival stags fight for their harems at these recommended spots, says Sarah Marshall.
Deep in our forests, the seasons are changing, signalled by shorter days, carpets of crimson leaves and the unmistakable clatter of horns, locked in battle.
The deer rut is a sight – and sound – to behold, as testosterone-fuelled stags vie with one another to impress their females, and it's starting to happen right now.
There are three key species of deer found in the UK – Red, Fallow and Sika – and they all rut in the autumn.
Red deer stags are distinguishable by their load bellowing, known as "bolving", while Sika emit a high-pitched whistle which carries far and wide.
Activity is typically most intense after dawn but can happen throughout the day and is always best observed from a safe distance. If you're keen to witness the spectacle first-hand, visit one of the spots recommended below.
BEINN EIGHE, HIGHLANDS
Watch rutting stags battle in this 10,000-acre National Nature Reserve, where hills are ablaze with colour throughout October. All three main species of deer can all be viewed against a mountainous backdrop.
The Torridon Resort offers a mixture of luxury and more economical accommodation, and outdoors team leader Charlie Burrow runs bespoke guided walks to see the deer.
Rooms at the inn from £70pppn; rooms at the hotel from £132pppn. Prices based on two sharing and inclusive of breakfast. Visit thetorridon.com or call 01445 791 242.
HOLKHAM ESTATE, NORFOLK
A privately-owned estate covering 25,000 acres, Holkham has its own deer park a short distance from the coast.
Ideal for families, a seasonal tractor trailer Deer Safari allows smaller visitors to watch the herd from close range, while guides give an educational commentary.
It's possible to stay on site at The Victoria Inn, where dogs are welcome. Proximity to the coast means there's a good choice of fresh fish available in the restaurant, including local favourites such as lobster, mussels and crab.
Tickets for the Deer Safari cost £5 per adult and £2.50 per child. Rooms at The Victoria Inn from £130, including breakfast. Visit www.holkham.co.uk
LOCH NESS, HIGHLANDS
Red deer are frequently spotted by walkers in the hills and forests surrounding Fort Augustus on the southern shores of Loch Ness. The Suidhe Viewpoint, which is a 10-minute drive away, is especially recommended for photographers wanting to capture both the deer and impressive views of the landscape.
Caroline Gregory, owner of The Lovat Loch Ness hotel, recommends hikers attempt part of the South Loch Ness Trail, which covers a stretch from Fort Augustus to the village of Foyers, where deer are often seen.
Rooms from £100 per night, with breakfast. Visit www.thelovat.com
EXMOOR NATIONAL PARK, DEVON
One of the safest ways to observe the rut is from a vehicle.
Red Stag Safari offers trips in 4x4s, through ancient woodland, along rugged coastline and across moors covered in heather.
Along with finding deer, head guide Andrew Turner can also point out Exmoor ponies, birds of prey and evidence of Bronze-Age settlements.
Half-day safaris cost from £38 per person. Visit www.redstagsafari.co.uk