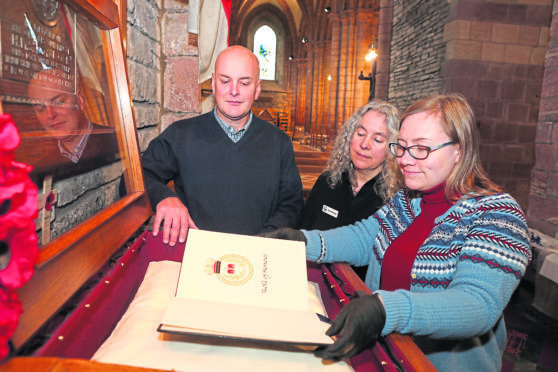 It was one of the biggest military tragedies in the whole of the Second World War.
But now, after a major restoration project, the remembrance book which commemorates the 834 men who perished aboard HMS Royal Oak nearly 80 years ago, has gone back on display at St Magnus Cathedral.
---
>> Keep up to date with the latest news with The P&J newsletter
---
The volume chronicles the names of the victims who were killed during a U-boat attack on the battleship in 1939.
But it required months of conservation work after being damaged during a break-in at St Magnus Cathedral last year.
Gareth Derbyshire, chairman of the Royal Oak Association, said: "The families are delighted and relieved it has been restored to its rightful place.
"The book of remembrance and the memorials at the cathedral and the harbour at Scapa are the only tangible link that the families have to all the men and boys who were lost.
"It has been an important focal point for families who have visited Orkney over the years. Its restoration will help to ensure that the sacrifices of those men and boys will be recognised by future generations."
The task of restoring the item to pristine condition fell to Caroline Scharfenberg of the Book and Archive Conservation Services in Edinburgh.
Mr Derbyshire added: "We are hugely grateful to all parties who helped in the restoration, particularly Caroline who has done a superb job, and Orkney Islands Council."
The roll of honour was created in 1993 and has been re-installed in a glass cabinet in the cathedral, beneath the bell from the ill-fated ship.
The disaster happened when German torpedoes sunk the vessel at Scapa Flow at 12.58am on October 14, 1939.
The wreck is recognised as a designated war grave under the Protection of Military Remains Act 1986, which was implemented to protect the wreckage of military vehicles and vessels and the remains of those who perished at these sites.
The HMS Royal Oak was one of five revenge-class battleships built for the Royal Navy during the First World War.
Prior to the ship's sinking, the RN considered its naval base at Scapa Flow to be immune to submarine attack.