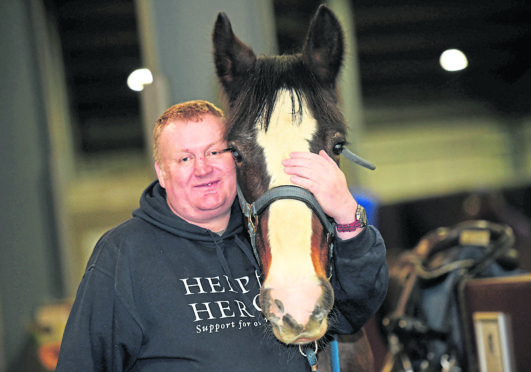 A Gulf War veteran living with traumatic memories of the front line is rebuilding his life with the help of forces charities – and an unexpected bond with horses.
Stevie Carle fought in Iraq nearly 30 years ago, but still experiences flashbacks to the horrors he witnessed during combat.
The former Royal Engineer from Banchory in Aberdeenshire turned to drink and drugs after exiting the forces as he tried to bury painful thoughts from his time in the Army.
And the 49-year-old has been unable to work since being diagnosed with post-traumatic stress disorder (PTSD) in 2011.
He remains prone to flashbacks even in the most innocent of surroundings and harrowing images of conflict disturb his sleep.
He said: "I can walk into a bar or shop I have been in 100 times and something will trigger a dark episode.
"I still can't sit in a strange place with my back to anyone. I always have to see what is coming towards me.
"The dreams are so vivid. Some nights, I close my eyes and it is like being in a cinema."
In contrast to the traditional image of a Christmas dinner, which conjures thoughts of families merrily pulling crackers over a roast turkey, Mr Carle will be eating alone.
He says he will know his meal is ready when he "hears the ping" of the microwave.
Mr Carle grew up in Aberdeen, and began a seven-year stint in the forces after his 16th birthday.
The first Gulf War conflict began in 1990 and ended when Iraqi forces were driven from Kuwait in 1991. It resulted in the loss of 47 UK soldiers during 98 hours of ground warfare.
Mr Carle took on various jobs upon returning to civilian life, including stints offshore and in oil industry offices.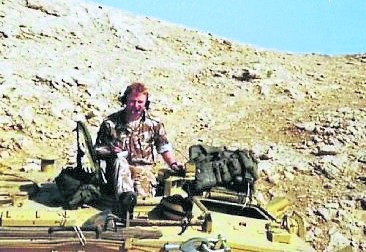 But the trauma he experienced in the Middle East continued to haunt him as mounting mental health problems caused his marriage to crumble and he tried to take his own life.
Mr Carle said: "I have survivor's guilt and am still struggling with anxiety and depression. PTSD affects your entire life, it is debilitating."
It was only after his "hugely supportive" GP referred him to Help For Heroes that Mr Carle began to piece his life back together.
Mr Carle says it is thanks to its Hidden Wounds service – which offers struggling veterans support via the internet, phone or face-to-face – that he is still here.
The veteran has now found solace in an unlikely pastime, by becoming an accomplished horseman.
Mr Carle was pointed in the direction of Horseback UK in 2012. The charity, which is based near Aboyne, has received more than
£1 million in funding from Help For Heroes over the last decade.
After overcoming some initial reservations about the animals he struck up a bond with them – and with the other veterans there.
He said: "I have made friends for life. It is good to meet others who understand what you are going through and share your sense of humour.
"It is very empowering working with horses, they all have their own individual personalities and empathy.
"They don't care about the past, they are just relying on you to look after them."
He is now a qualified mentor and ambassador for the programme, and also volunteers with Aberdeen Riding Club – which he finds "really rewarding".
Mr Carle says that his PTSD diagnosis was a "eureka" moment where the problems which had been plaguing him suddenly made sense.
The veteran acknowledges that the battle remains constant, but says the support he has received from Help For Heroes – and horses – has strengthened his resolve to continue the fight.
He said: "I have learned good coping mechanisms and now find I can punch through it.
"If just one person reads my story and gets the help they deserve, this has been worth it."