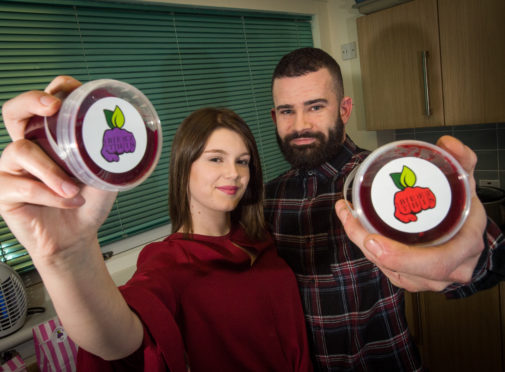 A Lossiemouth mechanic has revealed how the idea for his fast-growing business came to him in a dream.
Conor Stewart came up for the idea of a condiment made out of spiced beetroot in the middle of the night and couldn't wait to try it out.
---
>> Keep up to date with the latest news with The P&J newsletter
---
His wife Iona was woken up by the sound of the blender, and raced downstairs to see what the commotion was about.
Several months on, the couple are enjoying the success of product Beet This Food Sauce.
The sauce uses beetroot as its base, but contains a variety of spices and twists which are proving popular across the north of Scotland and even as far afield as Houston.
Mr Stewart, who originally just wanted to come up with a small business idea to tide his wife over while she stayed at home with their young son, said: "It was only meant to be a little sideline to start with but after we started making more from this than my full-time job it is pretty intense.
"We have 81 businesses we supply to now, from outside Inverurie down to Milton Keynes so it has went quite far across the UK.
"We have also sold to as far as Houston, Texas and Valencia and we have been advised to apply for Dragon's Den, because people have said we can be the next Levi Roots."
Mrs Stewart is thrilled with its success, and admitted she could never have imagined it when she woken up that first night.
She said: "I woke up, blenders were going at four or five in the morning so I thought whats going on?
"So I then went into the kitchen and asked him what he was doing, and he was blending beetroot and all these different spices and different things and I tasted it and it was really nice.
"Obviously it took some adjustments before we perfected it but I asked him why he was doing it and he said 'well I had a dream', so there we go."
The couple run the business together, but Mr Stewart is also juggling his full-time job as a master technician which he does not plan to give up just yet.
He said: "I don't want to give up my job yet, because almost as much as this business is succeeding, I've got a family.
"There would have to be some drastic change, like us being taken on by a supermarket for me to quit my job."
"We are not chefs, so we want to get across that we are a family run business and I'm hoping one day, we become a household name, much like Heinz are."