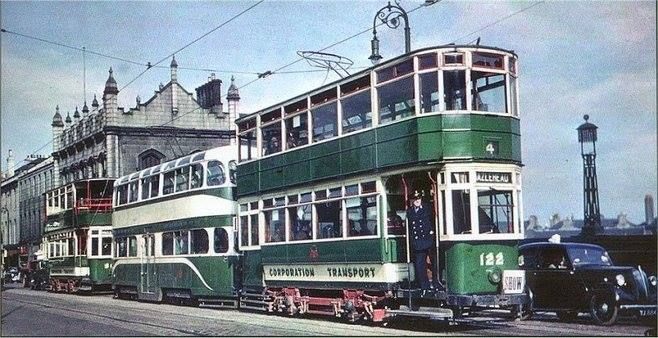 The author of a new book about Aberdeen's trams says it was a "tragedy" when the city scrapped its 20-strong fleet more than 60 years ago.
Peter Waller, who has examined the history of trams in the Granite City, said he was convinced the new vehicles, which were ditched after less than a decade, would have been of greater benefit in the long term than the diesel buses that replaced them.
Mr Waller, who has mapped the history of the vehicles across Britain, has examined a transport structure that will be familiar to past generations and has been revived in other cities throughout Britain, including Edinburgh, with varying degrees of success.
Lost Tramways of Scotland: Aberdeen also provides an intimate glimpse into the social history of life from the late nineteenth to the mid-twentieth centuries, a time of immense growth and change when travel by tram was commonplace.
Aberdeen played host to two electric tramway systems: the corporation's services within the city and the short-lived arrangement operated by the Aberdeen Suburban Tramways Co.
The vehicles first took to the tracks in the city in 1898 and were originally drawn by horses before being electrified in 1902.
After acquiring modern trams in the late 1940s, Aberdeen was widely perceived as a city that would benefit from sustained investment in the scheme, but the plan came to nothing, with the final journey taking place less than a decade later.
Mr Waller said: "Although elsewhere in Britain the end of the Second World War allowed for plans for tramway conversion to be revived, in Aberdeen the tram really seemed to have a secure future.
"'The tragedy of the Aberdeen abandonment was that, having acquired 20 brand new trams less than a decade earlier, a highly efficient and environmentally friendly form of transport was allowed to disappear.
"In all likelihood, if the trams had survived for even another few years, the city would still have them today."
The last hurrah was a short trip from Bridge of Dee to Bridge of Don on May 3, 1958, when a solitary tram travelled down streets.
They were lined with local residents who had come to pay their last respects.
The fleet was then taken to the beach and set alight, despite the protests of the public.
All but two trams were destroyed that night – one now resides in the Grampian Transport Museum in Alford, while the other is on display at Dundee Transport Museum.
The book features a wealth of original photographs from the collection of the Online Transport Archive, many of which are appearing in print for the first time.
It will be published by Graffeg on February 20.