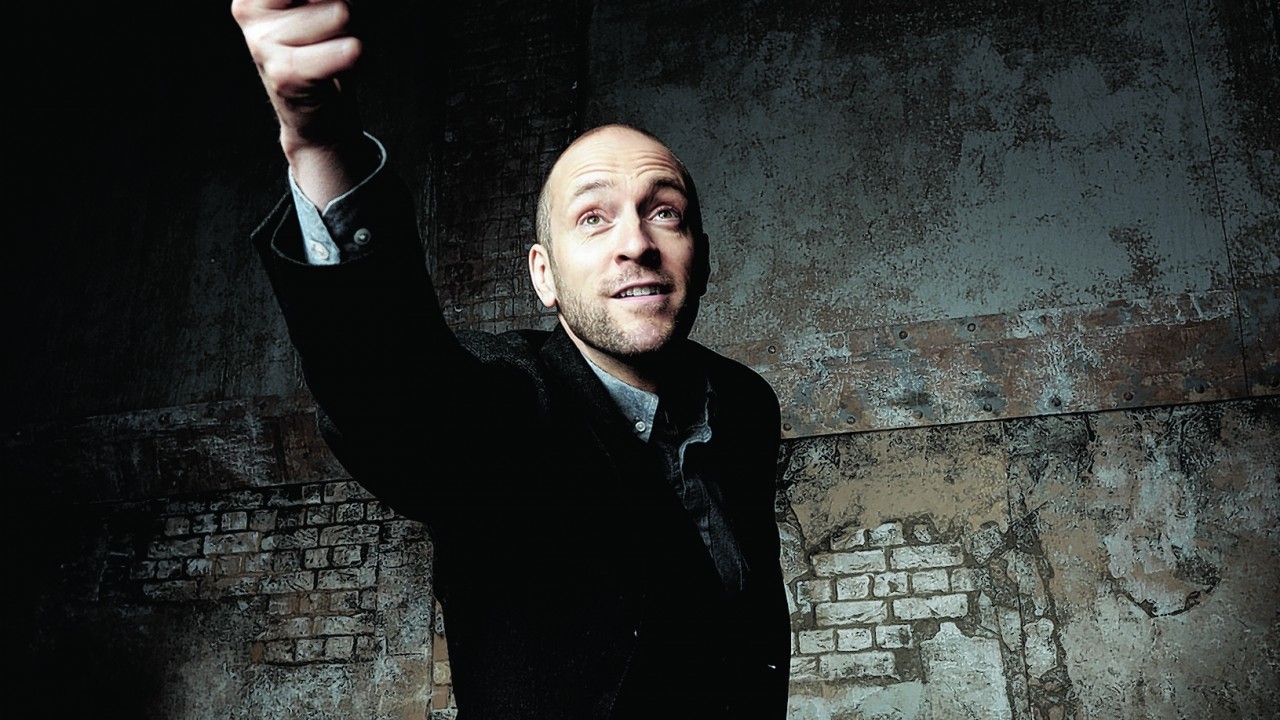 When Derren Brown came out six years ago, it didn't rock the world. It wasn't that people had suspected him of being a gay man all along – it was just that everything else about him was generally more interesting.
When you've played Russian roulette live on TV, hypnotised regular folks into robbing banks, and even displayed the powers of the Messiah himself, coming out as gay can't help but seem underwhelming by comparison.
Derren was 31 at the time, and his fame as illusionist and psychological trickster was established. Up until that time, he had somewhat denied his homosexuality – initially burying it beneath his Christian faith then, after turning atheist in his twenties, behind a veil of asexual eccentricity.
To have come out at the relatively late age must have taken great courage. He doesn't really see it that way, though, and nor does he think he should have done it sooner.
"One thing you can never do is go back and untangle one thread from a big ball of colourful threads," Derren said.
"Of course you would recommend anyone to do it as soon as possible because it's awful to feel conflicted and like you have some deep dark secret. But you soon realise that it's not a big deal at all, generally speaking.
"But on the other hand, if I had done it earlier on, I don't think I would be doing what I'm doing now. I was leading quite an eccentric and independent life before I came out and a lot of that has gone into what I'm doing now. So I think it's really important to do it, but not before you're ready to do it."
The topic of Derren's sexuality came up in conversation as we discussed his forthcoming live show, Infamous, which comes to HM Theatre in early July. A new chapter of sorts within his performance portfolio, the show is a more intimate and stripped back experience, exploring some huge ideas but presenting them a decidedly personal way. Almost like "an acoustic set", he explained.
His willingness to discuss such a personal topic as his coming out disarmed me slightly, but in light of his latest touring show, it makes sense. With some gay men and women I've interviewed, responses to this line of questioning can range from the curt to the politely deflective. In some cases, I've even been warned off the subject altogether by their publicists in advance of the interview.
But for Derren, it's important that people can ask him, just as they would ask how he comes up with his mind-blowing illusions. Not that the subject comes up that often, mind you. Again, many people still don't know he's gay, or perhaps don't particularly care.
"It's partly the result of coming out late. I've never been camp or 'queenie' which I may have been if I did it earlier," he hypothesized.
"I think the reality is, sexuality is quite a fluid thing. I think it's got a spectrum. We live in a culture where there's a sort of need to give yourself a label. And when you do that, it gives you a feeling of identity. But to me, it seems the experience of doing that is not quite an honest reflection.
"I wasn't the sort of person that was going to make a huge deal out of it. And I think that's the reality of sexuality – it's quite a subtle thing, and it relates to how you identify with yourself and the things you feel alienated from. And by not throwing yourself into that, it feels more honest to me.
"But at the same time, if you're well known it's quite important to communicate the message that it's okay to be gay. And hopefully in the time when it becomes less of an issue, the need to identify will be less important."
In his latest tour, Derren brings this autobiographical frankness to the stage – giving him yet another way to bring the audience in on the act. Previously, in his stage and screen shows, he did this by debunking myths or explaining how he achieves his tricks, but now he's doing it by sharing more of himself with the audience.
Don't get him wrong though – this isn't some on-stage therapy session for Derren. Audiences will still be left in awe at the many amazing illusions he casts.
"It's not about it being therapy for me," he said.
"After you've rehearsed the show – not that it feels like a script – but you are talking those words into a big black space. So it doesn't feel very personal. It's not like there's a therapeutic reason for me to do it. It's more about the audience experience," he said.
"The reason I do it is to get over some big ideas from the show, and unless you're self-deprecating with that, it just seems a little preachy."
Now undertaking his sixth live show, Derren has got this touring thing down to a fine art – from learning the importance of conserving his voice, to the joy of playing scrabble on his phone.
He's also learned how to make best use of his days, namely by writing a book. Like with Infamous, Derren's quest to explore big concepts seems to have inspired him to write. The topic of his forthcoming book – which he's been drafting in coffee shops and local haunts across the country while on tour – is happiness.
No doubt inspired in some way by finding himself finally contented in his own skin, he has become fascinated with how we as a society can become happier, and importantly, what is stopping us.
"The big thing is that we are fed a very unrealistic and anxiety-inducing model of what happiness is," he explained.
"It says that if you set goals you will achieve them and be happy. And there are so many mistakes in that. It's a very insidious message. It says 'if I choose my A Levels now, and do that degree after, and get that job, and that promotion' and so on, but it's all these things on the horizon."
This model, he explained, is firmly rooted in Christianity's view that "if you suffer now, then better things will be on the horizon". What this downplays are the roles of fortune, luck and all the random things life throws your way – concepts which were central to the ancient Greeks' models of thinking about happiness.
As he found when coming out at 31, Derren firmly believes the route to real happiness is about realising what you have now, rather than focusing on what could be.
"And secondly, and this is related, it's that there are things in your life which you are in control of, and those you're not. You need to not care about those things which you're not in control of," he said.
"And when you come to really understand that, you can go from being really upset about something to that lovely feeling of being a kid where everything is okay."