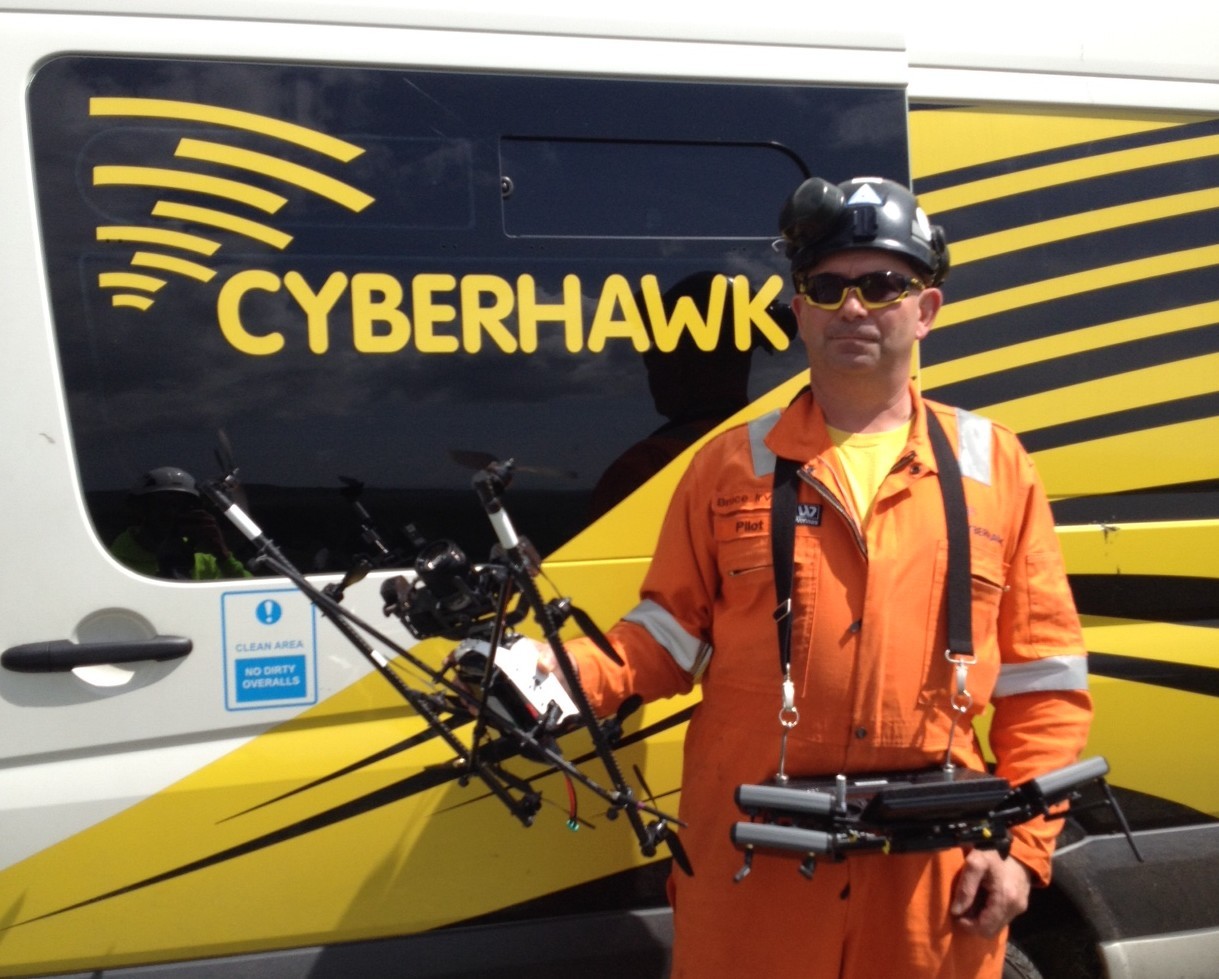 Cyberhawk pilot, Bruce Irving, shares what it's like being the eye in the sky.
Name: Bruce Irving
Age: 50
Job title: Senior Pilot
Company: Cyberhawk, aerial inspection and surveying specialists
My morning
As a pilot, you have to be up sharp. I am up at 5.30am and start the day with a healthy breakfast at 6am. Fruit and cereal give me the right amount of slow-release energy that I need for my job.
If I am working offshore, by around 6.30am I am in a Hazops (hazard and operability) meeting to discuss the day ahead.
It's all go from there: raising a permit to work, assessing the work area and getting equipment in place ready to start operations. I really enjoy the preparations for the day ahead.
At Cyberhawk, the focus on safety is total and all-encompassing. We always work in a two-man team with a qualified Cyberhawk inspection engineer. All equipment is rigorously checked to ensure that all communications between equipment are operational and error-free.
That is followed by a "toolbox talk" to make absolutely sure that the work party understands what we are doing and how we are doing it. This guarantees that everyone understands the risks involved in the operations and the processes.
After confirming with the control room that there are no risks, such as incoming helicopters, for example, we then put out a tannoy to announce the start of remotely operated aerial vehicle (ROAV) operations.
A final assessment of the area is carried out, followed by preflight checks, which include checking the general condition of the ROAV and all systems of work.
We are now ready to fly, and it's my job to communicate with the inspection engineer and discuss the prearranged flight plan to ensure the plan is still appropriate, taking weather conditions into account. We also discuss the area to be inspected. It is standard procedure that is gone through before every single flight.
Cyberhawk then goes through a last-minute safety check and I am in charge as the ROAV takes off under full manual control to a safe area above the platform. The inspection engineer checks they have control of the camera to conduct the inspection.
Depending on the job, I can be involved in piloting to inspect a live flare, an underdeck, legs, drilling derricks, splashzone or a bridge – in fact, any difficult-to-reach area of the platform. I will do a number of flights in the morning and then stop for lunch
My lunchtime
Lunch is pretty much anything that's available. With changing weather conditions and other operations on a platform, flying time is at a premium on board and you have to be flexible to get the job done.
My afternoon
Following lunch, I make sure that the ROAV batteries are recharged while I work with the inspection engineer to review the morning's footage. Multiple flights are carried out, with the footage being reviewed between each flight to ensure there are no anomalies that require attention. Flights are fitted around crane or heli operations.
I will complete as many flights as possible until we get the close visual and thermal images that the inspection engineer requires to complete the report that our client needs. After all the flights have been completed, it's then just a case of notifying the control room and putting a tannoy out before stopping operations.
My evening
The evening involves going through the full safety check listed above – apart from safety meetings and Hazops.
Further flights are conducted on the platform up until around 5-6pm. It's then time for some for dinner and a bit of TV, before we charge the ROAV batteries and process data until around 9pm. Shortly after this, it's time to turn in for the night – before to getting up at 5.30am to do it all over again.
Accommodation is shared rooms. I have worked around the globe for Cyberhawk inspecting assets owned by operators including Total, Maersk, Chevron, Talisman, ConocoPhillips, BP, Shell, ExxonMobil, Statoil, Centrica and CNR. Wherever I have worked, though, I somehow always seem to end up sharing accommodation with snorers.
When I am not on a platform, I am a keen ROAV enthusiast. In fact, I have been flying remote-controlled vehicles for decades. I get the same feelings of anticipation from my hobby as I do from my job. I count myself lucky as my hobby is my work – and my work is my hobby. And when I am not flying ROAVs for work or pleasure, I am either paragliding or indulging my passion for fast cars.