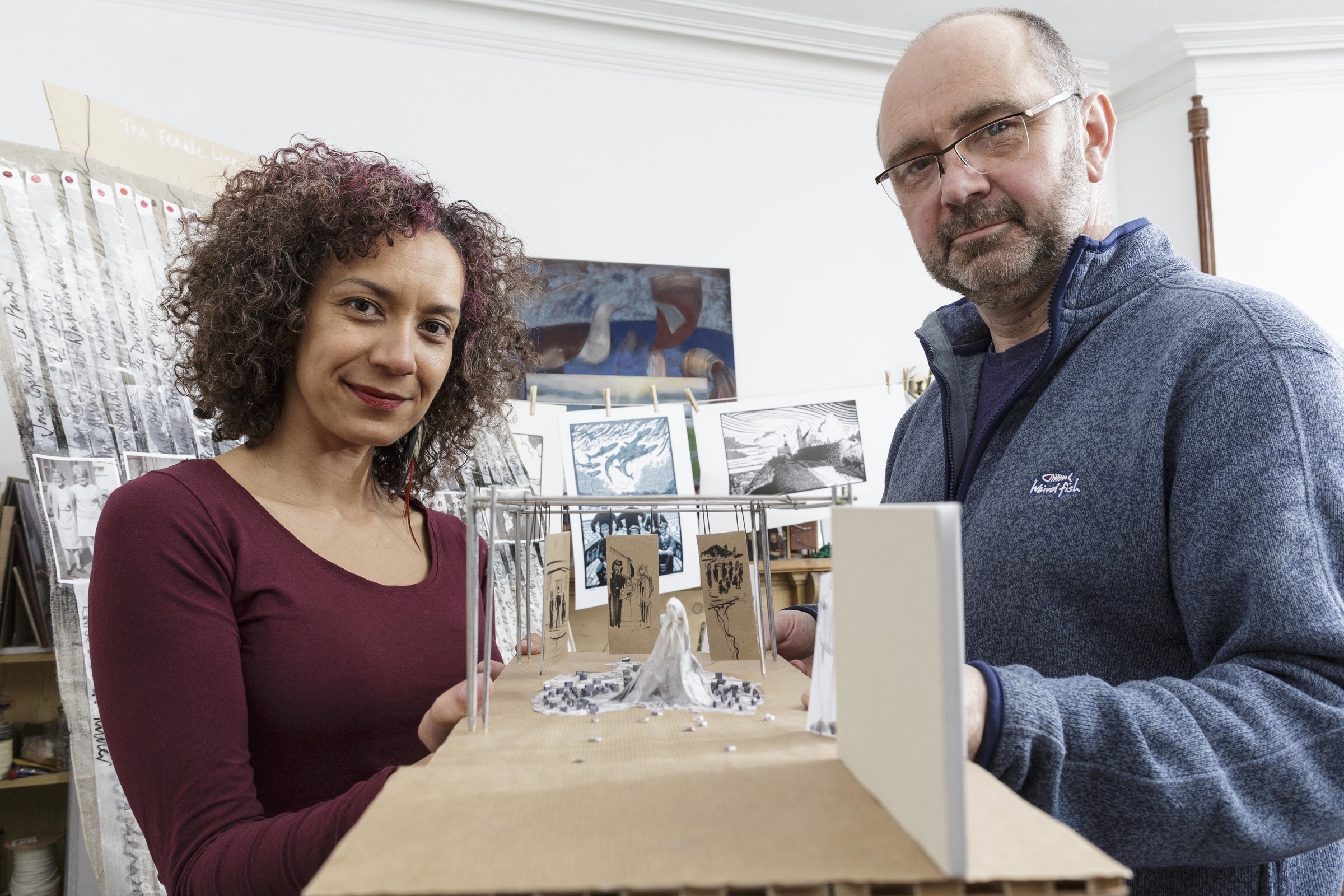 North-east artists, Carla and Bryan Angus, share how their work has helped them explore Portsoy's local industries and population
Despite growing up in opposite ends of the country, husband and wife artist duo Carla and Bryan Angus were amazed to discover their ancestors lived a few streets away from each other in Aberdeen in a late 19th-century census.
This love of historical records, and the lives they reveal, has been explored through a joint art project inspired by the flow of people and tides to the unique village of Portsoy, on the north-east Scottish coast.
"My work attempts to capture the atmosphere of a place or a time in paint, pastel or print, whereas my wife Carla works with a variety of fibre and materials," said Bryan.
"We have built up a huge internal library of visual knowledge over the past 12 years living on this coast, which has been key to the Ebb & Flow art project – and our first joint artwork."
Ebb & Flow was created by Bryan and Carla, who have taken inspiration from the people who visit Portsoy from a host of international destinations every year during the Aberdeen Asset Management Scottish Traditional Boat Festival. The art and tourism project, which has been funded by Creative Scotland, was commissioned to run for three years.
2014 will see it return to the Festival for the final time, linked to Scotland's national year of Homecoming when ex-pats are encouraged to return home to their roots.
Bryan continued: "We have been looking at an in depth archive of images going back over 100 years and reflecting on the people, their social groups, the time of year, seeing the effect of the breeze and hearing the chatter of friends and family. We are trying to invent a visual memory behind that captured moment and to give it life again.
"My great-grandfather had a photographic studio in Portsoy and many of the images I am working from were made by him. It feels like I'm working in a large circle that ends in Year of Homecoming Scotland, which for me has real resonance."
Bryan and Carla will showcase their concluding artwork at two sites over the festival weekend. One is an art installation, which has been influenced by photographic archives, town maps, and stories from Portsoy's residents and visitors. The artists will also exhibit a large interactive map of the world, 10m x 8m, illustrating the movements made by festival attendees in their journey to the north-east of Scotland.
Bryan explained: "Our three-year project has been rooted in the ebb and flow of visitors to Portsoy and the Festival. Our work has focused on the movements made by the human race and the paths taken in life which on a grander scale, results in Scottish Diaspora.
"There are a huge number of cycles of movement that affect a small community like Portsoy. The tides ebb and flow twice a day, the outward and inward journeys of fishing boats, commuting to work daily, weekly visiting family members, seasonal working on the land, and the list goes on. It has been immensely interesting to explore these movements and express them in creative ways through artwork."
Carla's research included scouring through local census records to highlight the web of women that were pivotal to the Portsoy textile industry.
She said: "In my visual art practice I work by selecting materials that instinctively reflect the theme of the piece, creating 2D and 3D works and installations. Within this context I let the materials guide my process, working organically, adding and removing elements until the piece feels complete. I want to spark recognition and reflection in others, to create stories and journeys."
The Aberdeen Asset Management Scottish Traditional Boat Festival, which this year runs from today 27 June to Sunday29 June, draws in excess of 16,000 people to the shores of Portsoy every year and as well as heritage boats from near and far it includes a wide range of crafts, music, song and dance from around the world, a delicious food fayre and a fun packed action area.
For more information about the Festival and to buy tickets visit www.stbfportsoy.com