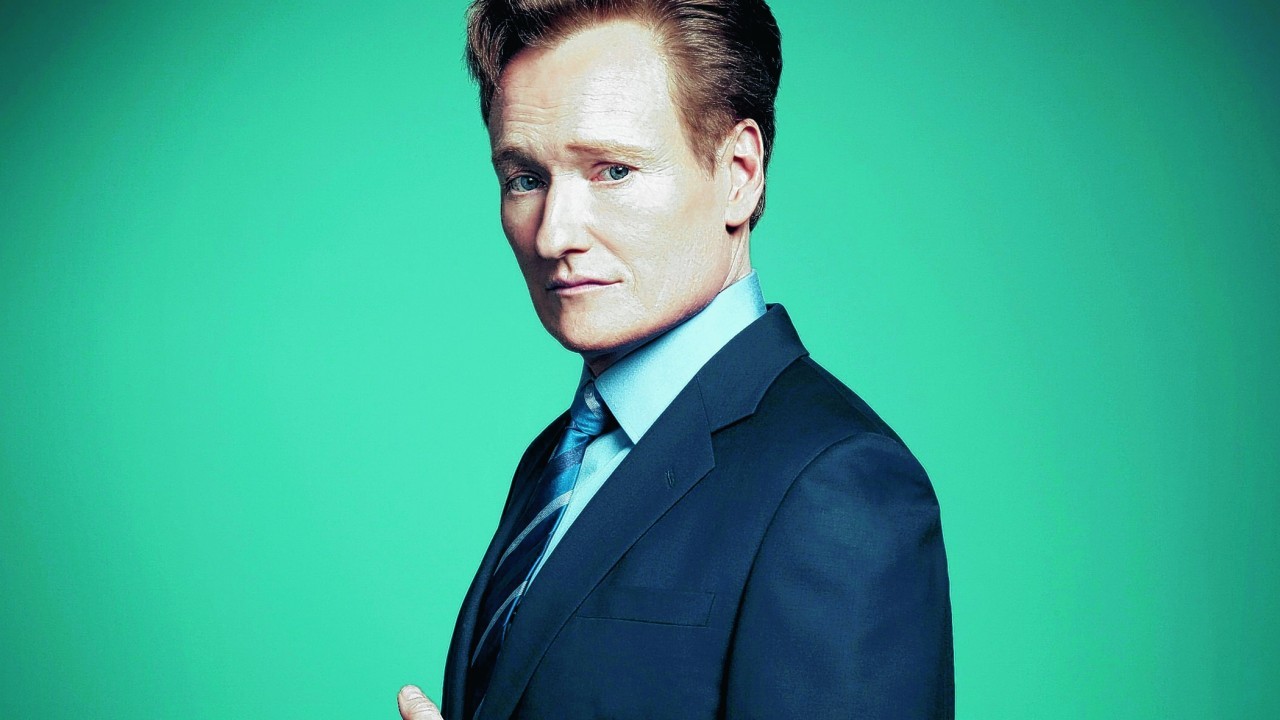 The Massachusetts-born writer, producer and comedian Conan O'Brien, 51, is one of America's most popular chat show hosts. He talks about making the leap from writing The Simpsons to hosting his own talk show, why he prefers British guests, and the star he would love to interview…
YOU'RE A HOUSEHOLD NAME IN THE STATES BUT NOT EVERYONE IN THE UK WILL KNOW YOUR WORK…
Exactly. I think that's the polite way to put it!
WHAT CAN WE EXPECT FROM YOUR SERIES WHEN IT AIRS?
It's funny, I've been doing this show for 21 years in America and before that I was a writer/producer on The Simpsons.
Coming from The Simpsons, I brought a lot of my sensibility to the talk show. That's one of the things that helped us over the years to carve out a successful niche, especially with young people, because the show is very silly and it is not aggressively topical, the way some of the American shows are.
Because those shows exist, it always gave me the freedom to do what I wanted to do, which was a show that had a lot of cartoony elements to it; was very silly and where the humour is less about 'what happened in the news that day', and more about making something silly or fun happen with the celebrities and getting them off-guard.
AS YOU HAVE A BACKGROUND IN IMPROVISATION, THAT MUST HELP GIVE THE SHOW A FRESHNESS
I like things to happen in the moment. I like people to say things that they wouldn't normally say and for the conversation to feel as if it's almost been derailed.
Those are my favourite moments, and those are the ones that people respond to the most.
That says a lot about what my show is. I never wanted a show that had a lot of gravitas or sense of importance; I always wanted a show where my sense of humour is very self-deprecating.
The guests make fun of me, and every show is a collaboration between me and the guests. We really try and create a very silly and sometimes abstract atmosphere.
YOUR STYLE OF COMEDY TRANSLATES WELL FOR THE BRITISH AUDIENCE
Yeah, it's just we haven't had the exposure there, but I've always been very comfortable with the verbal tradition in the UK.
Early on in the late night show, we had people like Richard Harris on; people that are no longer alive, but they were just fantastic.
Being quick and verbal is such a tradition in England, Scotland, Ireland … it's such a part of the culture, and sometimes I prefer those guests because the American guests that I talk to … some of the actors get it from the (Marlon) Brando/James Dean school of 'you're only cool if you mumble and you look up'. They think that's the way to be thought of as a great guest. Whereas you get these British actors on who are just great storytellers; they're bright and they want to mix it up and not everything has to be airbrushed by a publicist beforehand.
Since I went on the air in 1993, a lot of actors and comics from the UK have said 'this show feels to me more like a British show'.
TELL US ABOUT YOUR BIG BREAK WORKING ON THE AMERICAN VERSION OF NOT THE 9'OCLOCK NEWS
I was right out of university; my writing partner and I tried to get jobs, and the one job we could get was at Not Necessarily The News.
At the time it was on HBO, and this is when HBO was not nearly what it is today.
There was no Game Of Thrones; there was no Sopranos. This is when HBO was mostly showing movies and you could only get it in motels and some homes had it but not a lot.
I used to feel like we'd do an episode of the show and to see my name on the credits … which is a big deal when you're starting as a writer, you'd have to go to a motel. You'd look like you were waiting for a prostitute, ha ha!
AFTER WRITING FOR THE SIMPSONS, WAS THERE A LOT OF PRESSURE ADAPTING TO LIFE AS A CHAT SHOW HOST?
Oh my God, yeah. That was unbelievable at the time. The culture has changed since then because there's many more shows, so when a new show premieres, it's a big deal, but it's not as big a deal. In 1993, there was a huge controversy; people in the States treated it like 'who is this guy? He worked at The Simpsons?'.
People were mad; people were intrigued, and then people lined up to watch my first show the way you would line up to watch a public execution.
DO YOU STILL GET STAR-STRUCK?
Yeah, one of my attributes that serves me well is that I don't get jaded, and I've always said to myself, 'the minute this starts to feel like a job to you, you've got to get out'.
I've never felt that way. I'm thrilled. The other night I got to play guitar with Jack White! I step outside myself and I think, 'I can't believe this is happening', and you have to have those moments.
The minute you get to, 'of course I played guitar with Jack White', then you're dead; then you gotta leave.
That's the thing that you have to keep fresh. I'm always excited when I get to interact with these people who are really talented and try and make something happen. It's fantastic.
FINALLY, WHO IS YOUR DREAM INTERVIEWEE?
It was Richard Nixon but he died. The only guy I haven't talked to or met is Clint Eastwood.
I would love to talk to him, because he's such a fascinating guy to me and I've watched every one of his movies; some of them like 15 times, and what's weird is I've never met him; I've been in this business so long, so I'll have to figure out a way to make that happen.
Conan is on new free-to-air channel truTV, Monday-Thursday.