 A former Moray-based RAF officer has announced he will be voting Yes in the independence referendum.
Wing Commander Steve Walsh OBE, who recently retired from the forces after 29 years of service, said he was optimistic about an independent Scotland's prospects, including the future of the region's military bases.
He was one of the most senior officers at RAF Kinloss before the UK Government ended flying operations with the controversial scrapping of the Nimrod fleet.
Speaking exclusively to the Press and Journal, Mr Walsh said: "I was very proud to serve on the Nimrod fleet, and believe it was a massive mistake for Westminster to scrap all maritime patrol aircraft without any plan to fill the capability gap.
"Scotland is a maritime nation and a wide area maritime surveillance capability is vital in order to provide security to our sea lines of communication.
"I sense that the only way to return a maritime patrol capability to Scotland is through independence.
"Recent international relations, particularly with Russia, makes security of the North Atlantic of critical importance from a Nato perspective.
"I therefore suspect that an independent Scotland would be a welcome and important partner in the alliance in the very short term."
Mr Walsh added that an independent Scotland would need to operate all current bases following the recent closure of many facilities and the loss of capabilities.
"We are in a key geo-strategic location and our allies, including the rest of the UK, will rely on us to maintain appropriate conventional defence forces," he said.
"It will be a huge boost to see Scotland operate maritime patrol aircraft after a Yes vote, and safeguard Kinloss, Lossiemouth and bases elsewhere."
Kinloss became an Army barracks in 2012 following the end of RAF operations and the arrival of the 39 Engineer Regiment.
The SNP has said it would aim to keep all bases open, however sceptics have questioned whether this would be viable.
The UK's Ministry of Defence has said it is not making any contingency plans for a Yes vote.
Asked what would happen to the 39 Engineer Regiment at Kinloss, and other personnel in the region, an MoD source said: "There is no one in this department who could tell you what would happen to these regiments.
"There is no contingency planning for a Yes vote. No one knows what would happen."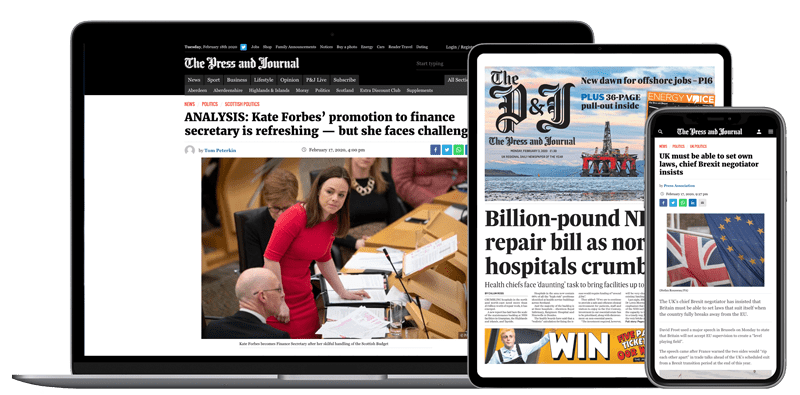 Help support quality local journalism … become a digital subscriber to The Press and Journal
For as little as £5.99 a month you can access all of our content, including Premium articles.
Subscribe