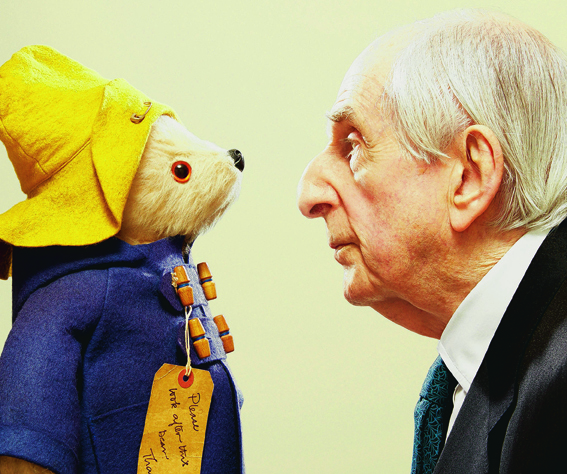 As Paddington Bear comes to life on the big screen for the first time, we meet creator Michael Bond to discuss his inspiration, and the adventures he and the iconic character have shared over the years
Once upon a time, on Christmas Eve, Michael Bond was on Oxford Street in London looking for something small for his wife's stocking. It started to snow and he found himself outside Selfridges.
"There was this one bear sitting on the shelf and I felt sorry for him," recalls Bond.
"Someone once said: 'A doll's always wondering what they're going to wear next, but there's something about a bear – you feel you can tell it your secrets and it won't give them away'."
That little bear inspired him to write A Bear Called Paddington, almost 60 years ago. Since then, 35million Paddington books have been sold worldwide, and translated into 40 languages.
Bond has just written Love From Paddington, a book of letters from Paddington to his Aunt Lucy at the Home for Retired Bears in darkest Peru, and later this month, his creation takes to the silver screen.
Bond gave the film, entitled Paddington, his blessing because, while the bear has appeared on stage and television over the years, a movie was "the one thing Paddington hadn't done".
You sense that the 88-year-old, a former BBC cameraman, is rather excited for him.
"What's nice about the film is the fact that all the cast are in it because they like Paddington, they've all been brought up with Paddington and there was a very nice atmosphere on set."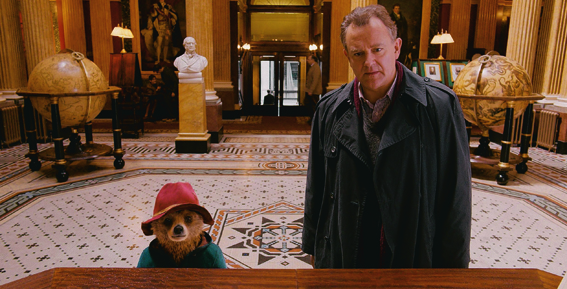 Bond has a cameo – watch out for the gentleman in the restaurant at the beginning who waves as Paddington goes past in a black cab – and he's happy with the choice of Ben Whishaw as the voice of his bear.
It was previously going to be Colin Firth, but it didn't work out. "Colin agreed himself his voice wasn't really suited, it was slightly too old and I think the new voice is very good."
We're ensconced in Bond's cosy study in a beautiful old town house in Little Venice, just a stone's throw from Paddington Station, which gave its name to the famous bear. It's just as you'd imagine – floor to ceiling shelves stuffed with books, pictures of Paddington on the walls and a model from the first TV series watching over his walnut writing desk.
His wife Sue pops in with tea on a Paddington tray, and I happily spend an hour listening to Bond's stories of the adventures he and his bear have shared.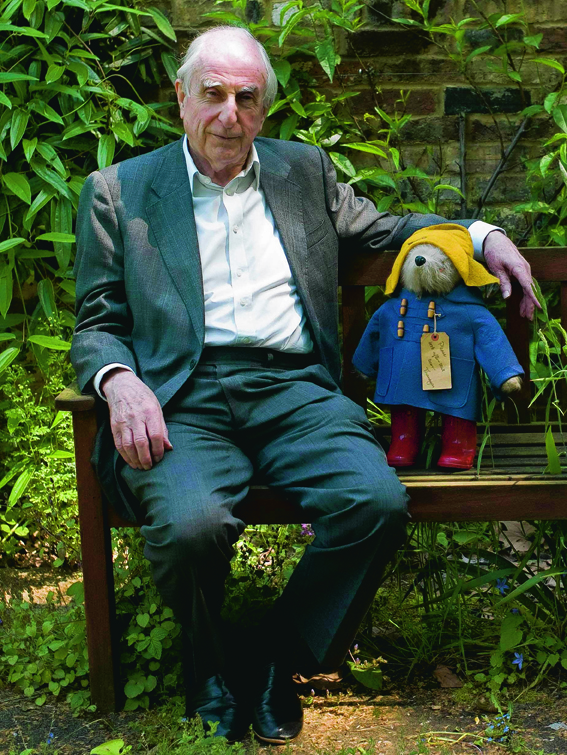 There was the time Bond took his father on his first flight up to Scotland to see Paddington on stage in Glasgow – and a very Paddington-like mishap occurred. "The opening scene was on Paddington Station, and they had one of these big British Rail trolleys for putting luggage on, which they'd never rehearsed with and it was very heavy. They lost control of it and it disappeared into the orchestra pit and fused all the lights – total disaster."
But he's never quite made it to Paddington's homeland, Peru.
"I was supposed to be going with Stephen Fry, who did a book about Paddington, Rescuing The Spectacled Bear, 2002. I had inoculations for the journey, but one of them disagreed with me and I was banned from flying for a time.
"I picked Peru because I wanted somewhere that nobody went to, in those days people didn't go on long journeys," he adds.
Bond survived an air raid in 1943 and later served in the Royal Air Force and the British Army during World War II. It was seeing labels on evacuees during the war that inspired the now-famous note around Paddington's neck: Please look after this bear, thank you.
"Trains came into Reading full of evacuees – all these tiny tots with all their possessions in a small suitcase with a label round their neck. The label is important because it says 'thank you'. Paddington is a very polite bear. I think we live in an age where politeness has gone out the window in lots of ways."
Undoubtedly the world is unrecognisable from the one Paddington first arrived into, but Bond has kept him up-to-date; in Love From Paddington, which features letters about some of his most famous adventures, Bond has Paddington dictating to Judy Brown who's typing on a computer: "If he puts his paws on a keyboard, he types several letters at the same time."
Bond wrote the original book on a typewriter. And now, although he says he "wouldn't be without" his computer, he is strictly "anti-email". "I think there's far too much instant communication in the world. If someone sends you an email, they expect an instant reply and I think it's good to sleep on it a little bit."
I wonder if his love of letters comes from his father, who worked for the Post Office in the days when trains had sorting carriages for letters. Indeed, Bond admits there's a lot of his father in Paddington.
"My father was a very polite man. He always wore a hat. Nobody wears hats these days, but Paddington's still got his and he wouldn't dream of not raising it.
And like Paddington, his father would get into scrapes, including the time he turned the gas on in the kitchen to make tea and went off to find a match, leaving a young Bond in his pushchair.
"When he did strike the match, there was a terrific explosion! And if he knocked a nail into the wall, it just bent, so he wasn't allowed near a toolkit."
Bond has two children; son Anthony and daughter Karen, who has given him three grandchildren.
He is currently working on his next Paddington adventure and tries to write a little every day. He does his best work at his rented flat in Paris, which he sadly has to move out of soon.
"Getting peace in this day and age is quite a valuable commodity, there are days when the phone doesn't stop ringing."
As if on cue, the phone interrupts him and I take this as a sign to bid Bond farewell.