 A TEACHER who was told he only had hours to live married the love of his life in his hospital bed – and will now spend Christmas at home with his new wife after undergoing a heart transplant.
Brian Keeley was so ill he was in a medically-induced coma and surgeons delayed the lifesaving surgery. But now he and his wife Bibo are looking forward to a family festive season after doctors told him he was well enough to leave hospital.
The couple were warned to prepare themselves for the worst when the 51-year-old collapsed on holiday with a major blockage in his heart.
At one point, Mr Keeley, a trained artist, went into cardiac arrest while he underwent one of numerous operations and had to be fitted with a resuscitation device.
But after a whirlwind wedding that was organised in 24 hours, Mr Keeley started to regain his strength.
About a month later, he was placed on the emergency transplant list – and now has a new heart.
Art teacher Mr Keeley was a fit and healthy vegetarian with no history of family heart disease when he suddenly experienced chest pains while on the Isle of Islay in July. After suffering a major heart attack, he was taken by air ambulance to the Golden Jubilee National Hospital in Clydebank, where he was diagnosed with a blockage in his main artery.
"It came completely out of the blue," Mr Keeley said. "I've always been very fit and active and I don't smoke so it was a big shock to everyone.
"From that point on, we were told I was seriously ill. I can't remember much about the first few weeks in hospital but when I woke up I was told I was too weak to undergo a heart transplant, which the doctors said would be the only way for me to survive."
On July 23, doctors came to see the couple at his bedside and told them they were preparing to provide him with end-of-life care.
The pair knew then that they had to get married – and 24 hours later they tied the knot in the intensive-care unit.
Mrs Keeley, 39, who is originally from Germany, said: "The speed the hospital turned everything around for us was incredible and they turned his intensive-care room into a wedding chapel. It was so emotional and so beautiful. We had been together for 15 years and I just knew we couldn't wait any longer."
Mr Keeley, of Sunnybank, Aberdeen, said: "We didn't really know what the outcome was going to be so Bibo and I decided to get married. I literally lay there with a couple of pillows to prop me up. Several of our relatives came and there were loads of nurses there, sitting outside crying.
"In some ways that was a turning point. I certainly felt more of a determination to come out of this."
After the wedding, Mr Keeley's condition started to improve little by little. The secondary school art teacher started to eat more and gained enough strength to be placed on the transplant list.
Within two weeks, the hospital had found him a donor and he underwent the lifesaving surgery.
Until this point, he had been surviving on a ventricular assist device (VAD), which acts as a mechanical heart.
He said: "My heart was completely useless and couldn't do anything itself. I was only supposed to be on the VAD for 30 days, but before the surgery I had been attached to the VAD for more than 100 days."
Mr Keeley, who taught at Hazlehead and Bridge of Don academies, is now recovering well at his mother's home in Glasgow, but is still very weak after such a major operation. He is hoping to move back to Aberdeen soon, once he has regained more strength.
Dr Mark Petrie, director of the Scottish National Advanced Heart Failure Service, said Mr Keeley's recovery was "incredible".
He said: "As a cardiologist, this is incredibly rare. When people present with these conditions it is generally highly unlikely they will survive."
Comment, Page 30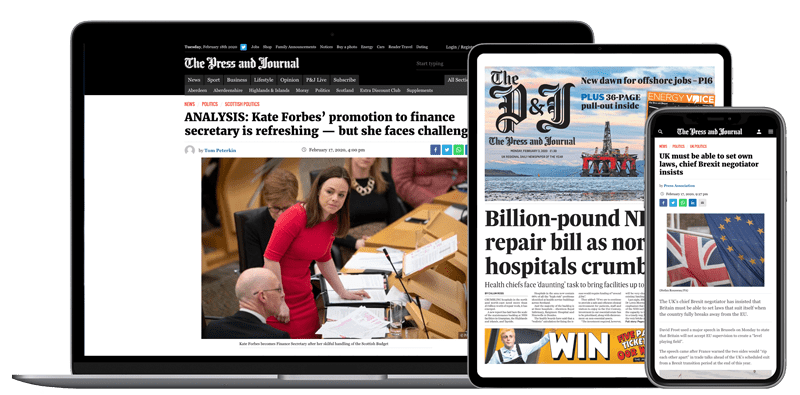 Help support quality local journalism … become a digital subscriber to The Press and Journal
For as little as £5.99 a month you can access all of our content, including Premium articles.
Subscribe