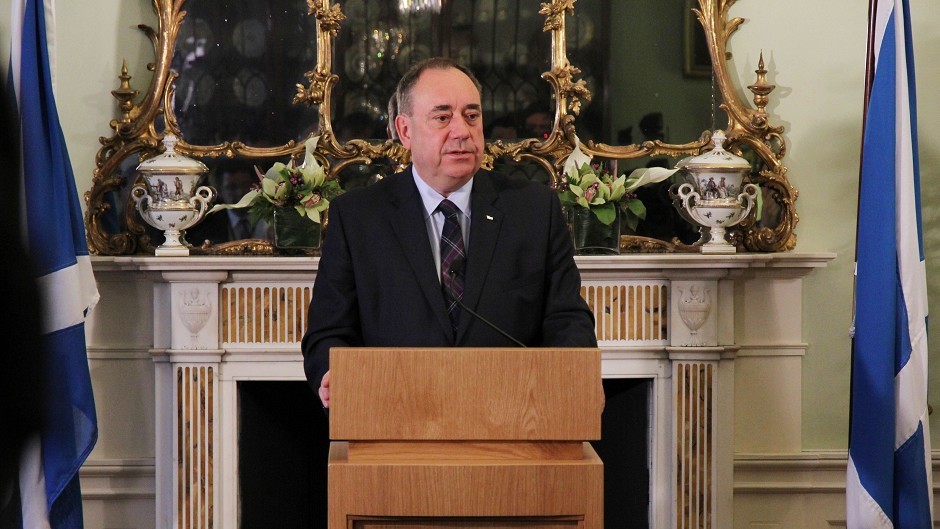 As dawn broke on September 19, 2014, the sun set on Alex Salmond's bid for independence.
And by 10am that morning, he had decided he would resign.
With 2,001,926 votes over 1,617,989 for the pro-independence campaign, the jury was back – the UK would be sticking together.
That morning, all eyes turned to Mr Salmond – the man who spearheaded the independence campaign, the person who fought so ferociously and divided a country in his bid to persuade Scotland to break free.
There was talk, of course, that he might step down. But as he addressed the country at 8am during a post-results speech, he simply thanked the 1.6 million people who voted Yes.
The hours afterwards would prove the most soul-searching of Mr Salmond's career as he – and he alone – decided what he should do next.
In the end, he knew he had to walk away.
"The reason I resigned wasn't because I had to resign nobody expected me to," he explained.
"It wasn't a clamour for my resignation from my colleagues. In fact, the reason I delayed it until the afternoon was because my colleagues were trying to stop me."
As he lists the reasons he chose to step down as first minister, you get a sense he's gone over and over them 100 times in his head – convincing himself that it was the only way forward.
Think what you like about the former first minister, but it's obvious he absolutely loved his job.
As he talks about stepping down, it's evident from the emotion in his voice that defeat broke his heart.
He said: "The reason I resigned was threefold. Firstly, when you lose a campaign or election, somebody has to take responsibility. You can't just say it doesn't matter – of course it matters.
"Secondly, I think the position in terms of moving forward was totally secure. Nicola Sturgeon is a brilliant, brilliant young woman, an able politician who for years has proved as deputy first minister that she is more than capable.
"And there's the generational aspect in that too. I had seven-and-a-half years as first minister – that's a fair innings and at some point there's always a strong argument for passing the torch on.
"Thirdly, I knew there were still opportunities for Scotland, but sometimes to assist that happening you have to change the focus, and the focus had to change on to what the SNP was going to do and what Scotland could do, as opposed to what I had done in the past seven-and-a-half years.
"I've always trusted my instinct and I knew what the right thing to do was."
By 10am that morning, Mr Salmond was set on his decision.
He spoke to each of his closest colleagues one by one, including Nicola Sturgeon and John Swinney, to break the news.
"They tried to get me to change my mind, but I knew what I had to do," he said.
Mr Salmond insisted he had never discussed with anybody until that morning the possibility he might step down if the vote didn't go his way.
"I had always thought if we were unsuccessful then that would be the point to consider it," he said.
"But by and large, it's not a fantastically good idea to contemplate defeat. It's better to contemplate victory.
"Not just press-wise, but much more importantly is that if you don't act and believe and be absolutely convinced that you can win, then why would anybody else want to believe in you?"
At 4.10pm, Alex Salmond revealed to journalists at Bute House that he would not be accepting nomination to become a candidate for leader at the next SNP annual conference.
"I just wrote the statement myself in the morning," he shrugs, as if it was the easiest task in the world.
"It didn't take me that long, I knew exactly what I wanted it to say."
We asked him if he woke up every morning asking himself what went wrong.
He paused for a second before answering and turned his attention to our photographer, who was taking pictures for our interview.
Was the former first minister slightly irritated by our line of questioning? Was he stalling for time?
He finally answers.
"We have to live with it, make the best of it, get on with it and move forward.
"I think about politics all the time, but I tend to think forwards rather than backwards.
"With the benefit of hindsight, are there some things I would have done different? Definitely, yes, of course there are. But you wouldn't be human if you weren't able to say that.
"Any mistakes or foibles of the campaign were mine, and mine alone.
"It was my responsibility. I led the campaign."