 Paris-born film director Jean-Luc Godard once said that a story "should have a beginning, a middle, and an end … but not necessarily in that order".
Gordon Napier, a film student from Lochaber, had a similar approach when developing his latest script – he began with an idea but didn't have a beginning, middle or an end for it.
He admitted that although he knew what he wanted his film to be about, he didn't know how to go about making it.
And it was this approach that was key to the 30-year-old securing Gary Lewis, of Billy Elliot and Gangs of New York fame, as his lead actor for his short film, Tide, which begins filming on the isle of Lewis later this month.
I'M YOUR MAN
Tide will be Gordon's second film and follows his 28-minute debut, La Chasse.
His first film centred on a young boy hunting a stag but really hunting for answers about who his father was. James Pearson, who grew up in Aberdeenshire, took on the main role while Gary Lewis portrayed the father through a voiceover.
While James was cast through traditional avenues, Gordon managed to get Gary through slightly more unusual means.
"Initially Gary said no because he was too busy and working on a feature down in Yorkshire and I said 'if I jump in the car with my sound recordist can we do it down there?'," he explained.
"He seemed a bit surprised but he said yes. So we drove straight through and we did it in his wee self-catering chalet, which was great.
"We hashed out the father's part together which was a great experience. We both really enjoyed that and that was the start of the connection.
"Next time I contacted him I sent him a text saying 'I'm working on an idea, can I have you in mind?' And he came back saying 'I'm your man'.
"It was a case of taking an idea at its earliest form, discussing it with him to see if he was interested in it, developing it and being very honest and open with him.
"I said there are some very big concepts, big questions about life and I'm not entirely sure how to make a film about them just yet and that was part of what we needed to talk about. And he really liked the honesty of that. There's no ego in it, you just want to make a film but you are not entirely sure how you are going to do that yet. So he was into that kind of approach from the grassroots."
"I was definitely interested in his approach and professionalism," Gary said.
"So when he approached me again with Tide, I knew that I wanted to work with him again. He told me he was working on an idea but it wasn't fully developed, I really liked his honesty."
The 25-minute film in question, Tide, follows the life of Alasdair, a lobster fisherman from the isle of Lewis, who believes he witnesses a suicide from the coastal cliffs.
However, when he rushes to where the man fell, there is no trace of a body.
"It is about a man who has a profound relationship with the land and the sea having been connected to it for a long time and he's at a point in his life when that relationship begins to sour due to his inability to provide for his family," Gordon explained.
"Because of financial difficulties and nearby windfarm projects changing the face of the island, it's becoming different to him.
"It's about looking at someone in that stage of their life where they are in limbo between the erosion of the old ways and the development of the new and how they make sense of that."
The idea for the film was something Gordon had in the "back of my head" when he started studying his Masters of Fine Arts in Film Directing at Edinburgh College of Art.
"I was researching different places to tell a story and different professions and I had been speaking to a good friend of mine who was from Lewis. We had lots of similarities in our upbringing and we started talking about growing up in places like these," he said.
"And I just fell in love with the place even though I'd never been. And it was right at the time when I was thinking of this idea.
"So I started researching Lewis and then I was so in love with the place that I couldn't imagine making the film anywhere else. My friend made contact for me with a lobsterman on the island who I spoke to in the research phase, and I just realised that this was a story I really wanted to tell."
WHO KNOWS WHAT WILL HAPPEN
And despite other big budget movies using different locations to where the film is actually set, Gordon has decided to film on Lewis.
"Coming from the north-west there's a feeling I get when I think of home and a feeling I get when I'm at home," Gordon continued.
"It's just the rhythm of the place and everyone has that. And I feel that it's important, particularly when dealing with a film on this scale, it's important to take the production there and let everyone be a part of it.
"I wanted to make sure we weren't just tying together a narrative from different sections and putting it forward as a film about Lewis. We are actually making a film on Lewis about Lewis."
The cast and crew will head to Lewis on April 21 to begin filming. And both Gary and Gordon said they are looking forward to getting started.
Gary said: "I worked on a film on Lewis before. I am very fond of it and very happy to be returning.
"We are still in development stages, we know what we are doing but nothing is written in stone yet.
"You don't want to be too set down when you go to a place anyway. We've got around five days to film and who knows what will happen. Maybe there will be storm forces and you've just got to get on with it, and work with what life throws at you."
The project is being shot on a small budget and is relying on the generosity of the public and local businesses for funding. If you want to give your support to the project, you can contact the team on http://igg.me/at/tide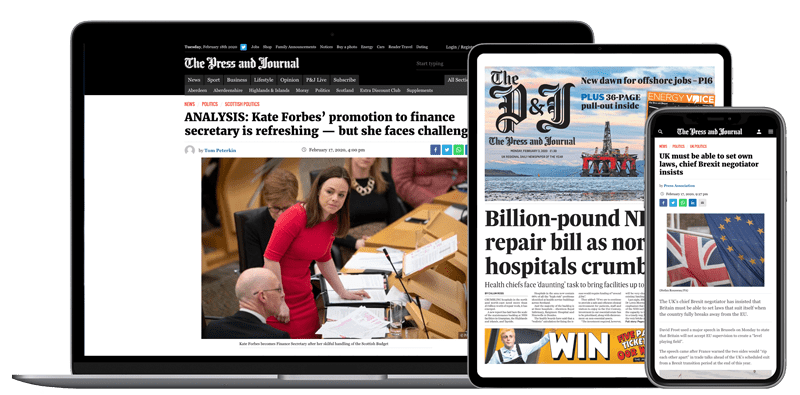 Help support quality local journalism … become a digital subscriber to The Press and Journal
For as little as £5.99 a month you can access all of our content, including Premium articles.
Subscribe