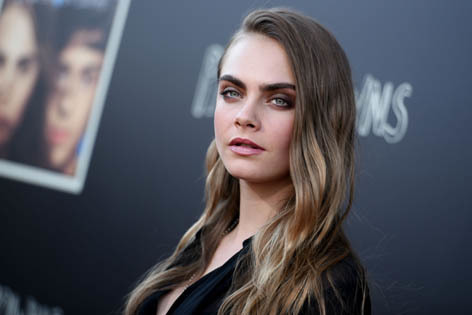 Cara Delevingne has wowed the fashion crowd, and now has her sights set on conquering the movie world. She talks about proving people wrong
As one of the world's most in-demand models, it's not a shock to see Cara Delevingne splashed across newspapers. Recent headlines about the 23-year-old fashion star didn't have anything to do with photo campaigns or glamorous parties, however, but a particularly awkward interview on an American TV show.
Following the encounter, Delevingne tweeted 'Some people just don't understand sarcasm', while John Green, the author of Paper Towns (Delevingne stars in the upcoming big-screen adaptation), leapt to her defence, pointing out the "annoying" questions she'd faced and describing the process of selling a movie as "inherently dehumanising".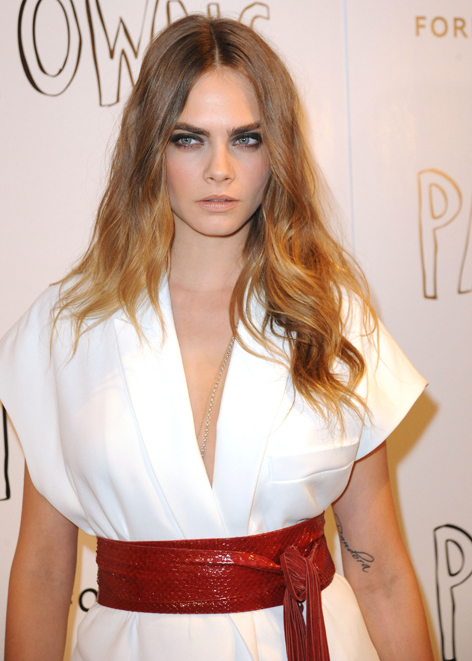 The model-turned-actress might be young, but she's not lacking in confidence. Before today's interview can commence, she bemoans the previous journalist's efforts.
"The last one was terrible, right?" she says over her shoulder to an assistant, before singing a little ditty and tapping her knees.
Despite the precociousness, the British star insists she's full of self-doubt.
"I never think I'm going to get something and I doubt myself constantly. I don't expect anything out of life, because then, I'm never disappointed," she says.
Delevingne reveals she was "so sure" she hadn't got the role of the mysterious Margo in Paper Towns, and was alone in a hotel room when the call came through to say she'd been cast. She promptly "freaked out".
"I can't tell you how I felt, because I was in love with the book and the character so much. Oh God, it was one of the best days of my life," she exclaims. "I ran around the room throwing things up in the air and screaming into pillows."
Based on the 2008 novel by Green, who also penned The Fault In Our Stars (and also adapted for film), Paper Towns is a coming-of-age story centred on 17-year-old Quentin (or 'Q', played by Nat Wolff), and his enigmatic neighbour Margo.
After taking him on an all-night adventure through their home town ("It was too much fun. It almost didn't feel like work," Delevingne says of the shoot), Margo suddenly disappears, leaving behind cryptic clues for Q to decipher, which forces him out of his comfort zone and onto an epic road trip.
"There's always that girl in high school who's so beautiful and so cool, she seems to be walking in slow motion," notes Green of Q's perception of Margo, which is a key element in the story. "Margo's spent her entire life being that girl publicly and, as all of those women do, I think, resenting that failure to understand her complexity. And who knows that better than Cara Delevingne?"
What does she make of that; coping with having a perceived public persona?
"It's daunting but it's my job," she says with a shrug, "and if they see all the hype and that distracts from who I really am – then that's good.
"I like having a little bit of privacy in my life. People can believe whatever they want. It doesn't really bother me."
Delevingne claims she was a lot more self-conscious in her late teens than her on-screen alter ego, but they do share the same daring and sense of adventure.
"She's fearless and I'm pretty goddam fearless. I love adventure more than anything. I don't like to think before I do something, I just do it," says the London-born model (her paternal great-grandfather was a Viscount, her maternal grandmother was lady-in-waiting to Princess Margaret, and her godmother is Joan Collins).
She attended boarding school from the age of 11 and notes "my parents didn't have much say [on my teenage years]".
She wouldn't say she was rowdy, but "I would like to stir things up" during lessons.
"I'm not dumb, but I am very stubborn and like what I like," she explains. "I was very opinionated and would like to disagree with teachers and debate things and answer back, but not in a rude way, I'm a polite person. A lot of teachers didn't like that, and once a teacher didn't like me, I decided not to try at all."
She enjoyed science and maths, until a teacher reportedly called her "the spawn of the devil" ("I think I called him Shrek," recalls Delevingne, the youngest of three sisters).
Despite her status as a top-earning model, she reveals she's wanted to act since she was five. "I'm a bit of a parrot, being the youngest child in quite a loud family. I used to sit and watch everything and copy and mimic people."
Delevingne, who's reportedly dating singer St Vincent, took part in "as many plays as I could, as I loved being on stage", and asked her parents for an agent for her 13th birthday present.
"I think my parents really wanted me to finish school and go to university. I just didn't want to and my parents both left school at 16, so I was like, 'I can do whatever I want'."
After leaving school, however, she signed up with Storm Models, after being spotted by the same woman who discovered Kate Moss.
Her impish features and statement brows have earned her countless high-profile cover shoots and campaigns, but modelling was never going to be enough; behind the scenes, Delevingne was slowly developing her acting portfolio.
At 16, she says she came "very close" to being cast in Tim Burton's Alice In Wonderland, but the role went to the Australian actress Mia Wasikowska.
In 2012, she made her film debut with a small, non-speaking part in Joe Wright's Anna Karenina alongside Keira Knightley, and last year starred in Michael Winterbottom's The Face Of An Angel. It's fair to say, some people had made their minds up about Delevingne's performance before even watching – but the movie, and its model star, met with critical acclaim.
Following Paper Towns, she'll appear in Pan with Hugh Jackman, London Fields alongside Johnny Depp, Kids In Love opposite fellow rising star Will Poulter and Tulip Fever co-starring Dame Judi Dench.
She also recently began production on the superhero movie Suicide Squad, in which she'll play a villain.
There's been "a lot" of training in preparation for the role, she says. "I can't really talk about it because I'll get my hands chopped off, but it's a lot. It's good though, it's really fun."
Delevingne loves nothing more than "proving people wrong", she adds.
"I love it when people make assumptions of me," she admits.
"When they meet me, they're like, 'God, I thought you'd be way more of a bitch'. But I like to charm people. That's what I do."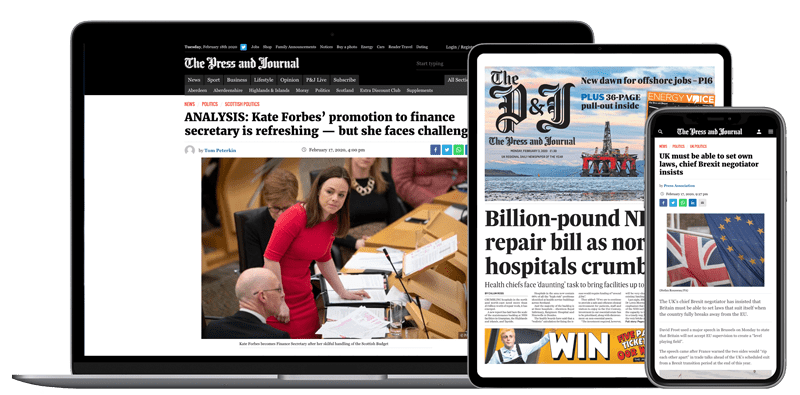 Help support quality local journalism … become a digital subscriber to The Press and Journal
For as little as £5.99 a month you can access all of our content, including Premium articles.
Subscribe