Drew Barrymore and Toni Collette play best friends whose lives collapse when one is dealt the cancer blow – but don't expect a heap of sentimentality.
As they tell us, this isn't that type of movie
Drew Barrymore is somewhere between gagging and gasping. She's just downed a cayenne pepper booster shot, but as Toni Collette informs her, "you're supposed to add it to your juice" – not drink it straight.
Both actresses, it turns out, are big fans of juicing, although Barrymore notes: "I eat relatively healthy, and then I might go off the rails."
The booster shots are an attempt to battle the onslaught of jet lag, as they've flown in to promote their latest movie, Miss You Already (in cinemas now).
Directed by Catherine Hardwicke, who also helmed the first Twilight instalment and introduced Robert Pattinson to the masses, the story is beautiful, heart-wrenching – and unexpectedly hilarious given the subject matter.
"I don't know about men, but for women, laughter and crying are twins. We're such emotional creatures," notes Barrymore, in that instantly recognisable lisp.
She and Collette play best friends Jess and Milly, whose lives implode when Milly is diagnosed with breast cancer.
The more outrageous, career-driven of the two, Milly (Collette) tries hard to adjust to the quiet life with her husband (Dominic Cooper) and their two children.
Meanwhile Jess (Barrymore) works in a community garden, lives with her boyfriend on a houseboat and is struggling to conceive, as well as cope with her best mate's ever-demanding nature.
"I read the script penned by Morwenna Banks and loved it," says 42-year old Collette, whose other film credits include About A Boy and Little Miss Sunshine, and was attached to the project a couple of years prior to cameras rolling.
"I was desperate to do it and was offered the part of Jess, but then the person playing Milly dropped out. They went through a succession of people and nobody was really right, and eventually I went, 'Actually, I want to play Milly'.
"As soon as that decision was made, Drew just slipped in and everything aligned," adds the Aussie-born star.
Barrymore, who'd only given birth to her second daughter Frankie a couple of months before shooting began last year (she also has three-year-old Olive with her husband Will Kopelman), jokes that it was more like she "waddled in".
"It was horrible for the costume lady and brilliant for me, because I could eat everything in sight," says the 40-year-old actress.
"I really wanted to tell this story about these two women for my two daughters to see one day."
Despite the simple fact that no one's getting out of here alive, the topic of death remains taboo, as does the "C" word – cancer.
"Nobody wants to experience pain, so no one really wants to
talk about it in general, but it's everywhere," remarks Collette.
"It's a horrible disease and we certainly didn't want to misrepresent the experience of having cancer, or knowing someone who has cancer."
Despite Milly's provocative nature, it's a brilliantly subtle performance from Collette, who conveys her character's changing attitude towards her diagnosis, from arrogance to anger, and finally acceptance.
Much has been made of the fact Collette shaved her head for the role, but the actress, who was Oscar-nominated for her part in The Sixth Sense, just shrugs.
"I mean, she's so casual about it," exclaims Barrymore.
"They bought me a bottle of vodka, thinking I was going to be in a panic or overwhelmed by it, but that was the fifth time I'd shaved my head," points out Collette, laughing.
"I'd have done anything for this movie. There were challenges, but that's what you want," adds the actress, who has a four-year-old son, Arlo, and daughter Sage, seven, with her musician husband Dave Galafassi.
"That's what I want, that's what I long for. And the film's not necessarily about cancer. It's also about love and friendship."
"And a celebration of life," Barrymore pipes up. "People come up to us to say they ran after the movie to call their friend."
"As if they're running to a payphone," chimes in Collette. "Everyone has a mobile!"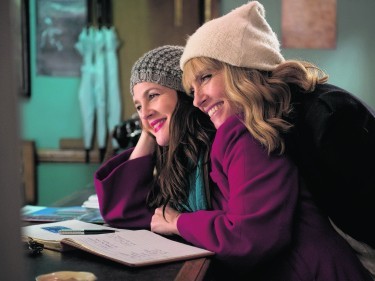 In the movie, Milly and Jess take a spontaneous road trip to Yorkshire to visit the Moors, but when asked if they have anything they'd like to tick off their own bucket lists, they pause for a second.
"I don't have a bucket list," reveals Collette eventually. "Although I kind of want to go and float in the Dead Sea."
"The only thing I want to do is watch my daughters grow up and have them be like, 'She's so annoyingly there for me'," says Barrymore, laughing.
The actress, who was born into an acting dynasty and famously played the adorable little girl in Steven Spielberg's 1982 sci-fi hit E.T, battled addiction as a teen, but there are no regrets about finding fame so young.
"No, because I'm so happy with the way everything is. You've got to go through each step to end up where you are," she reasons. "My life has been perfect, even in its most imperfect moments. It's all led to a life I couldn't be happier with."
Now a mother-of-two, Barrymore admits she's "figuring out" how much to share with her children.
"I went to a grocery store the other day with my daughter and the checkout woman said my name and was ranting like a really nice lunatic. It was such a nice moment, but I could see my daughter clocking it, like, 'How does she know you?'"
Collette notes that, bar the animated The Boxtrolls, her kids haven't seen anything she's done, because "there's nothing appropriate".
That includes Muriel's Wedding, the surprisingly dark 1994 movie built around an ABBA soundtrack, which earned her a Golden Globe nomination and really put Collette on the acting map.
"I rarely talk about it, but it was an amazing experience and a character I loved and related to. But it completely altered my life in a way I could never have imagined," she says.
"I was just like, 'Wow, I get to do this? I'm not delivering pizzas today?'"
Collette gained 42lbs for the part, but you can imagine she was as relaxed about that as she was about shaving her head for Miss You Already.
"I like to keep healthy, because it makes me feel good, but I've always much preferred to focus on what's happening internally. I think it's more beneficial and important and long-lasting," she confides.
Barrymore is equally unperturbed by the emphasis on looks in the industry, or society as a whole. She's also ready to embrace her 40s.
"My biggest nightmare would be if someone took away the wisdom I've gained," says Barrymore.
"I'd be scared if someone said, 'You've got to go back to 26'. I love where I'm at, and only want to keep going forward."