The United States Navy has tested a ballistic missile defence system off the coast of Scotland.
This is the first test of its kind in Europe taking place during a live-fire demo in a training operation off the Outer Hebrides.
The USS Ross fired an SM-3 missile, destroying a Terrier Orion ballistic missile flying in space, according to a US Navy statement.
The Florida-based USS The Sullivans also fired an SM-2 missile at two aerial targets simulating anti-ship cruise missiles targeting the Ross.
The exercise on Tuesday was part of the nine-nation Maritime Theatre Defence Forum sea demonstration in the Hebrides Range.
France, Italy, the Netherlands, Norway, Spain, the U.K. and the U.S. all provided ships and aircraft for the exercise, while Germany contributed personnel.
The point of their explosive test is to prove their capability of providing missile defence in Europe.
In a statement Commander of U.S. Naval Forces in Europe and Africa Admiral Mark Ferguson said: "Nine member nations of the Maritime Theater Missile Defense Forum, under the auspices of the U.S. Missile Defense Agency, successfully conducted the simultaneous engagement of a ballistic missile in space and an anti-ship cruise missile target, the first demonstration of this capability in the European theatre."
"The execution of the live-fire exercise is a clear demonstration of the forum's ability to safely conduct effective coalition sea-based defence against simultaneous anti-ship and ballistic missile threats within an operational scenario."
"This exercise demonstrates the commitment of the United States to the defence of Europe through our Aegis ships and our shore station in Romania, as well as the professional performance of our allied sailors."
During the demonstration, the nine countries have had to defend against simultaneous anti-ship and ballistic missile threats originating from multiple locations.
The countries have had to pass information over a total of 5.7 million square miles to identify, track and engage the threats.
The coalition fired more than 26 missiles, including the Evolved Sea Sparrow Missile and the SM-3 in the U.S. inventory and the Aster-30 surface-to-air missile used by France, Italy and the U.K.
Vice Adm. James Foggo, commander of U.S. 6th Fleet, said the test demonstrated a cooperative approach to ballistic missile defence in the theatre.
"That is a big missile and a highly, technically complex weapons system…(The test) was in my estimation a wonderful thing for us to be able to demonstrate for our allies and partners."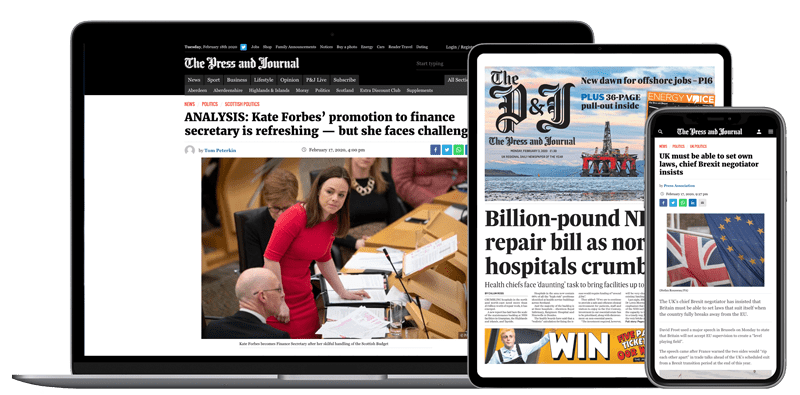 Help support quality local journalism … become a digital subscriber to The Press and Journal
For as little as £5.99 a month you can access all of our content, including Premium articles.
Subscribe