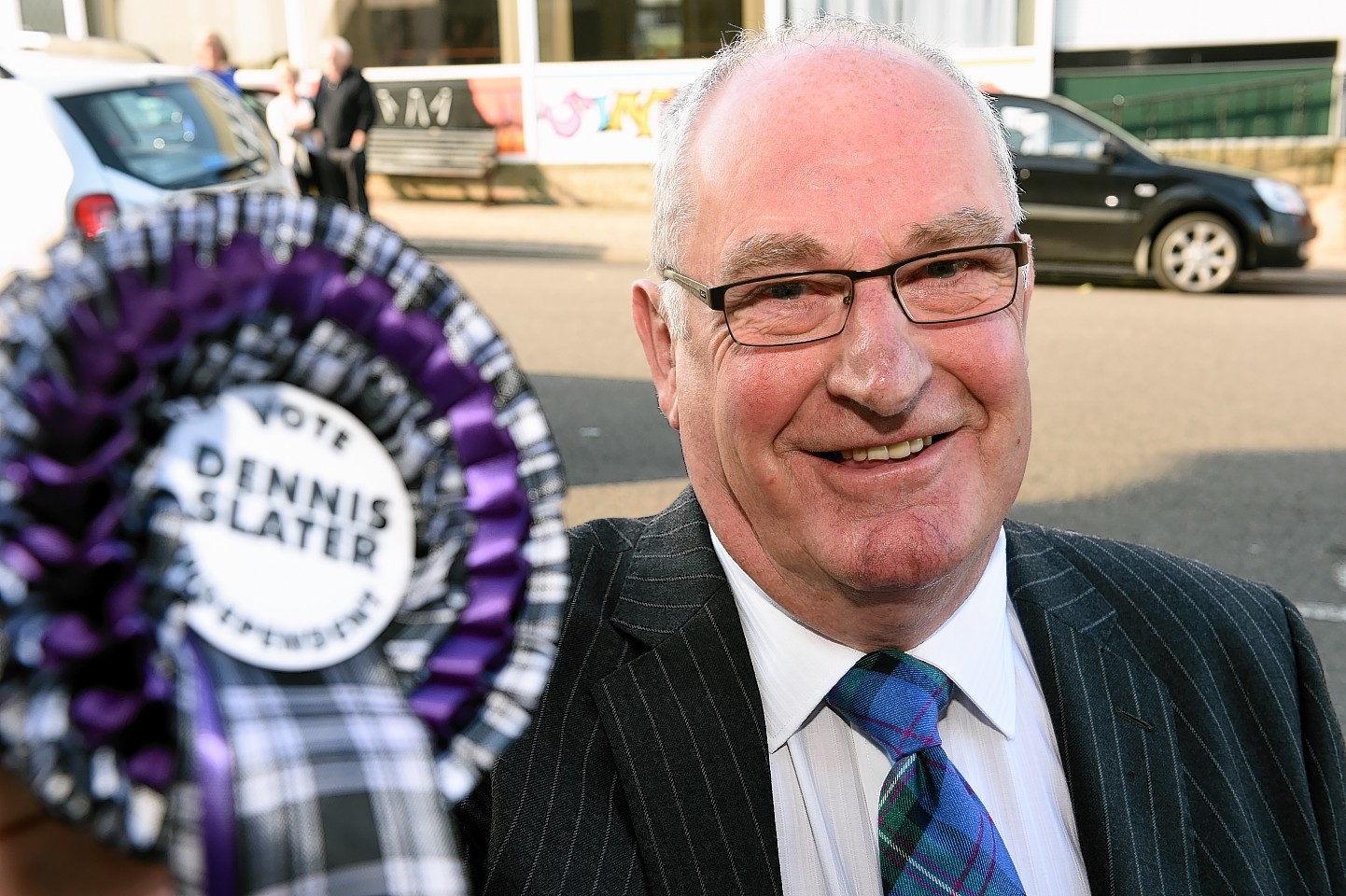 Moray's newest councillor has apologised to the community he has championed for years after accidentally voting against plans to protect it from flooding.
Hopeman stalwart Dennis Slater has led calls for flood alleviation works in the village since it suffered a devastating deluge last year.
And when crowned the Heldon and Laich ward's newest councillor last month, he pledged to "fight very hard" for the area.
But yesterday Mr Slater's vote proved crucial in delaying an £830,000 project to protect the village from rising waters.
The rookie member said he "felt sick" after realising he had pressed the wrong button when voting, delaying a decision on the proposal until next year.
Mr Slater had made a rousing speech during the full council meeting, rallying members to back plans which would see the work begin in the near future.
But in mistakenly voting to postpone a decision until next spring, he has waylaid the project for at least four months.
Moray Council's 11 SNP group members, with Independent John Cowe and Conservative Douglas Ross, moved to approve the £4.7million measures in Hopeman, Dallas and Portessie yesterday.
But convener Allan Wright recommended a decision be deferred until March, when it can be discussed as part of the council's 10-year capital plan.
With both options tied at 13 votes apiece Mr Wright, as convener, was able to see his motion triumph.
And it was not until after the meeting – when other councillors were discussing the result – that a crestfallen Mr Slater resulted what had happened.
Moray's SNP group had tweeted its followers expressing dismay at the result – and bemoaning Mr Slater's key role in the outcome.
Last night, Mr Slater said: "I'm really sick about what I did, I've made myself unwell with worry about it.
"My goal was to get the flood prevention works pushed through, I'm very passionate about it.
"It really was a genuine mistake and it will certainly not happen again.
"I'm fully behind protecting Hopeman from flooding, and I will see that through.
"Absolutely no-one feels stronger about their community than I do."
Mr Slater reckons it is too late to request that the vote be recast, but remains optimistic he will be able to oversee the beginning of flood alleviation efforts in Hopeman next year.
Buckie councillor Gordon McDonald voiced fears during the meeting that delaying the works could endanger coastal residents' homes.
Last night he said: "I was shocked that some councillors believe protecting these communities from flooding is not a priority.
"It is especially disappointing that a councillor in Heldon and Laich, elected only a matter of weeks ago, has managed to vote against a scheme that he campaigned for."
The flood proposals were approved last month by the council's economic development and infrastructure services committee.
Members agreed that £830,000 should be devoted towards a scheme at Hopeman, whereby flood waters will be diverted from homes via a cut-off channel to the south of the village.
Mr Slater – who was not on the committee – attended the meeting specifically to advise members of the necessity of the works there, and described the anguish flooding had caused villagers.
He said that torrential rain had caused an "avalanche of pig's muck" to cascade through the coastal beauty spot.
Proposals to combat rising waters at Portessie include installing a 4.5ft wall along the village's shoreline, which will cost about £3.65million.
Committee members also agreed to direct £280,000 towards protection works at Dallas, after floods last year ravaged scores of homes.
Last August, 27 properties in the village were swamped after 12 hours of constant rain.
Council leader Stewart Cree said he remained committed to the proposals, but said it would be more sensible to bring them forward when the authority's capital plan could be adjusted for their inclusion.