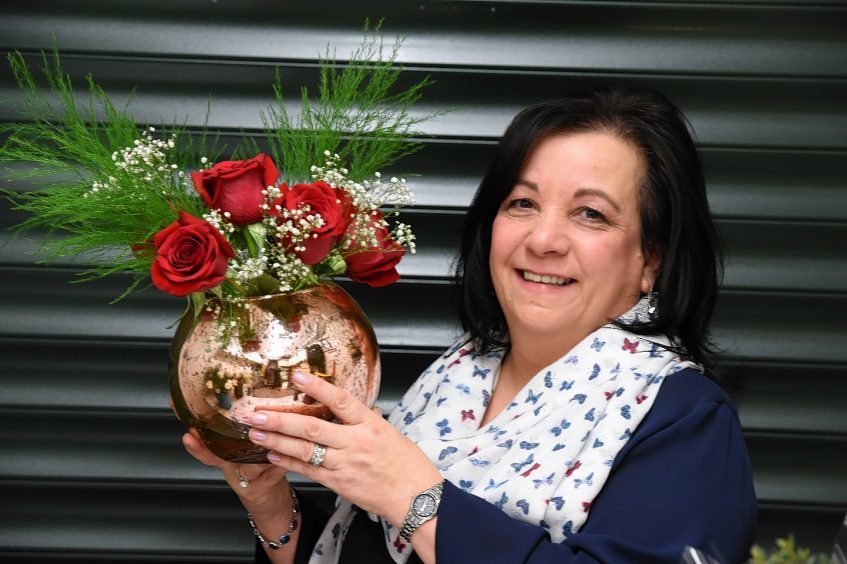 Losing your job is a gruelling experience. More often than not, there's little warning that it's going to happen. One moment you're sitting at your desk, working on your everyday tasks and the next called into a meeting room to be told you no longer require to come in to work.
Since the price of Brent oil crashed last year, energy firms have been continually cutting staff numbers in an attempt to safeguard future business. But with no sign of immediate recovery, other industries are feeling the pinch and qualified employees are left fighting tooth and nail for work.
With little employment opportunities in the north-east, some of those who have been handed lemons are making lemonade, using their strengths and out-of-work hobbies to make a living.
Fiona Welsh, Beloved
Working as a recruiter in the oil and gas industry, Fiona Welsh had already witnessed a number of redundancies before she was told she was no longer needed.
The 28-year-old had worked for the same firm for five years, and during the last 12 months she spent in her role she saw first-hand a decline in client positions. This decrease in revenue inevitably led to Fiona losing her job in the run-up to Christmas last year.
"I wouldn't say it came as a shock because you were sitting there, anticipating that it was going to happen at some point," she said.
"I spent the first week not really knowing what to do with myself. It was over Christmas and New Year so I thought I would just take some time out and be with my family and partner.
"It didn't really hit me until January when everyone went back to work."
Fiona, however, who owns a house in Aberdeen with her partner Steven Archibald, had been playing with the idea in her head of turning one of her hobbies into a business.
Being the go-to girl for handmade gifts and hampers, she has recently found herself creating bespoke nappy cakes among other quirky gifts for mothers-to-be.
"Last year most of my friends became pregnant, along with some work colleagues, and I wanted to put in some effort and give them something with the wow factor. I decided to start making nappy cakes and it was really well received, and after all the positive feedback it gave me confidence that when I was made redundant it was time to start something new and set up a business venture of my own."
Now, from one of the bedrooms in her house, Fiona is conjuring up more of these fantastic presents under the moniker of Beloved with a website where people can order goods due to launch in the coming weeks.
The business plan kicked off in January and Fiona has certainly kept herself busy. However, she's unsure whether the venture can sustain itself as a full-time company just yet.
"I see it being something I could run full-time but it might take time to get the word out there. I'd like to get a part-time job to start with. It would give me the security of an immediate income and I would still have time to develop the business."
Reflecting on her experience, Fiona suggests that those at risk of redundancy explore any other skills they may have and grab any opportunity that comes their way.
"Look at your prior skills and see if there's another area or industry you can go into.
"Or if you've been sitting in your job and you're thinking 'gosh, this isn't for me' or you're made redundant, look at it as a positive."
As the north-east continues to face challenges amid the decline in oil price, she reminds us that it is important to look after small businesses.
"Having relied heavily on the oil for so long, everything's been plain sailing, but we need to remember the travel and tourism side of things and it's important to support small businesses.
"Larger businesses are surviving but it's the smaller ones that will be affected."
For more information on Fiona's business visit www.facebook.com/ giftsbybeloved
Yvonne Gibson, Von Petal
Aberdeen's Yvonne Gibson has been turning her hobby and passion into a career since leaving BP last year.
For Yvonne, flower arranging had filled a void created by the passing of her mother. After tending to her hobby for 15-20 years, she decided her exit from BP was the perfect opportunity to set up her own florist business.
With the mortgage paid off, her son in full-time work, and her redundancy package in her back pocket, Yvonne, 56, could probably have put her feet up. That option wasn't for her, however.
"I couldn't just do nothing – I'm an active person," she said.
Von Petal – the "Von" comes from her first name – came to life in October in the garage of her Kingswells home.
Since then, she has been trying to drum up customers by putting ads in the community magazine and distributing leaflets in the neighbourhood.
Yvonne is getting several orders a week and has been booked for two wedding ceremonies. In time, her hope is that Von Petal will turn into a nice little earner, though realistically she knows it won't match her BP wage.
Yvonne said: "There's not a huge amount of money in it. It won't give me the wage I was on before but I'm comfortable with that. You can make some money if you grow and are ambitious.
"A lot of the orders I had over Christmas were from colleagues at BP. From there it's growing. Really, I'm carrying on a hobby. I want to make people happy and make some money."
Yvonne said she loved her job as technical coordinator at BP, but bears no ill feeling against her former paymasters.
She said: "BP is kind to its staff. They gave me help to find alternative work, as well as £1,000 for retraining. I went to UK School of Floristry down in Liverpool to do a six-day course. It really boosted my confidence – I gained a lot from that.
"I went for voluntary redundancy. I stuck up my hand but the job had gone anyway. Whether they'd have found me something else I could not be sure.
"Also, I had an operation on my back last year. It made me think – life's too short. I could end up in a job I don't like so I decided to leave. I've no regrets."
The plan of action for the coming months is to ratchet up the orders by showing her face at hotels and restaurants and speaking to event coordinators.
"I do not do online sales at this stage. Sales have mostly been through phone and e-mail," she said.
"I like to get a feel for what the customer is looking for – the style, colours, preferences, finding out if they have pets, because some flowers can be poisonous. I'm a people person – I want to hear what customers want and fulfil their wishes. I've had really good reviews, but I just wish more customers would find time to complete one."
Karin Ovari, Supervisor Hub
A former expedition leader in Antarctica with more than 12 years' experience in oil and gas, Karin Ovari has pretty thick skin.
Originally from Australia, the 55-year-old arrived in the north-east from South Africa, smack bang in the middle of the oil crisis. She had been working for Intertek as the regional manager for its African operations and in November the firm offered her a job in Aberdeen.
"I'd been here a couple of times and liked it," said Karin.
"The reason they wanted me to come to Scotland was to inject a new business sense and operational focus. By this stage, it was already a struggling industry. By the time I took the phone call in November to when I got here in March last year it had crashed."
But there was nothing Karin could do. The moving process had taken three months and she was already on her way.
Karin was eventually let go in August, but always one to be a few steps ahead, she knew what she was going to do next.
"I've had the idea for the last five months that I wanted to go back to coaching development skills," she said.
"It was a no-brainer really that I was going to set-up my own consultant business. I've always ended up managing teams and the thing I'm good at is building teams."
Karin's online business, Supervisor Hub, will be dedicated to coaching supervisors, line managers and team leaders through their development in the firms they work for.
After spending years witnessing the neglect of these particular employees in businesses, Karin feels she can help these workers with the challenges they face and she can help them develop their staff.
Karin's venture will soon be up and running. To tide her over in the interim she was given a comfortable exit package from her previous employer.
"I got a reasonable payout as they did feel a bit guilty for dragging me out from South Africa.
"But that's rapidly coming to an end – so I need to start making money."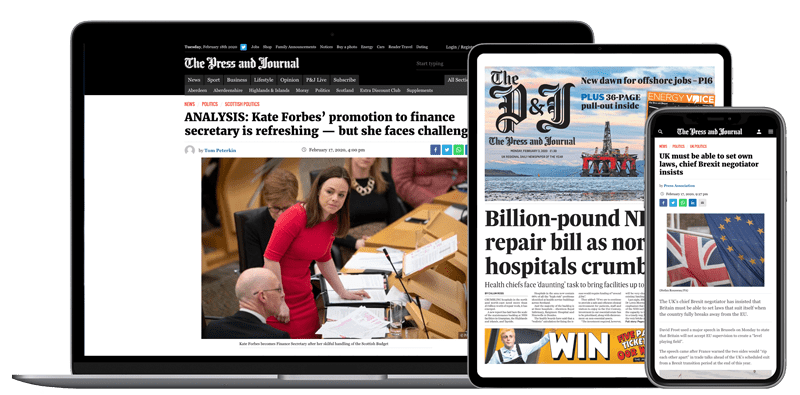 Help support quality local journalism … become a digital subscriber to The Press and Journal
For as little as £5.99 a month you can access all of our content, including Premium articles.
Subscribe