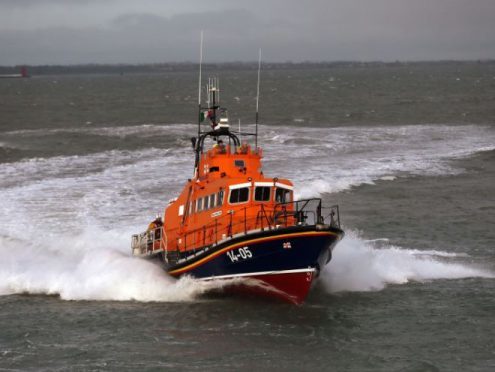 Two fishermen have been confirmed dead after their boat sank off the Western Isles this morning.
A major search was launched after the the Stornoway registered MFV Louisa's emergency beacon was activated near Mingulay, about 12 miles south of Barra.
One member of the crew was found and taken to hospital but three others were reported missing.
The coastguard has now confirmed the bodies of two of the fishermen have been found, while another crew member remains missing.
Mark Rodaway, National Maritime Operations Commander, for UK Coastguard said:
"Despite an intensive search including the helicopters, lifeboat and other fishing vessels in the area, we have been unable to locate the missing fisherman. Our thoughts are with all those involved."
A joint investigation between police and the Marine Accident and Investigation Branch has now been launched.
Chief Inspector Alastair Garrow, said: "At this time we can confirm that the bodies of two men have been recovered. A third man was rescued and was taken to hospital at Stornoway. He is not seriously injured.
"A fourth man was on the boat and is still missing.
"The next of kin of all the men have been informed.
"An investigation will be carried out in parallel with the police and the Marine Accident and Investigation Branch (MAIB) and a report will be submitted to the Procurator Fiscal."
The coastguard received a distress alert just before 3.45am this morning, and the vessel's emergency positioning beacon was activated near Mingulay.
"This has been a tragic incident which will impact on the local community. Our thoughts are with the families affected."
A search and rescue helicopter, Barra lifeboat, and police were scrambled to the scene.
Local fishing boats have also been enlisted to help in the search.