The Polish crew of a large yacht had a lucky escape after their vessel burst into flames in the North Atlantic, its skipper said last night.
The nine sailors were forced to abandon their boat Miracle on Thursday morning after a blaze in the galley below deck spread rapidly, threatening to blow the boat up.
As the seven men and two women struggled for breath with the fumes, skipper Matusz Cwiklinske ordered them above deck and then launched the boat's liferaft into rough seas fearing an explosion.
The crew were later picked up by Norwegian oil support vessel REM Gambler after Shetland coastguard received a Mayday signal from Miracle at 9.20am.
After spending the night in Lerwick, Mr Cwiklinske recounted how smoke started billowing out of the ship's mess on the port side, before the boat erupted into flames.
"Suddenly smoke and fire started to spread around from the port side of the vessel," he said.
"Firstly there was smoke and then there was fire.
"The amount of carbon monoxide made me order the crew to go on board (deck) from the mess of the vessel."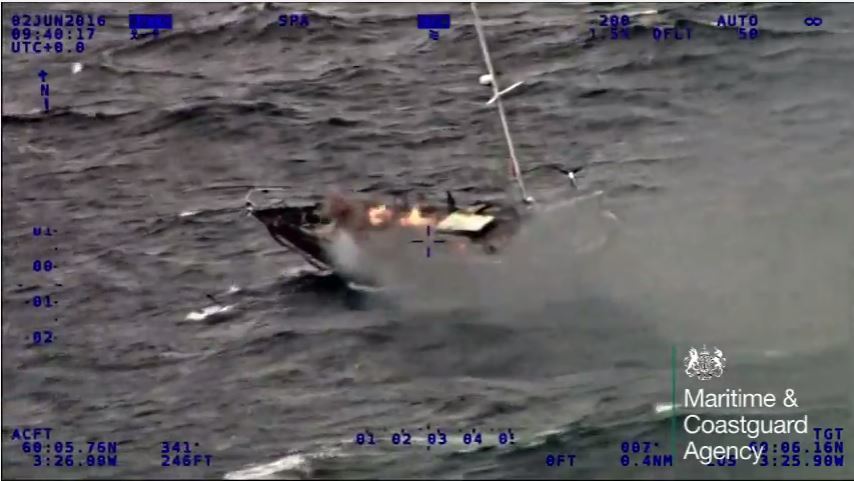 Mr Cwiklinske said efforts to extinguish the blaze failed, so they were forced to launch the liferaft and send out a distress alarm to the coastguard.
He then sent out a Mayday call on VHF radio after abandoning the vessel due to concern the fire might spread to the fuel tank.
He said: "There was a risk of explosion due to the fire that spread around from the mess of the vessel and was approaching the area with fuel."
Shetland coastguard launched their search and rescue helicopter and Aith lifeboat to attend the scene 50 miles south west of the islands.
The helicopter crew captured alarming footage of the abandoned vessel on fire in the middle of the open ocean, while the lifeboat turned back once they realised the crew were safe on REM Gambler.
The nine, who were shocked but uninjured, were delivered safely to Scalloway harbour around 6pm where they were met by officers from the coastguard and police, as well as representatives of the Red Cross and the Fishermen's Mission.
The crew were due to fly out of Shetland to return to their native Poland yesterday, leaving the yacht that they were taking to Torshavn, in Faroe to continue drifting on the waves.