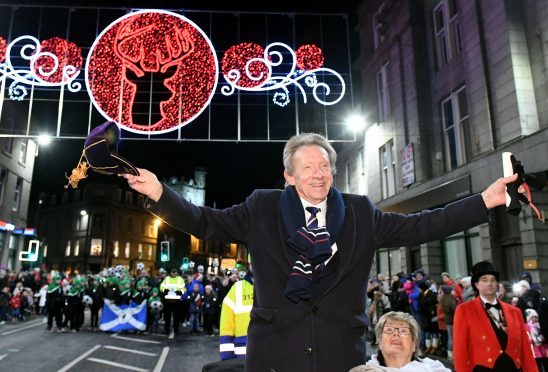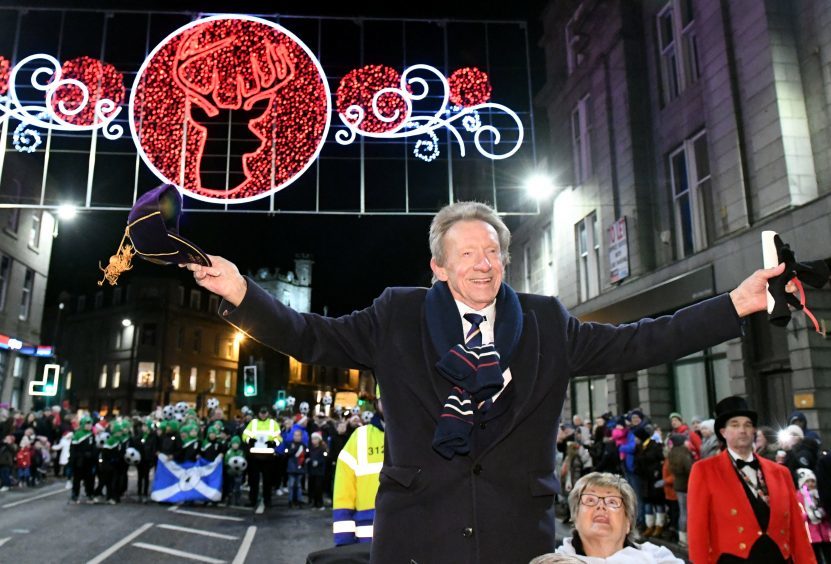 More than 15,000 citizens thronged Aberdeen's Union Street last night to watch the city's Christmas lights turned on – with new freeman Denis Law leading the way.
The 77-year-old football legend, born in the city's Printfield, led the annual Christmas lights switch-on parade, following Saturday's conferral ceremony at the Beach Ballroom.
He was joined by family and friends as well as young representatives of community groups and clubs associated with Streetsport, the award winning initiative led by the Denis Law Legacy Trust.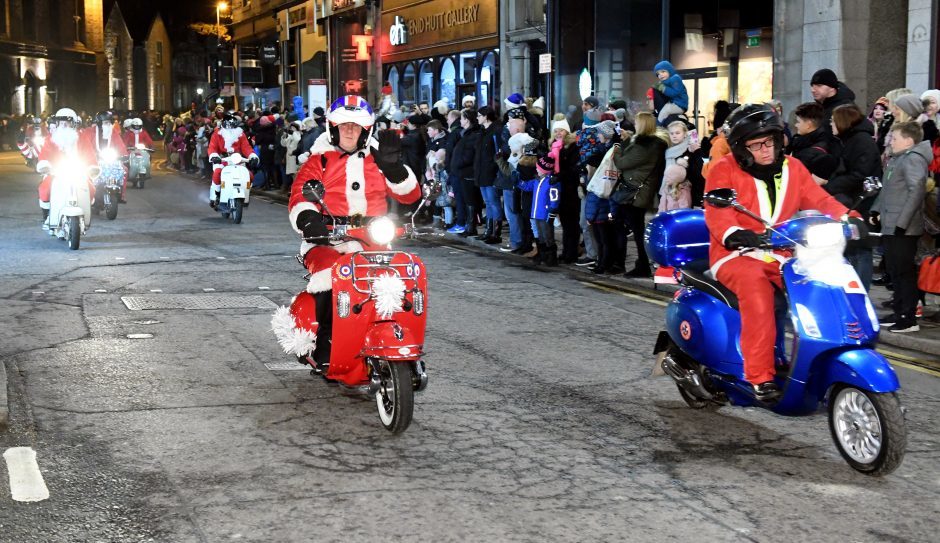 A host of other groups and entertainers were part of the football-themed festive procession and the new Freeman of the city received a hero's welcome.
Among the crazy and colourful displays were flourescent snowmen, people dressed as reindeer on segways and motorcyle-riding Santa Clauses.
A float with children playing out a nativity scene was also included among the more modern displays of the season.
As Mr Law's open-topped car set off from Albyn Place, each set of lights illuminated as the car passed beneath.
He then made his way to the townhouse balcony to wave at the rapturous crowds.
Mr Law, who had a prolific playing career in the 1960s and 70s when he won the prestigeous Ballon d'Or award, said: "I really didn't expect the reception I got – I'm almost lost for words, it was just unbelievable. The parade down Union Street was wonderful and to come out on the Town House balcony and get such a warm reception is something that will stay with me forever."
Residents young and old trooped out into the chilly November night to watch the spectacle with crowds stretching the length of the Granite Mile.
Iain Menzies from Bridge of Don admitted that he rarely attended the lights display – but the pull of seeing the Scotland legend was too much to resist.
He said: "To be honest I just came out to see Denis Law. But now I'm here I think the rest of the display is pretty good too."
Hair stylist Gillian Donald, 37, from Newtonhill said: "I think it is just great and better that Denis Law is here leading the parade."
Dawn Marie Duthie, 39, from the west end of the city, said: "It is a great way to see in the season. We come every year but this is even better."
Friends Ellis Stephen and Lily Rae McIntosh, both seven-years-old, agreed, with Ellie adding: "I think it is really exciting."
Lord Provost Barney Crockett said: "Denis is a unique Scottish icon, there is nothing but good feeling towards him and that is because of his great personality, modesty, integrity and of course his achievements in football and in life.
"It was fantastic to see the people of Aberdeen turn out – from the youngest faces in the crowd to those who grew up watching Denis play the game, everyone relates to him and knows about his talents."