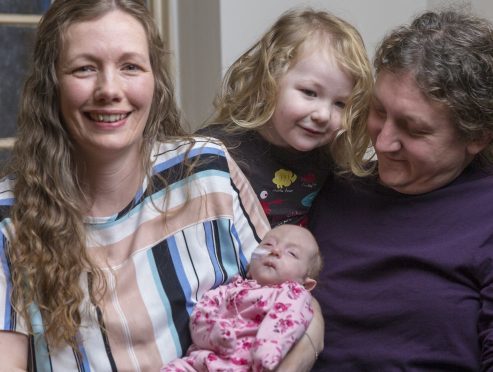 The desperate parents of a hole-in-the-heart baby will find out this week if doctors will give the family the go ahead for a life-extending operation.
Gina and David Scanlan's 16-week-old daughter Willow was born with incurable Edwards' syndrome, also known as Trisomy 18, and a serious heart defect.
But doctors have informed the couple that it is not "usual clinical practice" for medical teams in the UK to operate on children with the condition.
A crunch decision meeting has now been set for Friday and cardiologists in Glasgow's Children's hospital will meet to discuss whether or not to offer Willow life-extending surgery to fix the holes in her heart.
Last week, the Fyvie family took Willow to Dundee to get an updated echocardiogram of the vital organ ahead of the meeting and also sent a copy of it to cardiac doctors in America who specialise in the rare genetic condition.
Mr Scanlan said they had just received confirmation from one cardiac paediatrician based in Omaha who had reviewed his daughter's results to say they would be willing to carry out the repair operation in the next two months.
Dr James Hammel, clinical service chief at Omaha's Children's Hospital said: "High resistance to pulmonary blood flow is sometimes a concern in these children and could be prohibitive for surgery, but the echo does not support the idea of severely increased pulmonary flow resistance.
"In essence, her repair should be straightforward – patch the hole, open the pulmonary valve, tie the small arterial duct closed.  This could be carried out any time, but typically before six months of age."
Aware that this only leaves his family with two more months, Mr Scanlan said: "If we get bad news on Friday from the NHS, then we are gearing ourselves up for a massive fundraising campaign in order to get Willow treated in the States as soon as possible.
"They have said she would have a 90% survival rate for the operation and that she could have a life expectancy of around 16 years. I have no idea how much it would cost – we will have to cross that bridge if it comes to it.
A spokesman for NHS Greater Glasgow and Clyde said: "As with any patient in whom congenital heart surgery is considered, requests for surgery at the Royal Hospital for Children in Glasgow would be discussed at the weekly multi-disciplinary team meeting."
Relatives of the Scanlans have launched an online campaign, #savewillow, to raise money.
Donations can be made at
justgiving.com/crowdfunding/janet-bonar-2