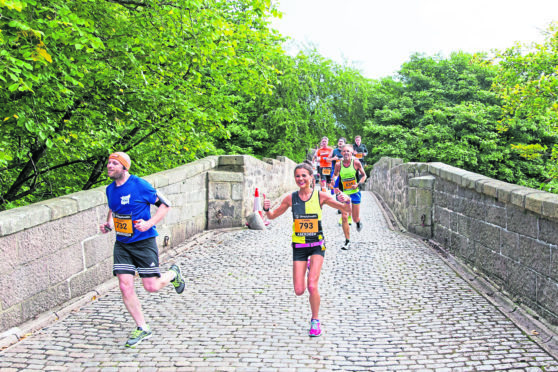 A north-east woman says she has been left heartbroken by a decision to once again dig up bollards near her home for the Great Aberdeen Run.
The city council came under fire last year for removing the iron pillars preventing traffic driving over the Brig o' Balgownie to make more room for racers.
And while it did reinstate them afterwards, it has alerted nearby residents that the posts will be taken up again for this year's race.
As chairman of the Old Aberdeen Heritage Society, Helen Hutchison's late husband Morley had campaigned for the installation of the antique bollards, and even travelled to Edinburgh as part of his crusade to protect the historic bridge.
Mrs Hutchison spoke of her fury last year at seeing the work undone and had to be reminded of it again this week when a letter informing her of the work landed on her doormat.
She said: "It was eight years on Sunday since my husband died and I'm so angry that they're doing this again.
"All this hard work put into it by him, and it all seems so unimportant to the council.
"It's as if they couldn't care less and it hurts very much.
"It's just breaking my heart."
Mrs Hutchison is hoping the council will amend the route of the run to allow racers to see Old Aberdeen up close without the need for extra roadworks.
She has also raised concerns that the use of concrete to reinstall the bollards, over the more traditional lime mortar, could damage the bridge.
"The council is always telling us that they've got no money but they've got enough money to dig up these bollards for a stupid run," she said.
"I watched the run last year and at no point was there enough people going through the bollards to justify them being taken down.
"They can easily run between them and if they are worried they won't see them then the council could wrap some orange tape around them.
"They just dig them up willy-nilly."
An Aberdeen City Council (ACC) spokeswoman said: "The bollards, which are at leg and waist height, are being temporarily removed to accommodate safe passage of the thousands of runners going through this narrow point on the course.
"Advice from ACC's conservation officers is that more traditional materials such as lime mortar are not generally used for securing bollards or setts as they are not hardwearing enough, and the use of cement to secure the setts will not cause the bridge to decay or have a harmful impact to the historic fabric of the bridge."