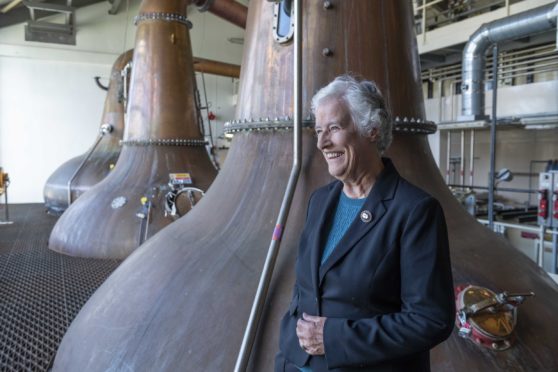 A historic Elgin distillery has opened its doors to help a very special guest celebrate her 80th birthday.
Nora Fraser, who was born in a site cottage at Linkwood Distillery in 1939, reached the milestone occasion on September 4.
Then, after returning to her childhood home for the first time in 55 years, she was joined by her children, Steve and Susan, and they were greeted at the premises by distillery manager Debbie Watt who gave them a guided tour of the Speyside plant.
Mrs Fraser and her two siblings were the only children  to live at Linkwood during the 30s and 40s. Her father began working there after serving in the First World War , eventually graduating to the role of Head Brewer.
She herself lived there until 1958, but subsequently moved to Aberdeen to study at university and graduated as a pharmacist.
It was at university she met her late husband Robin. Married in 1962, the pair made the journey from Linkwood en route to the church in Elgin.
Speaking about her visit, Mrs Fraser said: "A lot has changed at Linkwood  since I grew up there. It's sad that our family cottage no longer exists, but the distillery has, of course, been rebuilt and brought up to date.
"What does remain though are the fond memories of growing up in such a unique environment. I'm sure very few people can say they were actually born at a working whisky distillery and this is something I'm very proud of.
"As a family we loved living here with all the sights, smells and noise. It's funny how things flood back just by walking around.
"It really does mean so much to be able to come back to my childhood home, a place which hold such a special place in my family's hearts."
During her tour of the distillery, she recalled vivid memories of life growing up next to a working distillery, including being told to stay indoors whilst casks were being rolled.
She also looked through family photos taken at her Linkwood home, including the day when she was a bridesmaid at a friend's wedding.
Mrs Watt, said: "Despite the changes in the whisky industry since Nora grew up here, people are still at its core and we are honoured to help celebrate her 80th birthday."