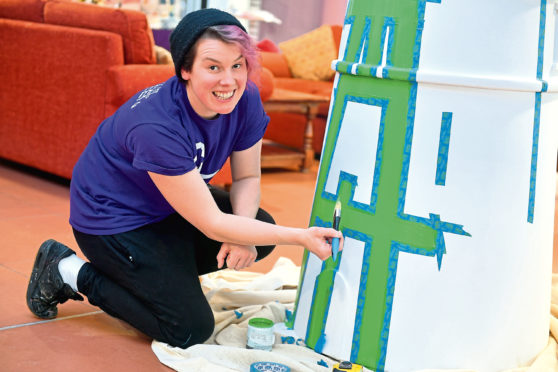 With every brush stroke, Katie Guthrie thinks of the sea.
The wild coast of Orkney, and the sweeping beam from the lighthouse which searches the waves.
She is completely immersed in her work, and her design wraps its way around a three-metre sculpture.
The 34-year-old mural artist and illustrator has been chosen to paint the very first lighthouse sculpture, which will form part of a trail across the north-east.
The Light The North trail will extend across Aberdeen, Aberdeenshire, Moray, Shetland and Orkney.
It is expected to be in place by autumn, and will raise money for Clan Cancer Support – with more than 30 sculptures to discover.
The trail will take people on a cultural tour of the region, with both professional and amateur artists encouraged to submit their designs.
Katie, who has been involved in Aberdeen's NuArt and Painted Doors project, was inspired to take part following the sad loss of her uncle.
"He passed away from cancer in 2018," said Katie, who grew up in Westhill, Aberdeenshire.
"He was a chief engineer for the Northern Lighthouse Board, and worked on the boats for 30 years.
"Working with Clan is a way for me to honour his memory.
"It was wonderful to study the seas, the boat forms and landscapes which he lived alongside all his life.
"My family has a very strong relationship with the sea."
Katie has been passionate about painting from an early age, although she's unsure if her young son will follow in her footsteps.
"I've always made art," she said.
"My mum said that when I was two, I announced that I wanted to be an artist.
"I would even hide in the corner and paint at nursery.
"My own little boy likes art, but he's told me he wants to be an underwater vet instead of an artist.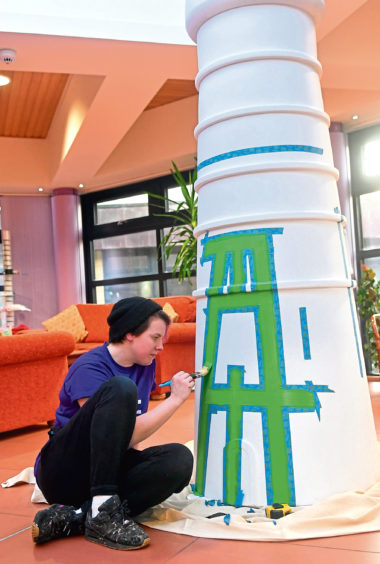 "To me, art is a natural response.
"It's not a conscious decision, it's just something I have to do.
"I think nurseries are incredibly creative.
"But schools, not so much.
"I think that's partly because art teachers aren't getting appointed.
"It's up to individual teachers to do something about art.
"And quite often, people don't feel they know enough about art.
"Or they aren't passionate about it themselves.
"There needs to be more support for creative pupils."
Katie is also a firm believer in making art more accessible, having painted murals in Berlin and Barcelona.
"I think that by putting art out on the streets, you're creating a sense of democracy," she said.
"People can respond to it in whichever way they feel fit, and they might not feel that way inside a gallery."
Back on north-east soil, Katie was forced to change her plans for the lighthouse sculpture due to the unpredictable weather.
She had hoped to spray paint the sculpture, but swapped to more traditional methods in the warmth of Clan House in Aberdeen.
"I was really excited to be asked to create the first design, and to get to know the team at CLAN," said Katie.
"It has been a bit of a juggle as I am also a single mum. It's hard work, but I think that's true regardless of which industry you work in.
"Women are exposed to a lot of pressure to be mums and to be successful.
"You need a good support system, which I'm lucky to have.
"My son is very blase about the fact that I'm an artist, he thinks it's normal.
"The creative industry is difficult because it takes years and years of hard graft.
"Your work is evolving all the time."
Katie's sculpture is currently on display at Clan House, before it is varnished and sent to a secret location.
"Nobody knows where the sculptures will be going yet," said Katie.
"I'd love it if my design was sent to Stromness in Orkney, where my uncle was from.
"I don't think we'll find out for a while though.
"I've a few projects up my sleeve for this year, but I don't think I'm allowed to say anything just yet."
Clan is still accepting design ideas for the remaining sculptures. You can visit lightthenorth.co.uk to download an artist's pack and design template.