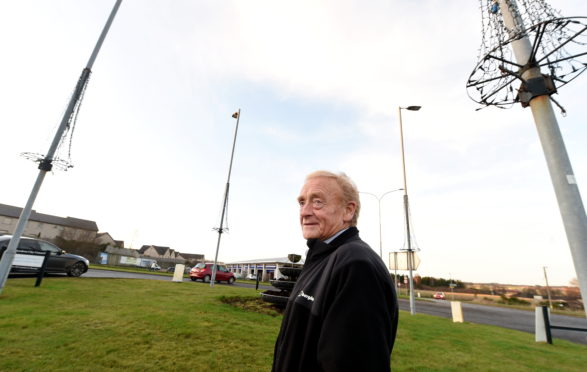 Angry Aberdeen residents have criticised the council for failing to repair broken Christmas lights because staff had gone on holiday.
Dyce community stalwart George Penny has put the decorations up in the suburb for the past 19 years, but last month entrusted the council with the responsibility of fixing a fault that left six out of action.
Mr Penny, who is the chairman of Dyce in Bloom, has now expressed disappointment that they were never restored.
He said: "This my 19th year of doing this voluntarily and it's unfortunate that we can't get them lit. Our complaints have fallen on deaf ears.
"Normally we would just check the fuse and change it but this year, with all of the health and safety stuff, we decided to let the council do it."
All of the lights were put up by volunteers, saving an estimated "£50 per light" by not using a contractor, but many of the community champions say they have now been left wondering why they bothered.
Local councillor, Gill Al-Samarai, said it was "disappointing" and pointed to the special meaning the lights have for some residents.
She said: "Many people have gifted lights for many different reasons including in memory of someone special, and the lack of illumination this year was extremely disappointing. "
An Aberdeen City Council spokeswoman said: "The council only received the application for the Christmas lights to be switched on from 7th Nov – 11 Jan on 4th December.   On doing so it provided the sockets and it is the local community that install the lights.
"A report that two of the lights were not working was made on 16th December, however, due to staff going on their festive break it was not picked up until the member of staff returned from annual leave."