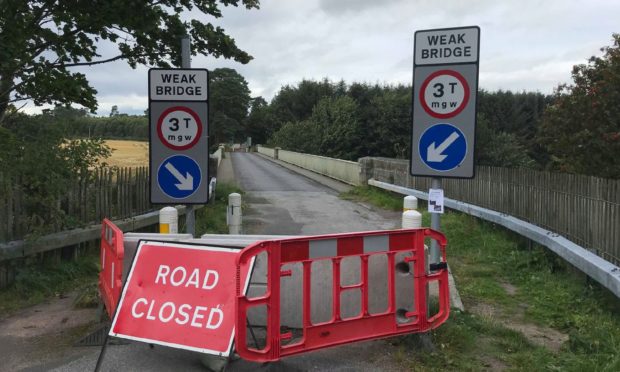 An Aberdeenshire community has demanded the council commit to reopening a key bridge before the first anniversary of its closure.
Park Bridge was closed off to vehicles in February last year after a number of serious defects were noticed during a routine inspection.
Since the A-listed structure was shut, the two communities of Durris and Drumoak on either side of the River Dee have been forced to deal with an eight-mile diversion via Durris Bridge in Crathes.
However, it is still open to pedestrians and cyclists.
More than 1,100 local residents have signed a petition asking for it to be reopened.
And now, the Crathes, Drumoak and Durris Community Council (CDDCC) has called on Aberdeenshire Council to take action and pledge to bring the vital crossing back into full use.
The authority is still currently considering the future of the crossing following consultations with the local community.
A statement issued by the community council said: "The CDDCC is demanding that Aberdeenshire Council returns the bridge to full service as soon as practicable, in accordance with its statutory obligation and to implement a proper planned maintenance programme going forwards."
Last night, a council spokesman said: "We cannot give the commitment sought by the community council on Park Bridge at this stage, however we will be providing an update to the Kincardine and Mearns area committee in the near future."
A Scottish Government spokesman said: "We have ensured our partners in local government receive a fair funding settlement – despite further cuts to the Scottish budget from the UK Government – with a package of £11.2 billion for all local authorities in 2019-20. This is a real terms increase of more than £310 million for essential public services.
"Aberdeenshire Council is receiving £480.7million of Scottish Government funding in 2019-20. Taken together with its decision to increase council tax by 3%, the council will have an additional £23.3 million, or 5.1%, to support services, compared with 2018-19.
"Our 2019-20 budget set out an ambitious programme of infrastructure investment of more than £5 billion. This includes £1.7 billion for investment in transport infrastructure."