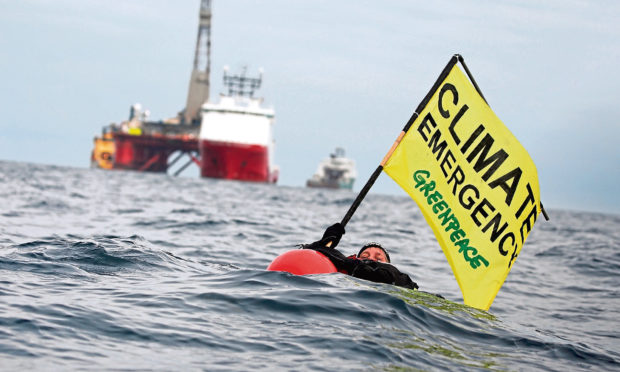 One of the world's foremost offshore drilling contractors is this week expected to ask the Scottish courts to jail Greenpeace's boss and punish the campaign group with huge fines.
Rig operator Transocean is taking legal action against Greenpeace UK after activists blocked a BP rig from drilling new oil wells in the North Sea for 12 days in June last year.
Transocean secured an interim interdict against such action, with BP's consent, which Greenpeace is accused of breaching by continuing its protest.
Greenpeace UK executive director John Sauven is said to face up to two years in prison, and Greenpeace unlimited fines, if found to be in contempt of court.
Ahead of an appearance, at the Court of Session in Edinburgh, Mr Sauven said: "Six months after our rig action ended, and after getting a permanent interdict against Greenpeace, BP's rig operator Transocean is desperately doing everything it can to scare us off.
"But we will not be silenced. We will stand up proudly in court to defend our peaceful protest.
"Stopping BP's rig was our moral duty when faced with oil giants fuelling the climate emergency, threatening the safety of our planet and putting lives at risk."
At the court, before judge Lady Wolffe, Greenpeace will argue its actions to disrupt the BP rig were "necessary in order to prevent BP from worsening our climate emergency by drilling wells to extract 30 million barrels of oil".
Transocean's Paul B Loyd Jnr rig was forced to abort its journey to BP's Vorlich field several times in June last year after the campaigners blocked its path with an icebreaker ship and two inflatable launches.
Greenpeace activists had also scaled the Paul B Loyd Jnr rig days before in an attempt to stop it from leaving the Cromarty Firth.
As the stand-off continued, Transocean went to court for the interim interdict – which workers allegedly lowered down to Greenpeace protesters camped on the rig in a bucket – requesting they cease and desist.
A spokeswoman for Transocean said previously: "While we support the right to peacefully and safely protest, Greenpeace protesters placed both people and property unnecessarily at risk when they illegally boarded and subsequently interfered with the safe passage of one of our rigs this summer.
"We requested and received a court interdict to prevent any further activity that would place people or property at risk.
"Greenpeace breached the court interdict by encouraging interference with the safe passage of our rig – again placing people and property at risk."
The legal action is one of a number of steps taken by the oil and gas industry in recent months in an effort to deal with increasing action from environmental groups such as Greenpeace.
In December, Shell secured a ban on Greenpeace International targeting its North Sea oil rigs in the Brent field.
The oil and gas industry has stressed it is making huge efforts to address climate change.