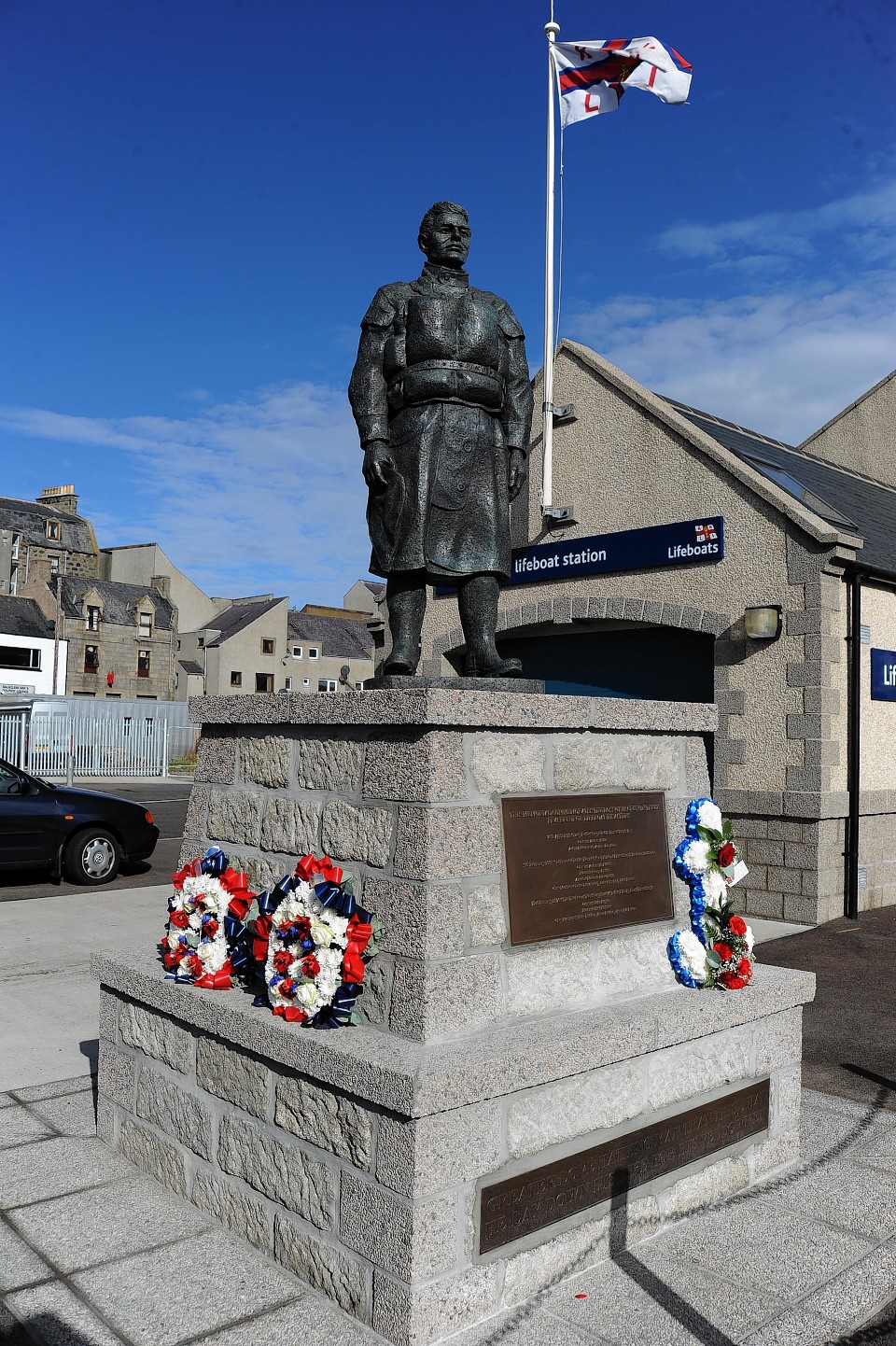 The deaths of two lifeboat heroes have been commemorated in a poignant ceremony at Fraserburgh harbour.
Coxswain Andrew Noble and second coxswain Andrew Farquhar lost their lives when the town's RNLI vessel capsized while responding to a distress call in April, 1919.
It was the first major tragedy to hit the lifeboat crew which was established at the Broch in 1831.
Wreaths were laid at the port's memorial statue to mark the 95th anniversary of the disaster three weeks ago.
At the weekend, the current RNLI team paid tribute to their forebearers by taking the wreaths out to sea for an emotional, but low-key ceremony.
The honour of placing the wreaths on the water was given to the team's newest member, Kenneth Ritchie, whose great-grandfather Andrew Ritchie served with Mr Noble on the lifeboat crew and was awarded for his bravery following a dramatic rescue in 1912.
After the wreaths were dropped on the waves, the crew said a few words in prayer followed by a two-minute silence.
The tragedy happened when the lifeboat Lady Rothes went to the aid of a drifting trawler, the Eminent.
The RNLI craft capsized and Mr Noble and Mr Farquhar were thrown clear. They survived long enough to make it to shore, but died shortly afterwards.
The lifeboat, which was named after Titanic survivor Lucy Noel Martha Leslie, the Countess of Rothes, was repaired and returned to service before being replaced by the John and Charles Kennedy in 1937.
Two years ago, a bronze statue was built at the RNLI station to remember the incident and two other disasters.
During a horrific storm on February 9, 1953, Fraserburgh lifeboat was called out to help fishing boats back into the harbour.
But as the vessel made its return, it was picked up in a large swell causing it to capsize.
Six men, Andrew Ritchie, George Duthie, James Noble, John Crawford, Charles Tait, sen, and John Buchan all died.
Mr Tait's son, Charles, was the only survivor of the accident.
The last tragedy in January 1970 saw five of the six crew die.
The Duchess of Kent lifeboat had responded to a Danish fishing vessel which was taking on water, but the rescue boat was caught up in a swell and capsized.
John Stephen, Fred Kirkness, William Hadden, James Buchan and James Slessor Buchan all died.