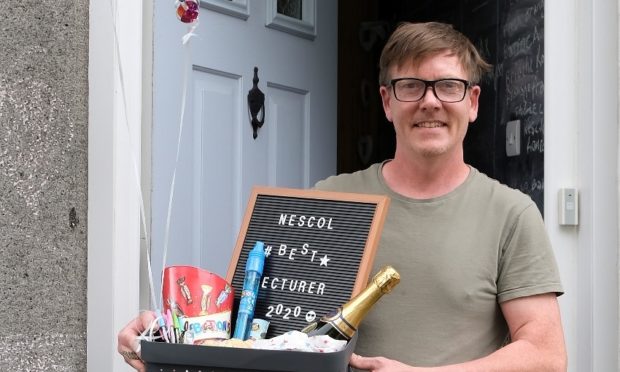 An Aberdeen lecturer dedicated to his craft has been surprised with a lockdown lift from his students.
Wanting to celebrate Steve Smith's achievements, members of his HND photography class paid him a special visit on Thursday morning.
They told the North East Scotland College educator he has been named lecturer of the year by his students, and presented him with a certificate, balloons and a basket of goodies including chocolates and champagne.
Mr Smith, who is from Aberdeen, joined the college in 2007 after a decade-long career as a fashion photographer in London.
He has been praised by his students for his enthusiasm and ability to make them feel at ease, regardless of the challenges he may throw their way.
Emma Angus, one of the students who helped organise the surprise, said: "He is supportive of all students, even if they find that photography does not motivate them as they had envisaged, he will offer honest advice and support.
"He will also support when there are any issues that may need to be escalated to management or making sure that students are aware of their rights, always encouraging students to be proactive.
"The current situation has been challenging for everyone, but Steve has made a point of staying in touch with his students, not just for designated classes, but making himself available for emotional support."