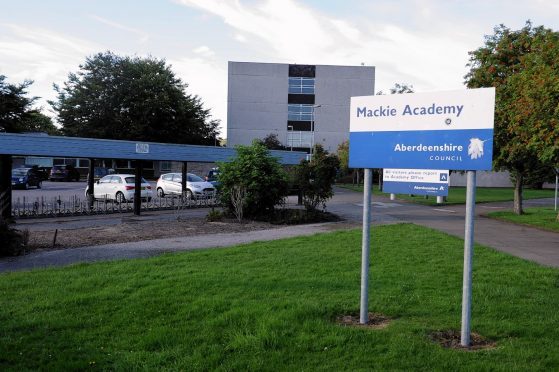 Pupils at an Aberdeenshire school were forced outside in the midst of Storm Francis due to coronavirus restrictions.
The children at Mackie Academy in Stonehaven were said to have been drenched in Tuesday's downpours and returned to afternoon lessons soaking wet.
Aberdeenshire Council said there had been insufficient space within the school for pupils to take their breaks indoors and maintain social distancing.
And a spokesman said the school had followed Scottish Government guidelines by asking pupils to remain outdoors.
Parents, however, told the P&J social distancing had been a distant thought as children huddled together under trees in a forlorn effort to stay dry.
Aberdeenshire Council said last night it would be formulating new arrangements, including introducing temporary shelters, and would be writing to parents.
The authority initially said each school had its own plans in place for inclement weather, and that while "the service encourages outdoor learning where possible to minimise the risk of the spread of coronavirus, this is, of course, balanced by common sense in that when it is raining torrentially indoor alternatives are sought".
But a spokesman later added that: "Unfortunately, due to insufficient indoor space to maintain physical distancing, pupils at Mackie Academy were told remain outside during breaktime and lunchtime on Tuesday, during inclement weather.
"These arrangements were in line with Scottish Government advice.
A review of arrangements is being carried out by Mackie Academy's senior leadership team.
"New guidance will make it clearer where pupils can gather inside during break times and lunchtimes when there are bad weather events."
The spokesman said the school plans to put up temporary shelters "for pupils who wish to remain outside to help keep them dry".
He added that the head teacher would write to parents to explain the new arrangements.
Some parents took to social media to express their concern that pupils had been forced to remain outdoor in the rain.
One questioned the efforts to main social distancing and the fact that pupils spent the afternoon taking lessons in wet clothing and asked "where do I send the complaint?" while another suggested staggered break and lunch times to ensure pupils can remain indoors as autumn sweeps in.