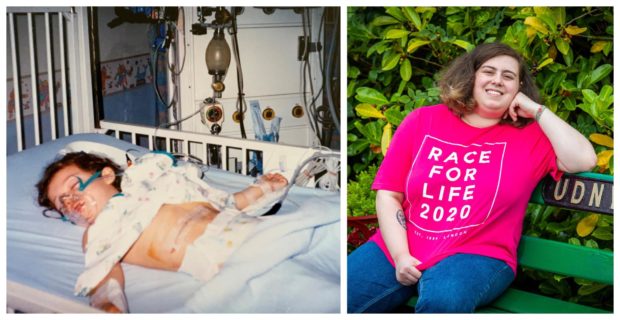 An Aberdeenshire woman who lost a kidney to cancer when she was just three years old has opened up about her struggles to encourage people to sign up for a fundraising run later this month.
Kirsty McKenzie, who lives in Udny Station, was diagnosed with a type of kidney cancer called a Wilms' tumour on New Year's Day, 2001.
The condition was only discovered after Miss McKenzie suffered a fall at home following weeks of what doctors at first thought were repeated urine infections.
The tumour was so advanced that medical professionals agreed the organ could not be saved and the young Miss McKenzie had to endure a nine-hour surgery to stay alive.
During gruelling chemotherapy and then radiotherapy sessions, she lost her hair, eyebrows and eyelashes, but fortunately the operation and recovery treatment was a success and today the 22-year-old remains clear of cancer with yearly check-ups and plans to become a primary school teacher.
Miss McKenzie said: "By sharing my own story I'd like to give hope.
"My fourth birthday party was a day my parents feared might never come.
"I was too young to properly understand what was happening but it must have been a really frightening time for my parents."
Last year Miss McKenzie took on the Cancer Research UK Race for Life 5K, and is this year encouraging as many people as possible to sign up for the 2020 event.
Instead of the usual fundraising run at Aberdeen's beach this year the charity is asking people to complete their own 5k in their nearest green space on September 26.
The charity is expected to lose out on £160 million in income in the year ahead due to the coronavirus pandemic.
To sign up visit www.raceforlife.org